There are so many "don'ts" when it comes to dressing while fat. Don't wear bright colors. Don't wear stripes. Don't wear loud prints. And definitely, definitely, don't ever wear white.
Fuck that antiquated nonsense.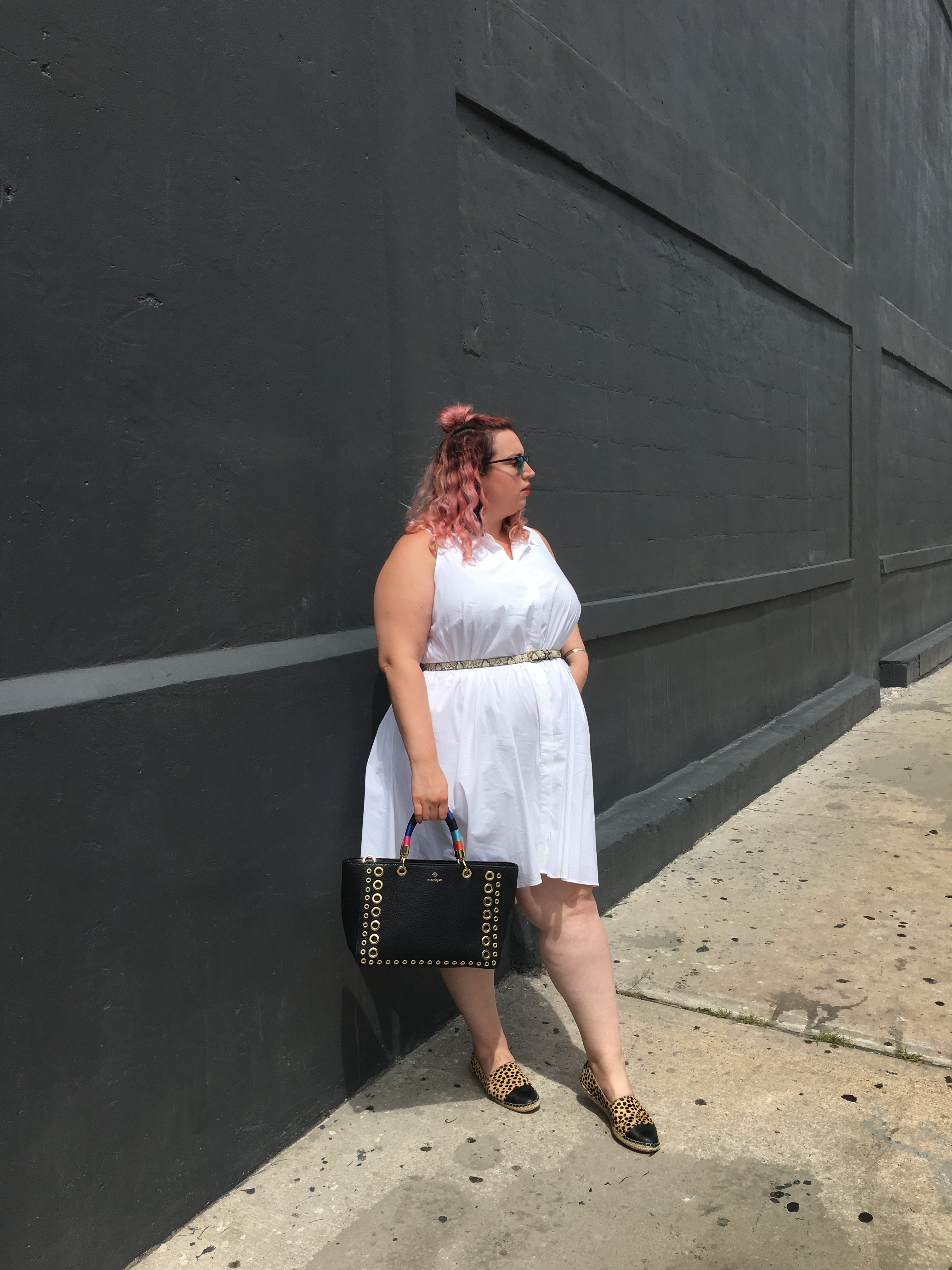 There's only one fashion rule to follow in life, and that's "wear whatever makes you happy." How amazingly simple and straightforward is that?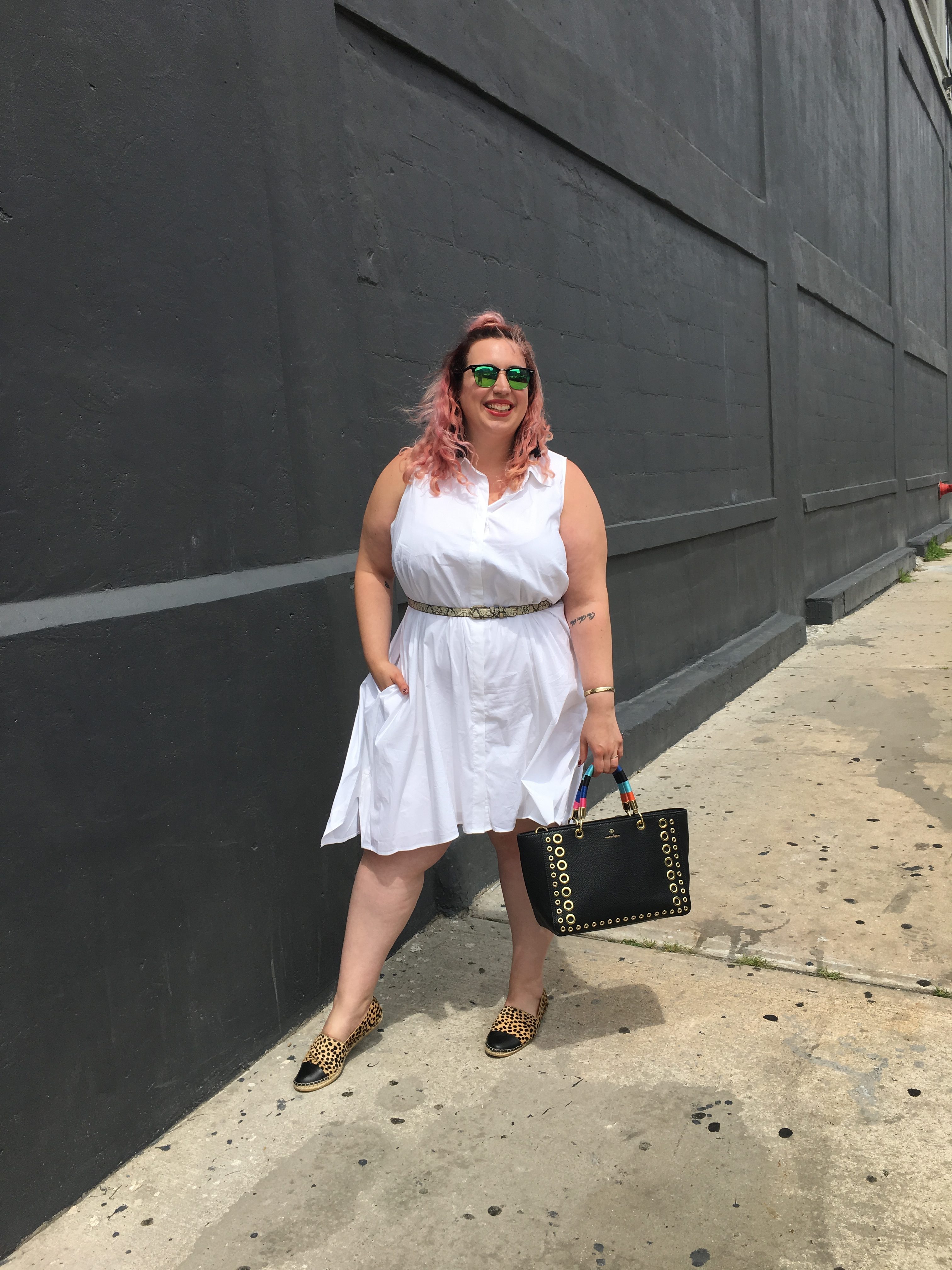 But I still see so many other people (of all shapes and sizes) bemoaning the fact that they can't "pull off" white clothes. They worry that white will make them appear bigger than they are, or, at the very least, won't make them look any slimmer.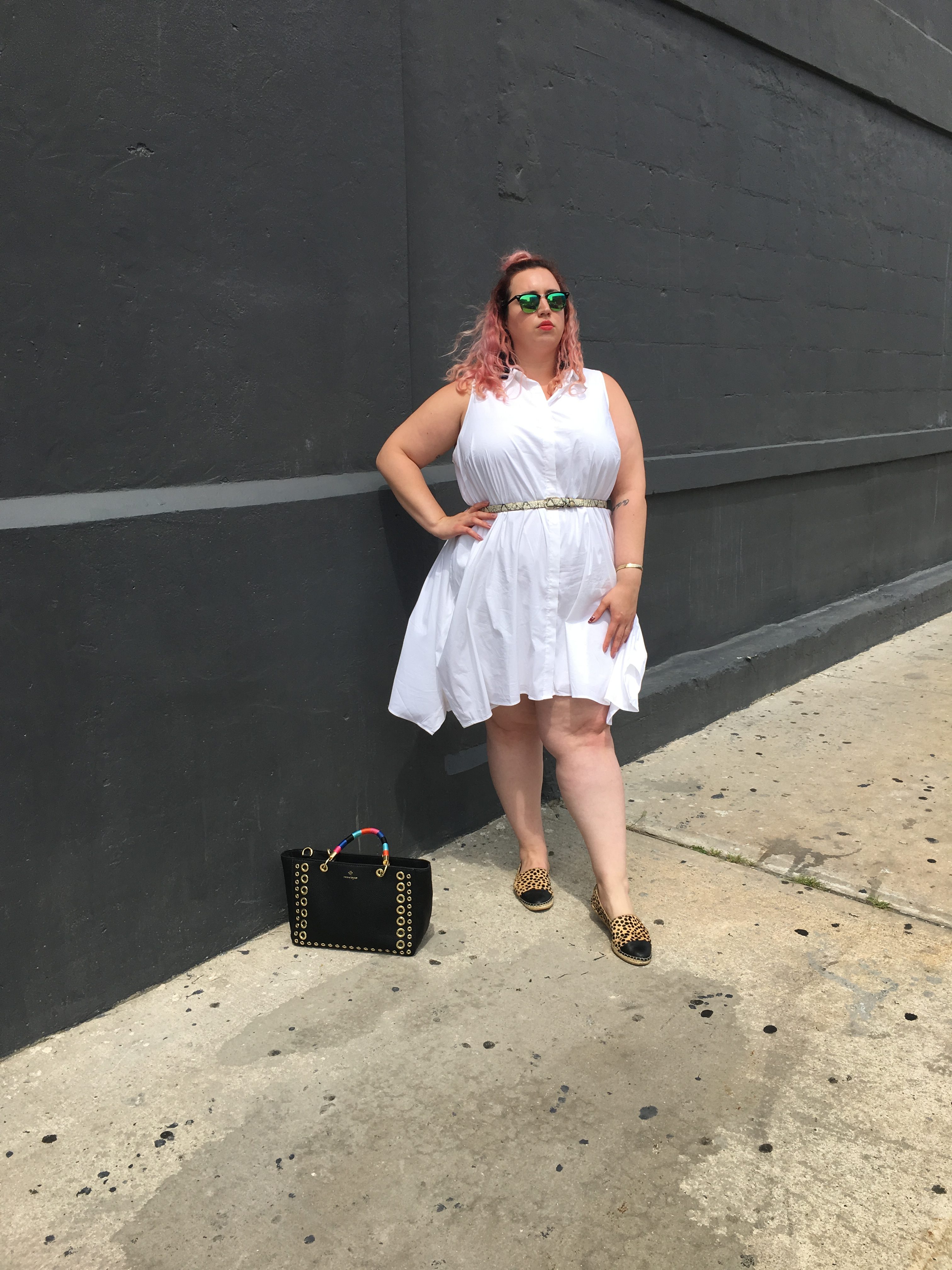 If your sole fashion focus is to appear skinnier than you are, then just wrap yourself in SPANX and black, and mourn all the beautiful styles that you'll miss out on simply because they might not be "slimming."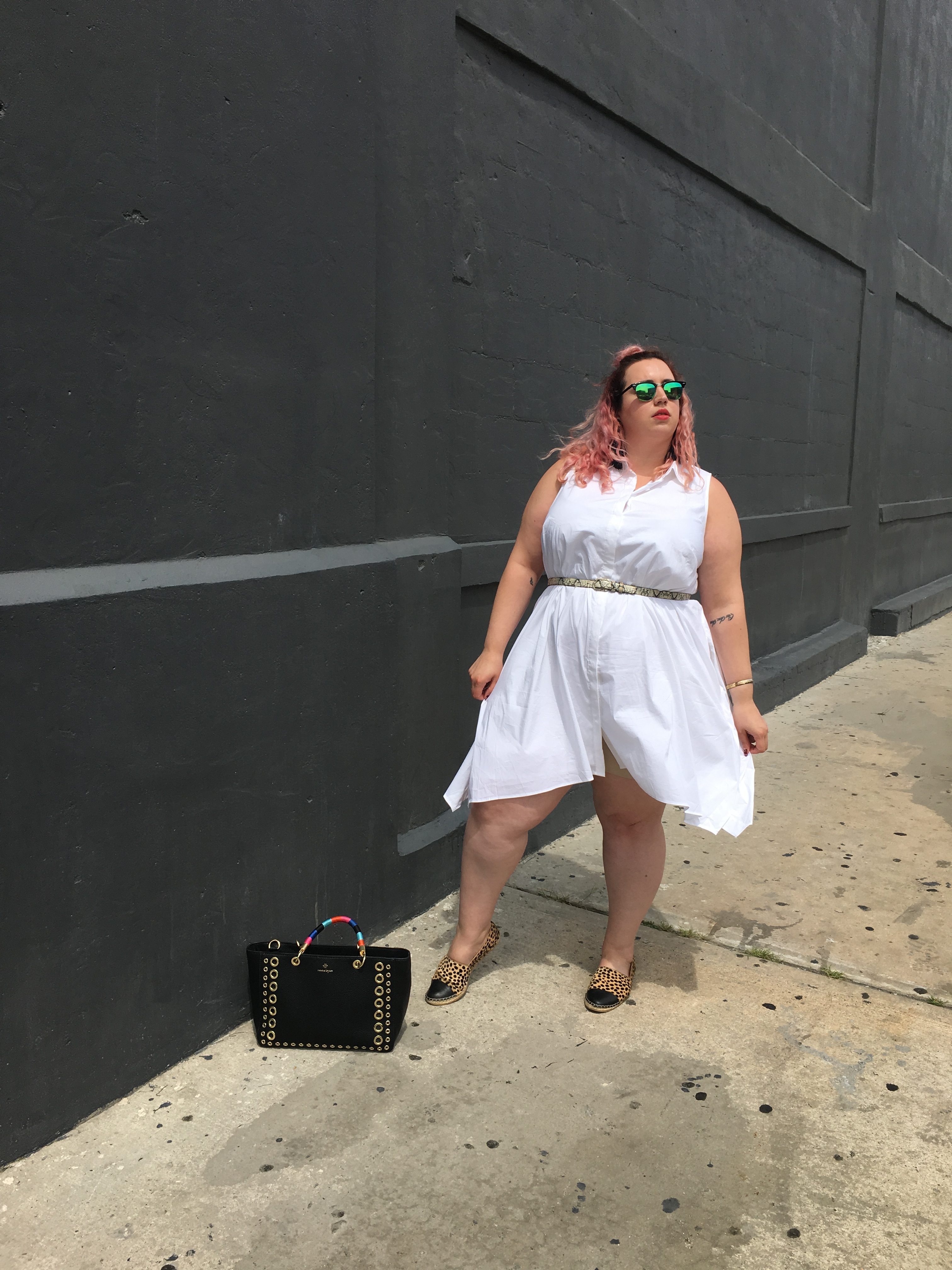 Those confidence issues aside, there's still another reason many avoid wearing white, and that's the clothing camp I tend to fall into as well.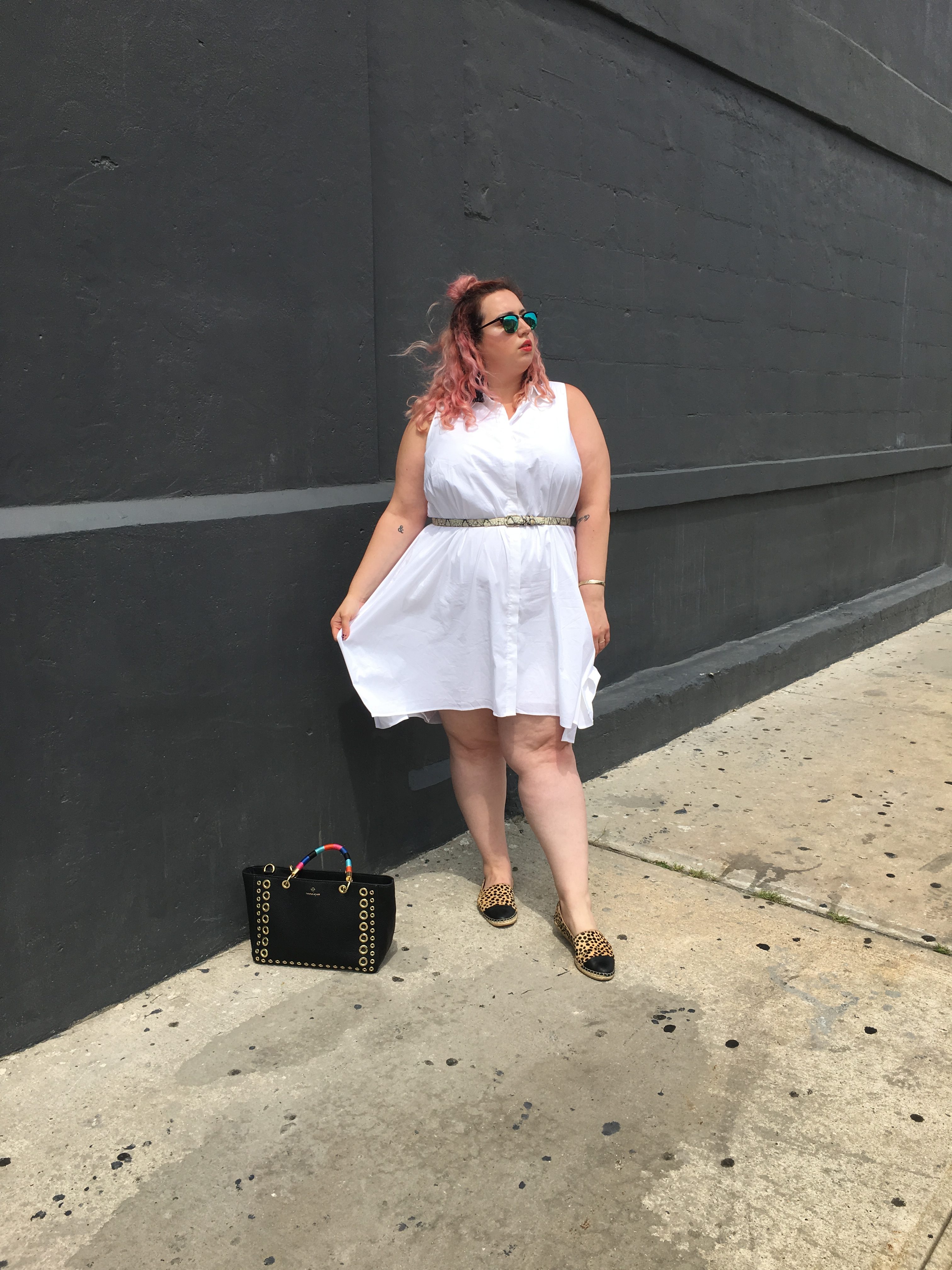 Even with living my ruleless sartorial life, I don't wear a lot of white, due to my general…clumsiness, let's call it.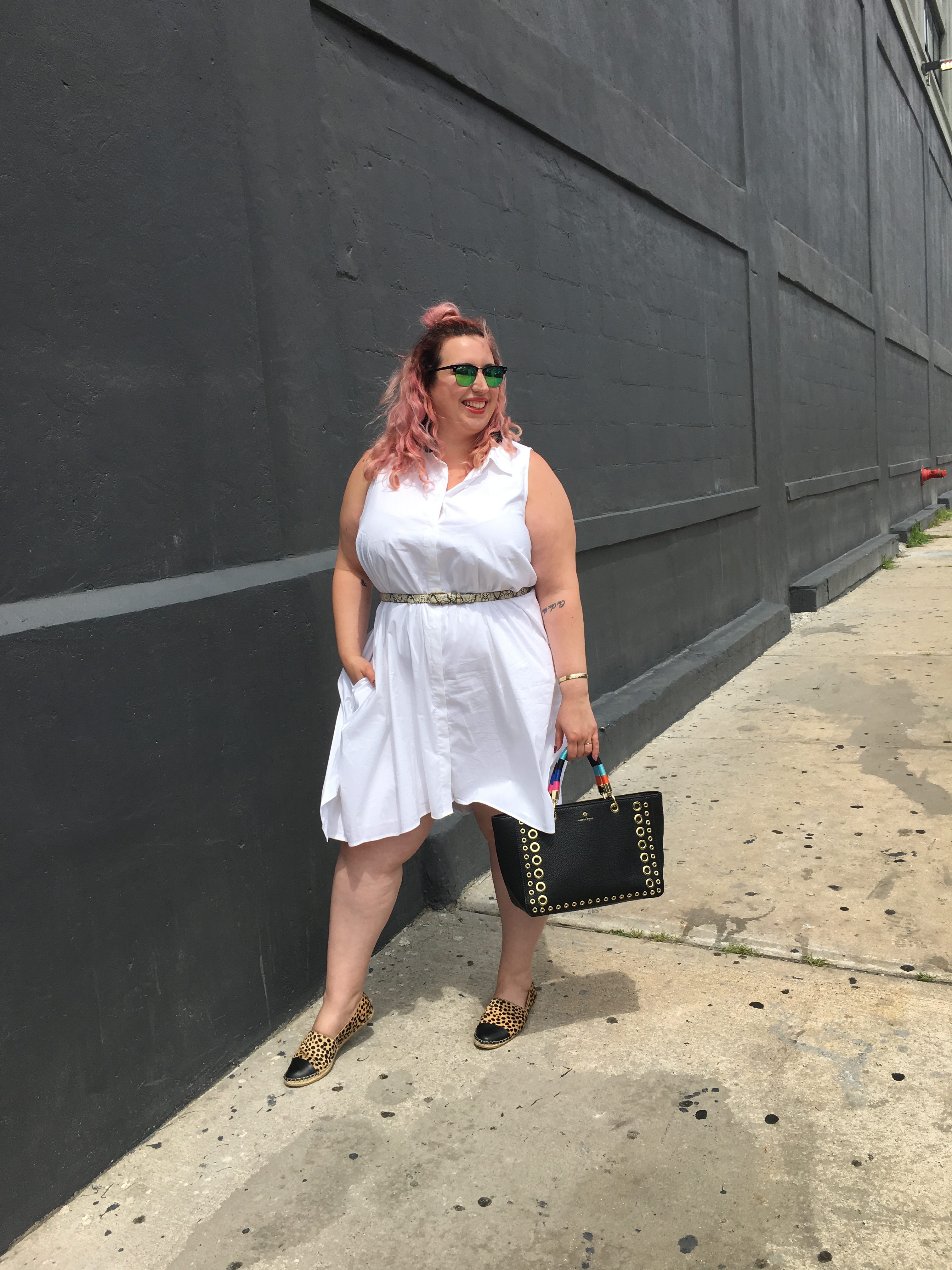 I was literally given the nickname "Queen Distructo" in college (and yes, that's intentionally misspelled), since I was constantly injuring myself, breaking things, spilling stuff, etc.
I love the crisp, clean look of a white ensemble, but I always feel that I will instantly get it dirty. Somehow, I will get decorated in a spray of soy sauce, red wine, cold brew coffee, black paint…somehow, from somewhere, a stain will appear and then the illusion of being pristine is ruined.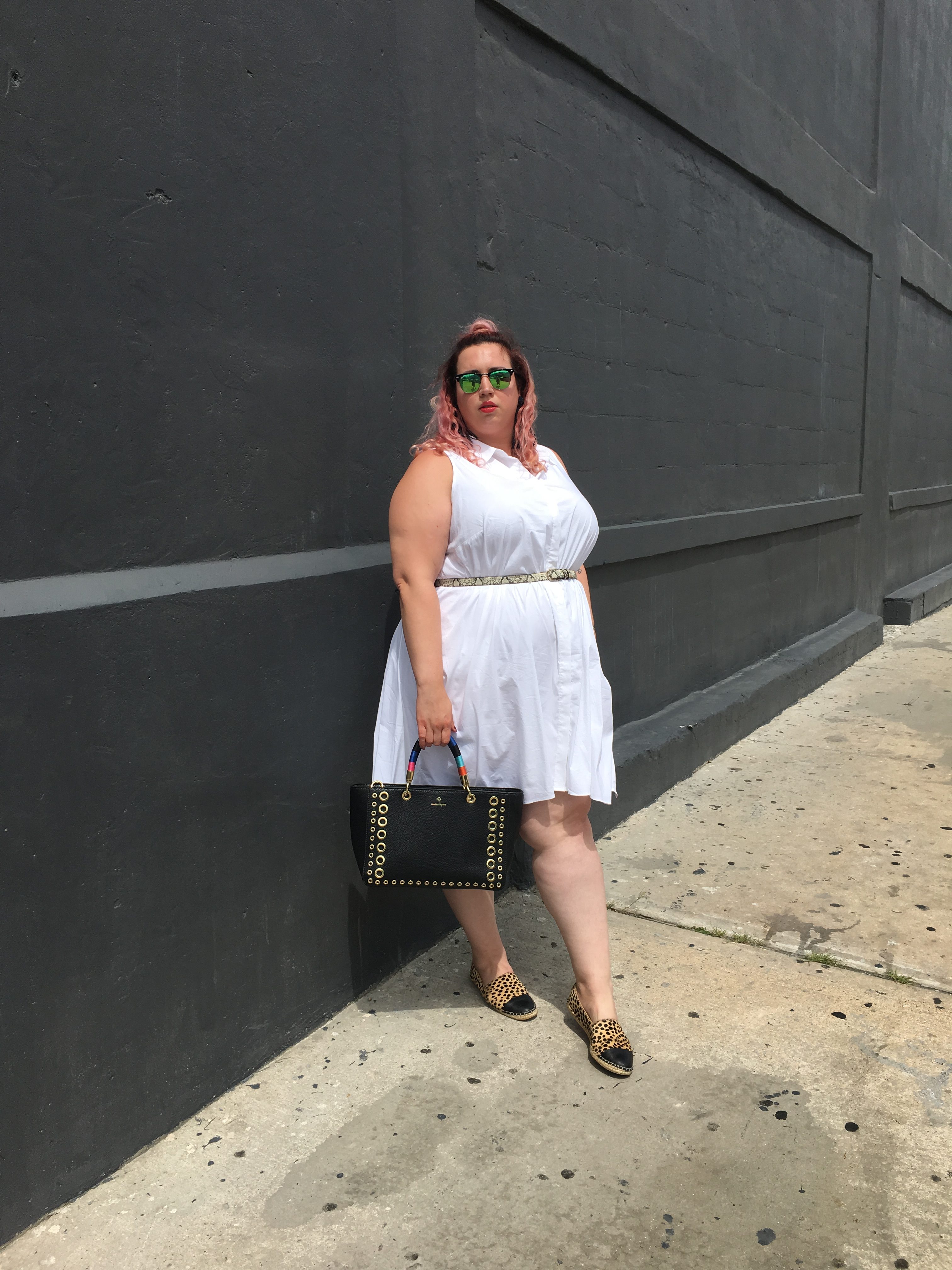 I know that I'm not the only person with this white-clothed worry; I often see other people bemoaning the fact that they're too accident-prone to wear white. But thankfully, I have a solution!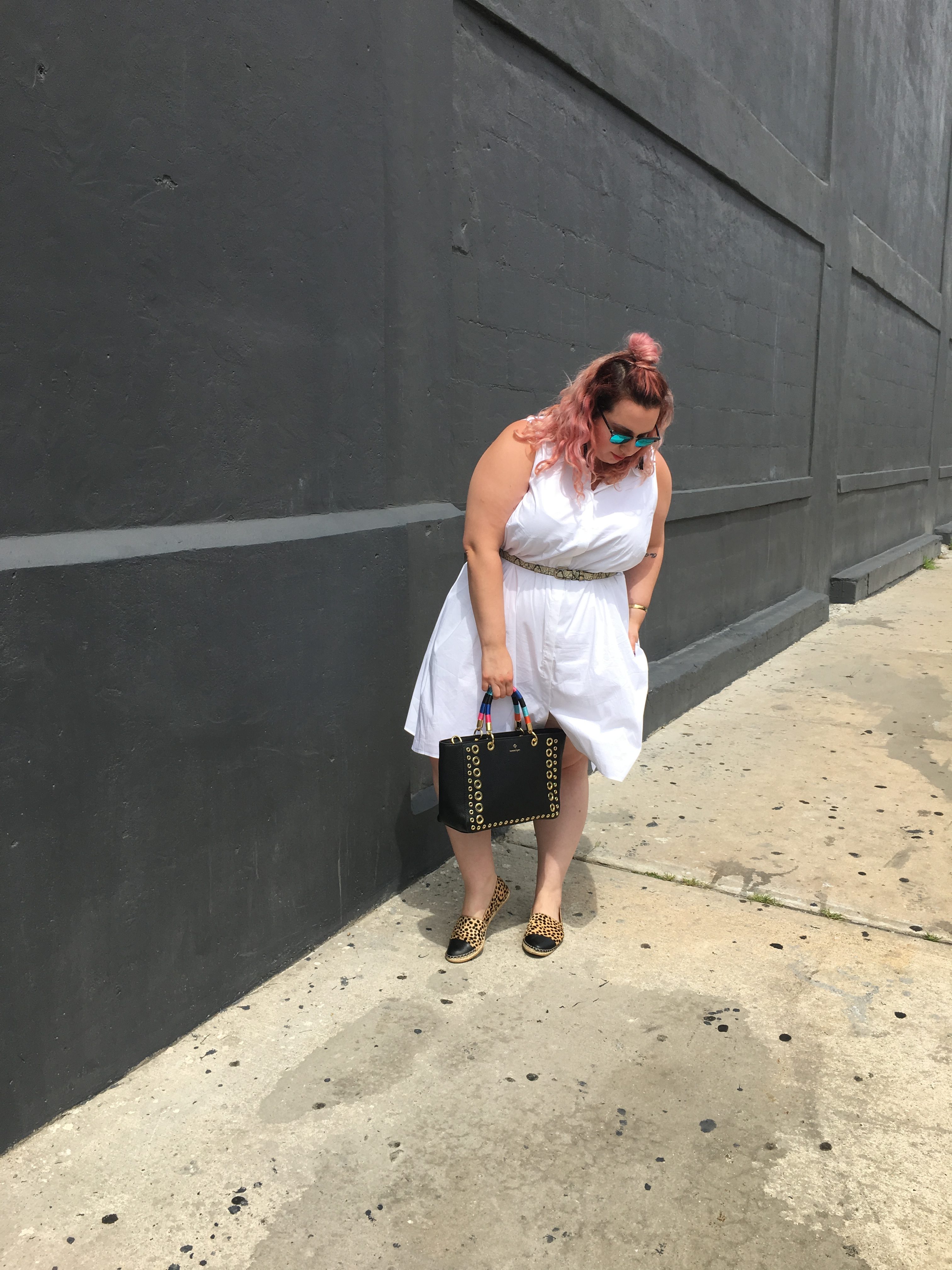 Although there are many perks to having a Gwynnie Bee membership (like trying new trends, having access to an unlimited closet, getting designer exclusives), one of my favorite underrated perk is the free dry cleaning.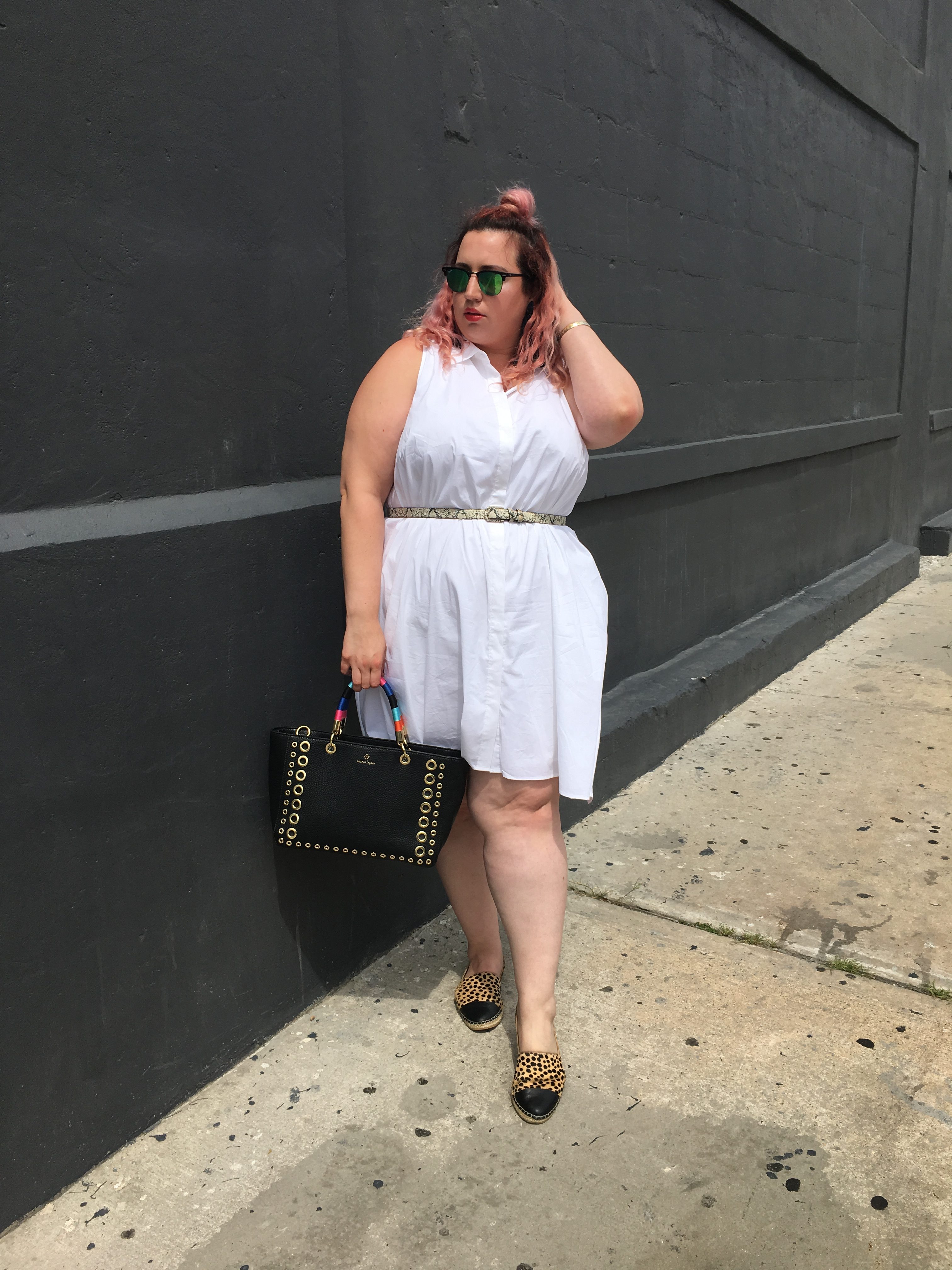 Oh yeah, you read that right—free dry cleaning (as well as shipping & returns) on every item.
This rental relief makes wearing white a breeze! 

Although I normally would have looked longingly at this Alfani shirt dress and then sadly click away, I instead gleefully added it to my closet. Who cares if I got it dirty on the first wear? It wouldn't be my responsibility to somehow remove stains, and I got to have the experience of wearing a beautiful white dress during the summer.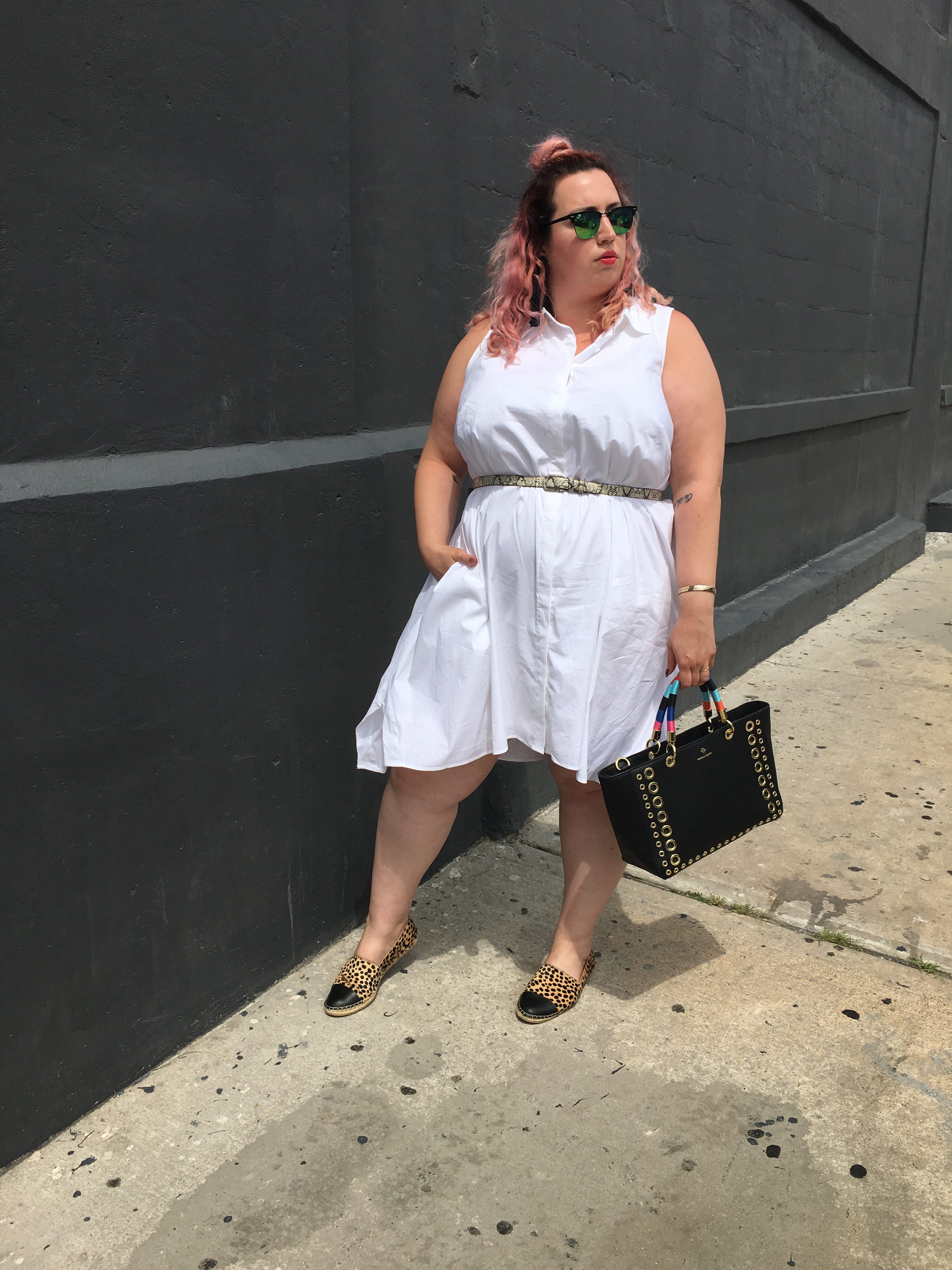 Gwynnie Bee's cleaning process is super-detailed; their dry-cleaning is on-site at their distribution center, and three people have to approve the cleanliness before it's shipped (including a sniff test). Not just that, it gets cleaned before it's even shipped for the first time, removing any chemical nasties from the original factory, and assuring that the garment won't fall apart after the first wash!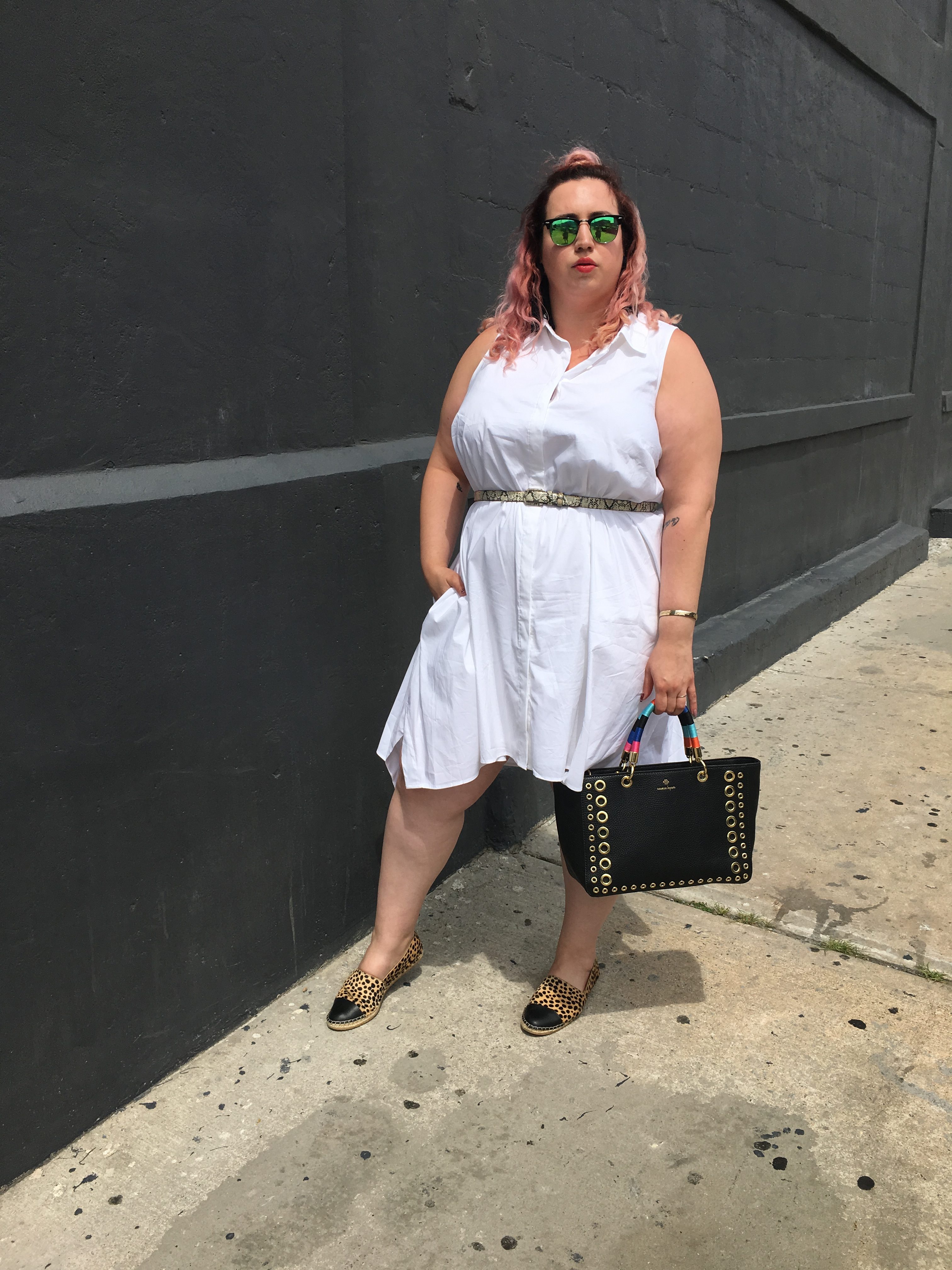 Although I loved wearing this dress, I knew this would be a #rentnreturn type garment. As much as I adore white pieces, to me, it's just a temporary love affair. We flirt, there's total chemistry, but I'm just not willing to make a serious commitment.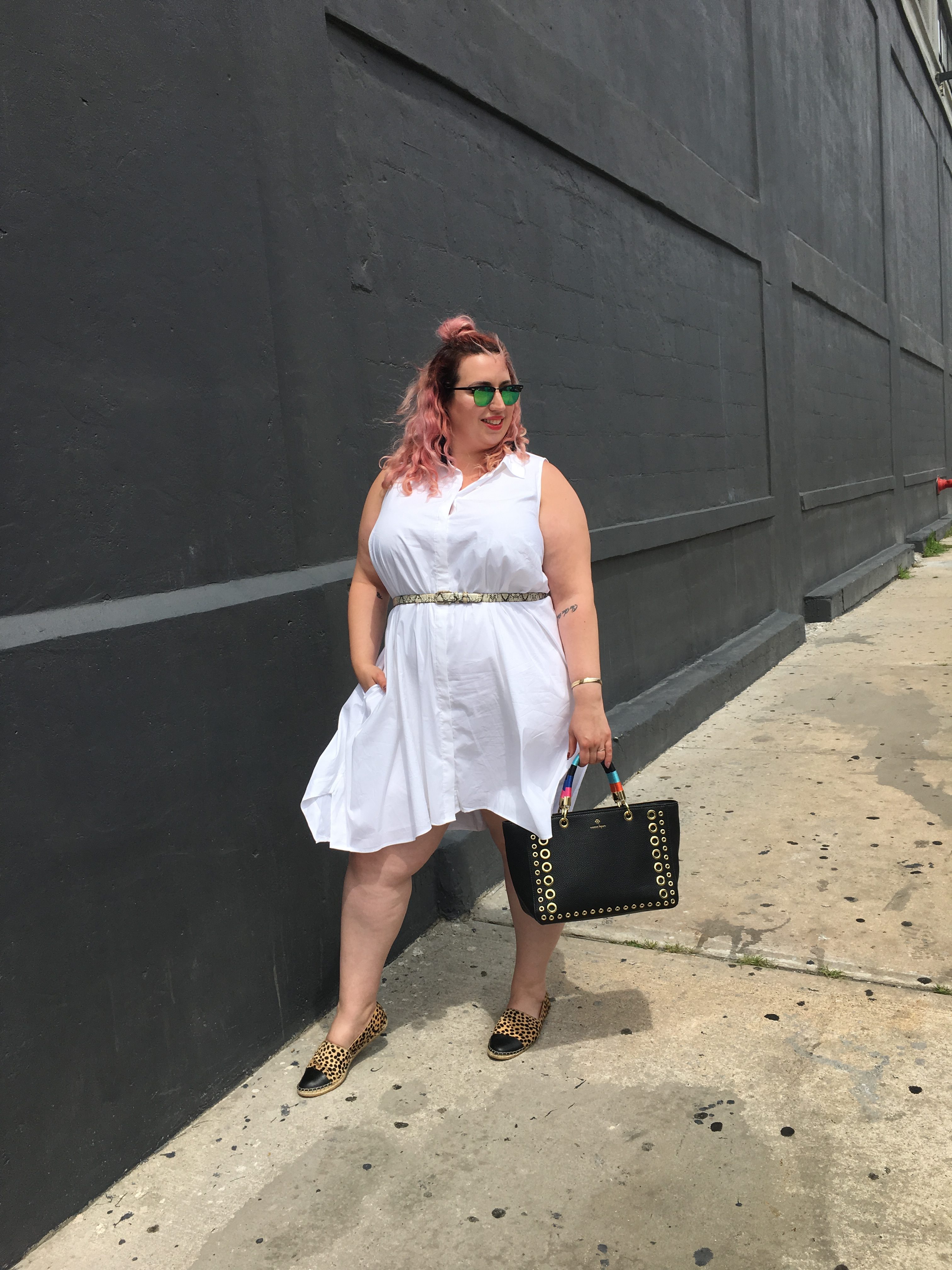 I got to have my summer sartorial romance without making a real financial commitment. Wore this stunner once, notified them I was returning it, sent it back, and they started packing my next shipment ASAP! (If you return notify they will start putting together your next box then, instead of waiting to receive the piece you're sending back – so make sure you always return notify to make the most of your membership!)
I also wanted to give you a close up on these gorgeous statement earrings from Sachin & Babi! I was gifted them by the brand, and I feel so fortunate to have such a stunning piece. They're actually clip-on earrings, which I have never worn before, but they're surprisingly comfortable. I can't wait to wear them with more outfits that need a special something-something.
This post is sponsored by Gwynnie Bee, but all opinions are my own.
Dress: Gwynnie Bee
Belt: Target
Bag: Nanette Lepore
Shoes: Loeffler Randall 
Earrings: Sachin & Babi
Sunglasses: Ray Ban