This isn't the first time I've fallen in love with a country I never planned to visit. The first time was Iceland, where I had a stop over four years ago on my way to Paris. I spent less than 48 hours there and I was stunned by how much I enjoyed, and was eager to go back.
John and I knew we wanted to book another Europe trip this year, and when Icelandair had a sale, we struggled to choose a destination, but decided to head to Amsterdam; a place I had been to before, but John had never been. With the amount of time we had available to us, and because countries in Europe are smaller than many states in the USA, we figured it made sense to swing by another neighboring country. After a short debate, we decided on Belgium; specifically Brussels and Bruges. It was a random pick, based on nothing more than beer, waffles, and chocolate…but it was oh, SO much more!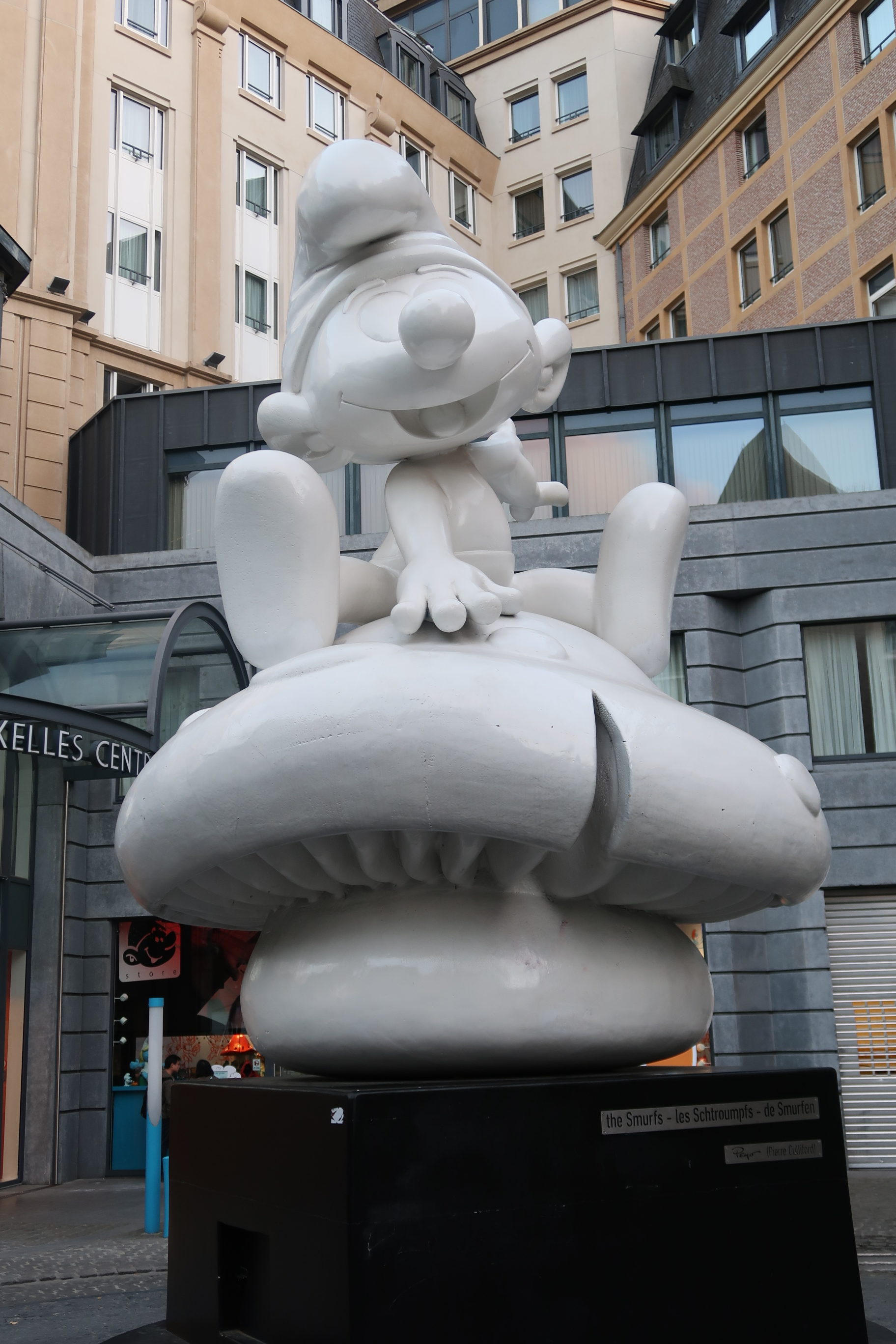 (Oh, and smurfs…Belgium is also known for Smurfs…)
After a quick layover in Iceland, we were off to Amsterdam…where we disembarked our plane and headed directly to a Thalys train to Brussels. We had wanted to bang out all our major travel ASAP, and as exhausted as we were, I'm glad we did.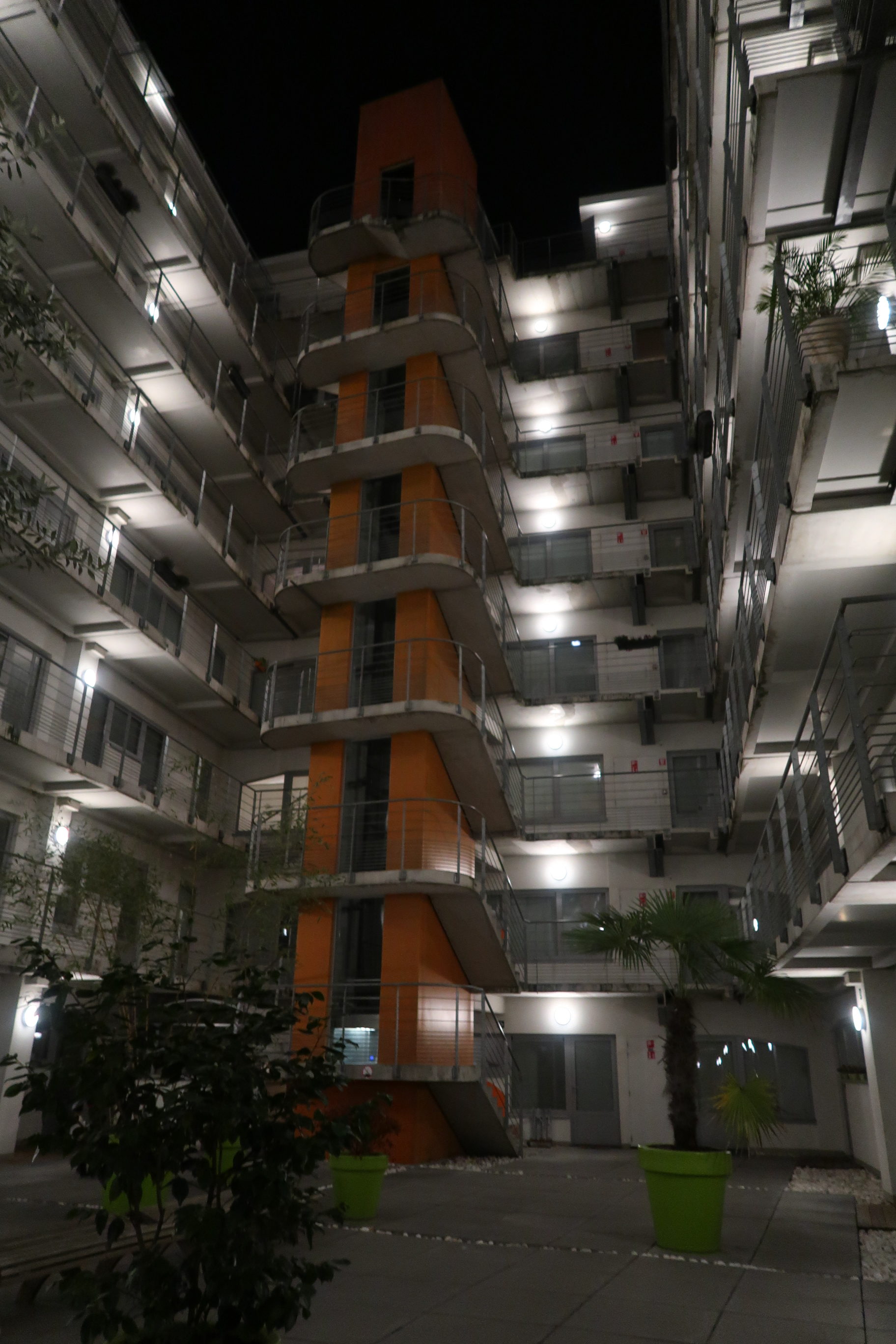 We stayed in an Airbnb that was about a five minute walk from the Brussels Midi station (a tour of which will eventually be included in my travel video). Whenever I travel, I like to be in the thick of things, or at least a short walk to the main area. This loft was perfect because it was recessed from the street, looked out into a garden, but was only about a 20 minute walk to the Grand-Place.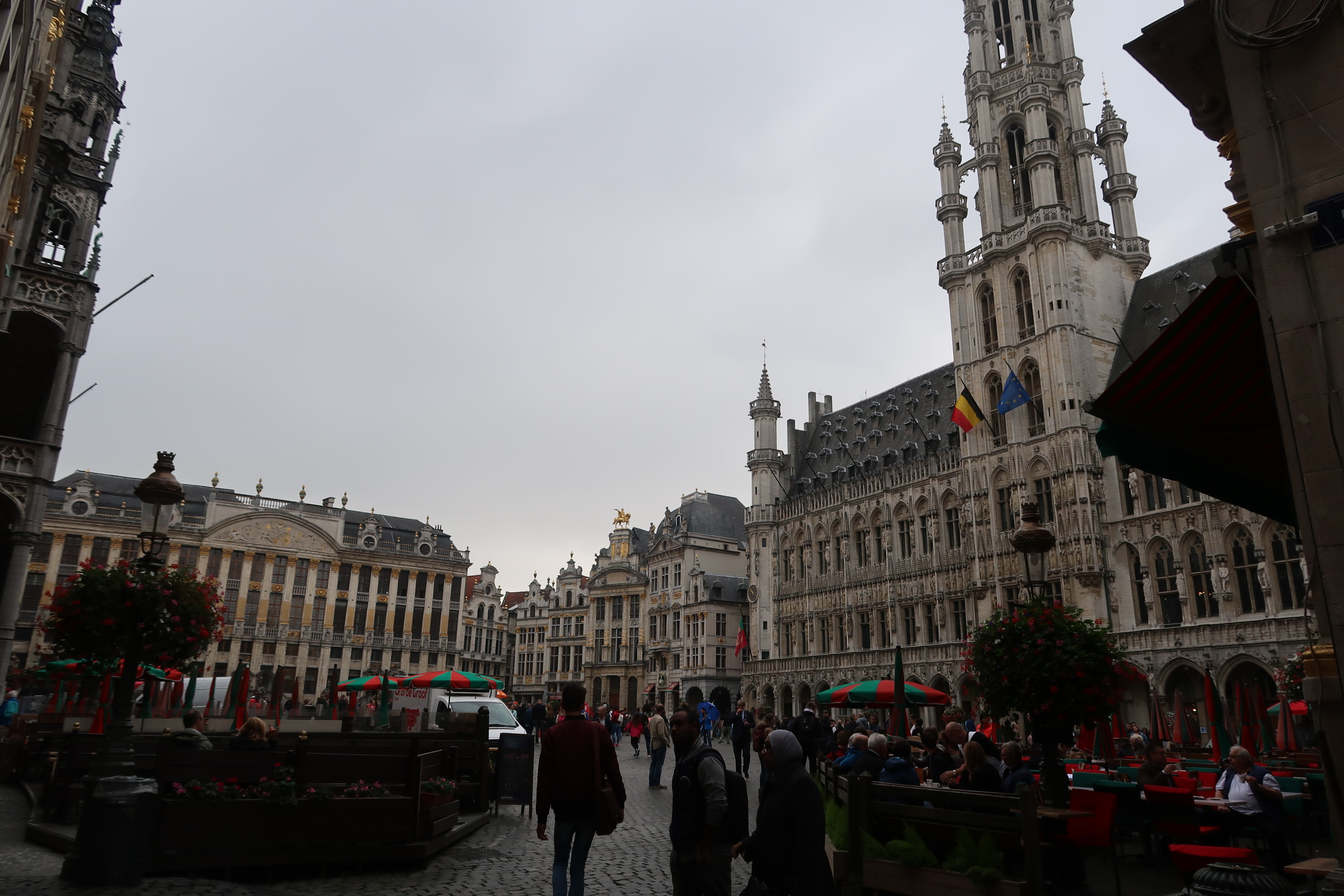 The Grand-Place is a massive city center square ringed by gilded guild houses, the City Hall, and the Maison du Roi.

The picturesque center is considered a central meeting point for many things, and it was where we met our tour guides both days. (You can see one of the Bravo Discovery tour guides with the white umbrella in the background below.)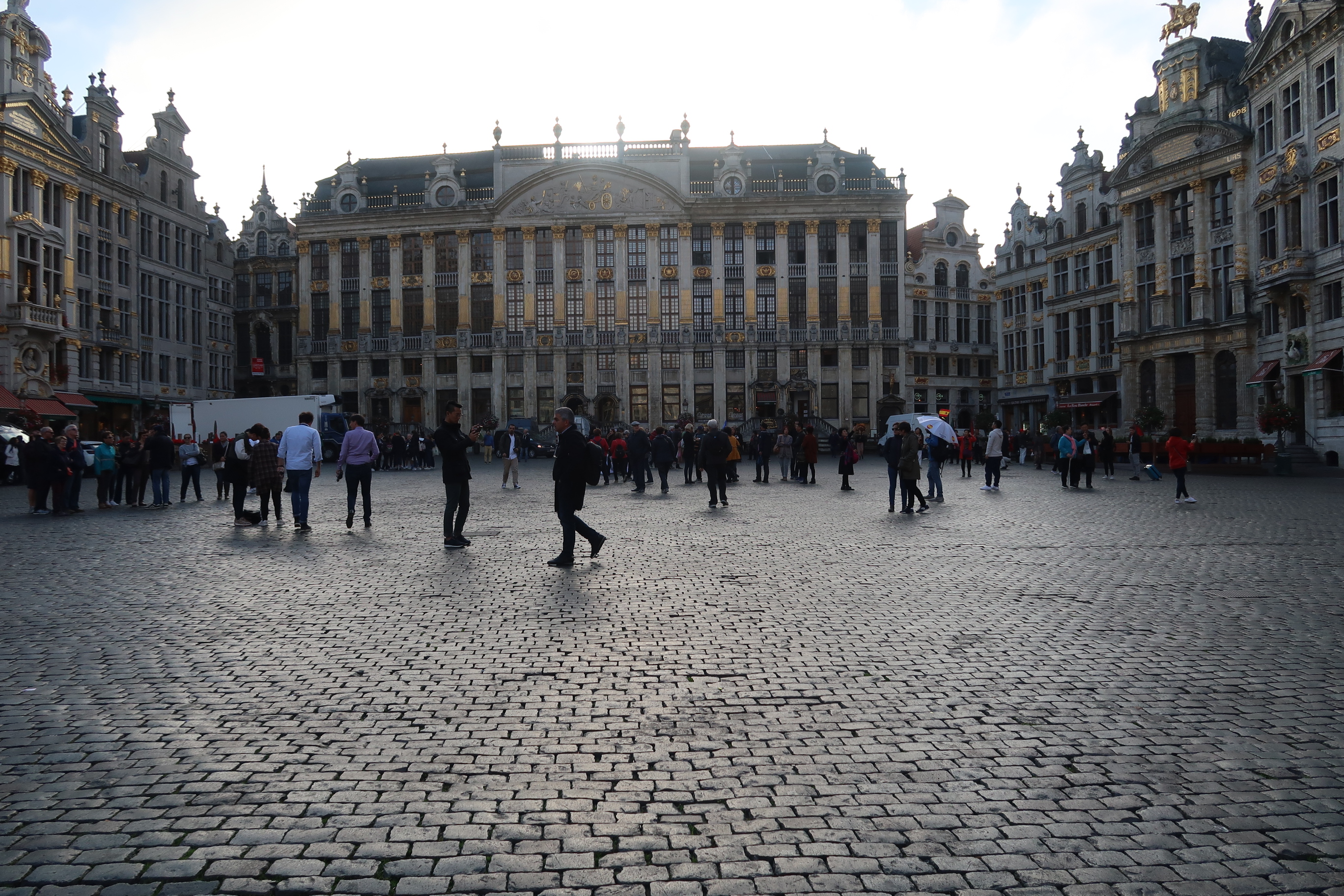 I love taking a free walking tour every time I travel to a new place. It's always run by locals who can not just explain the history of the area, but can also advise on other things to see, things to avoid, great bars and restaurants, and things off the beaten path. It's "free," but you are expected to tip at the end of the tour.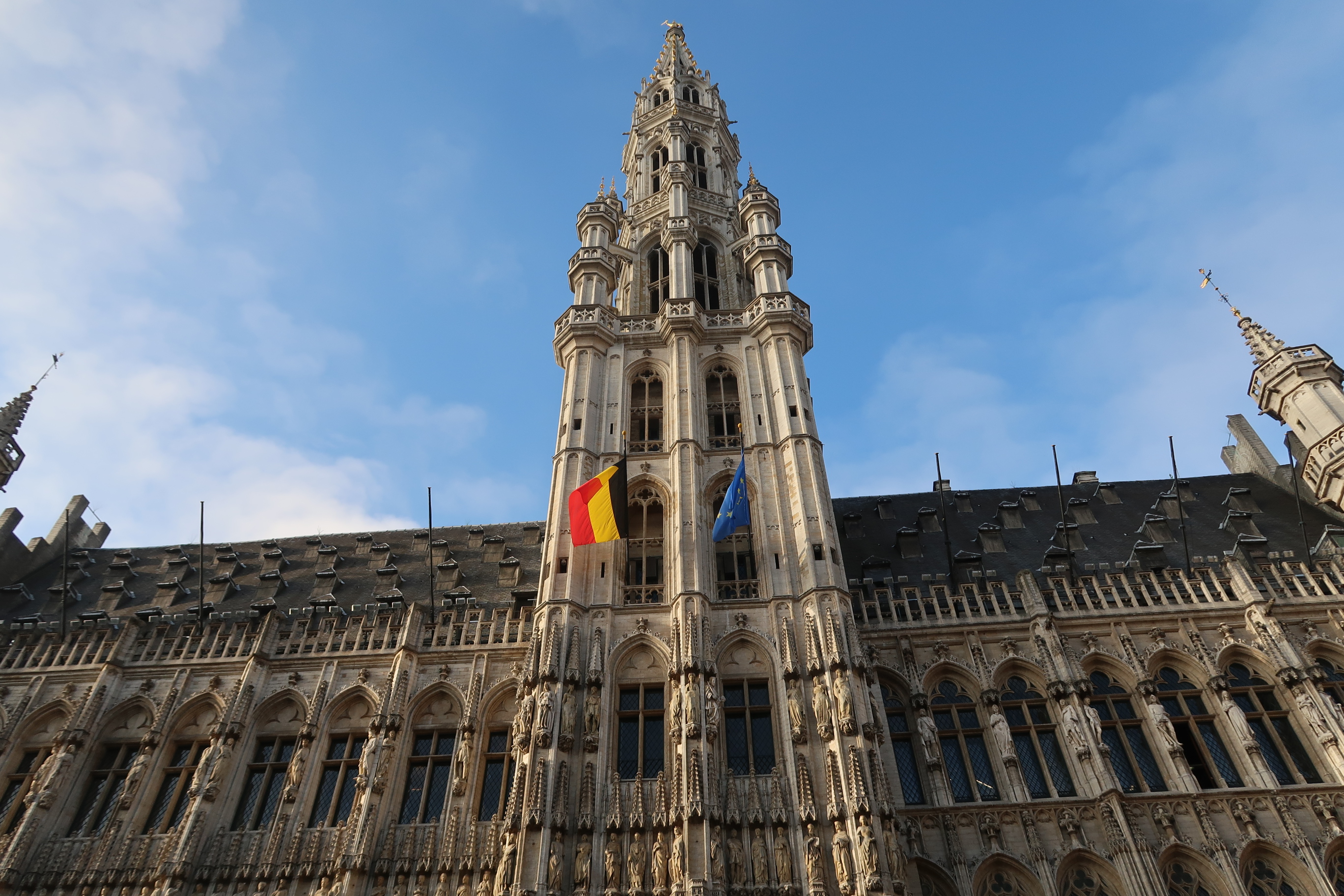 We started in the Grand-Place, and wandered around the streets nearby, stopping into a chocolate shop for a treat, as our guide explained everything from why fries are incorrectly known as "French Fries" in the US instead of "Belgium Fries" as they should be (apparently we should blame US soldiers in WWI not realizing they spoke French in Belgium too…) to why their national symbol is a little naked peeing boy fountain (no, that's not a joke).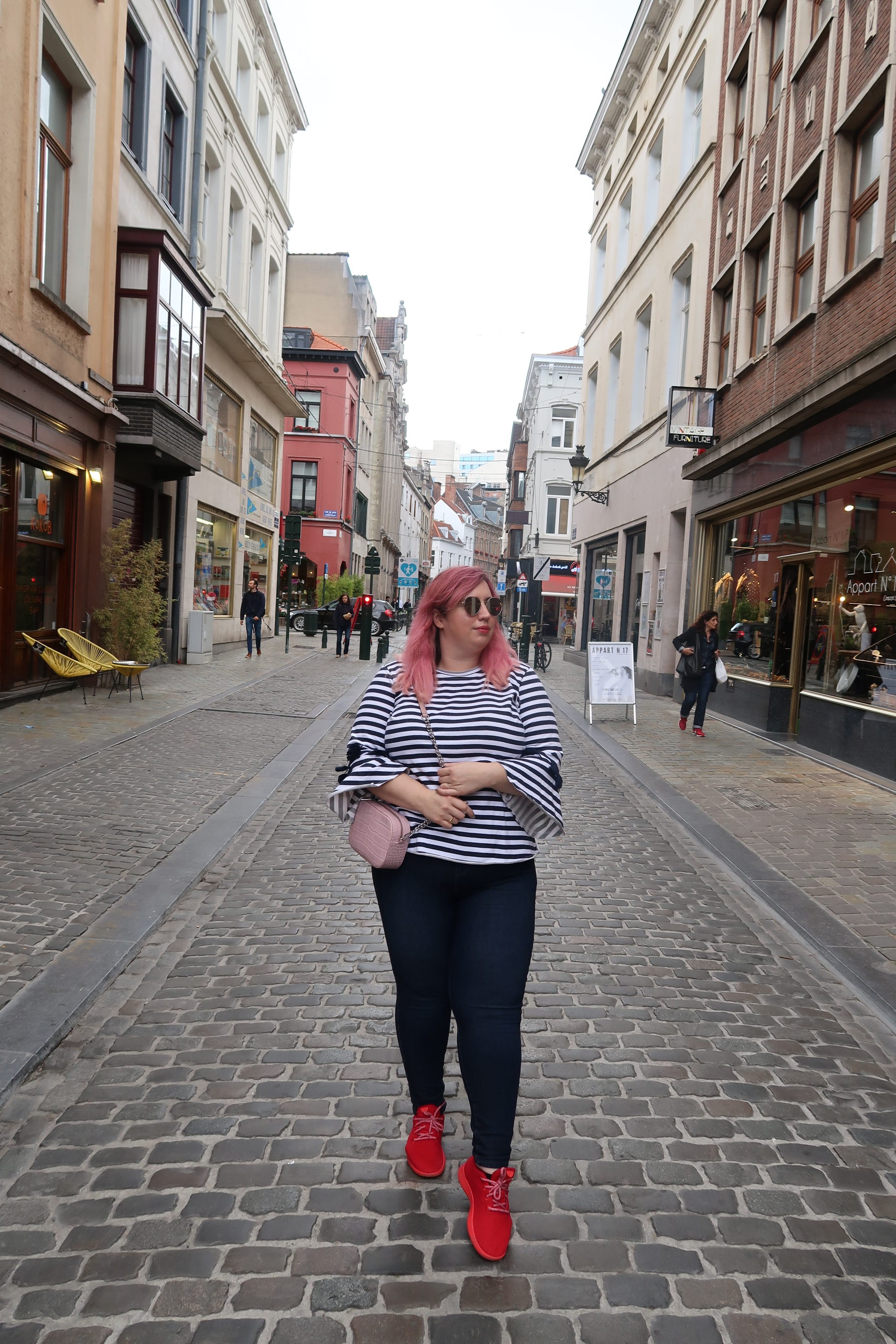 The windy cobblestone streets were charming, and I kept finding picturesque scenes everywhere we went.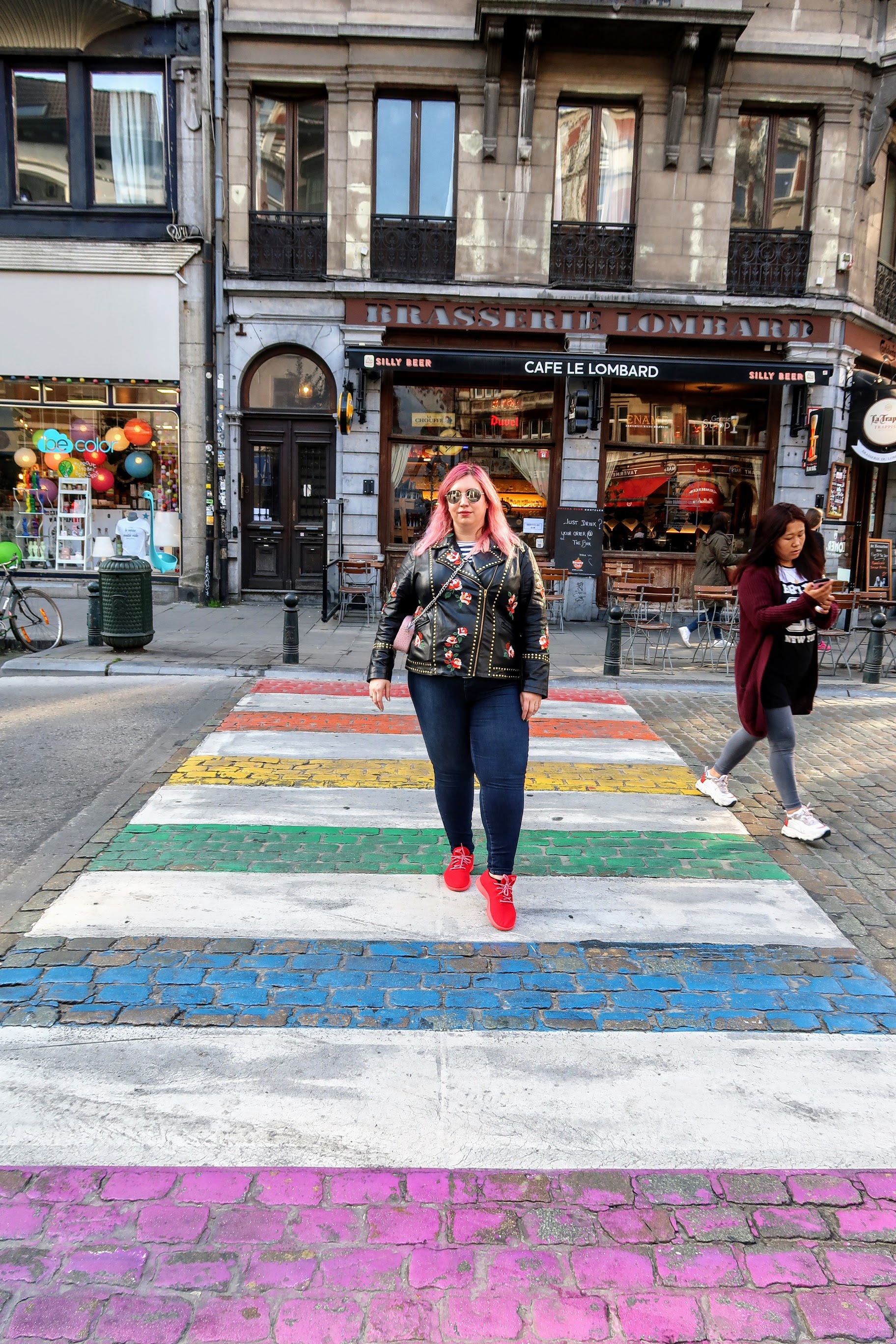 We wandered through the gay district, and strutted over the world's most fabulous crosswalk…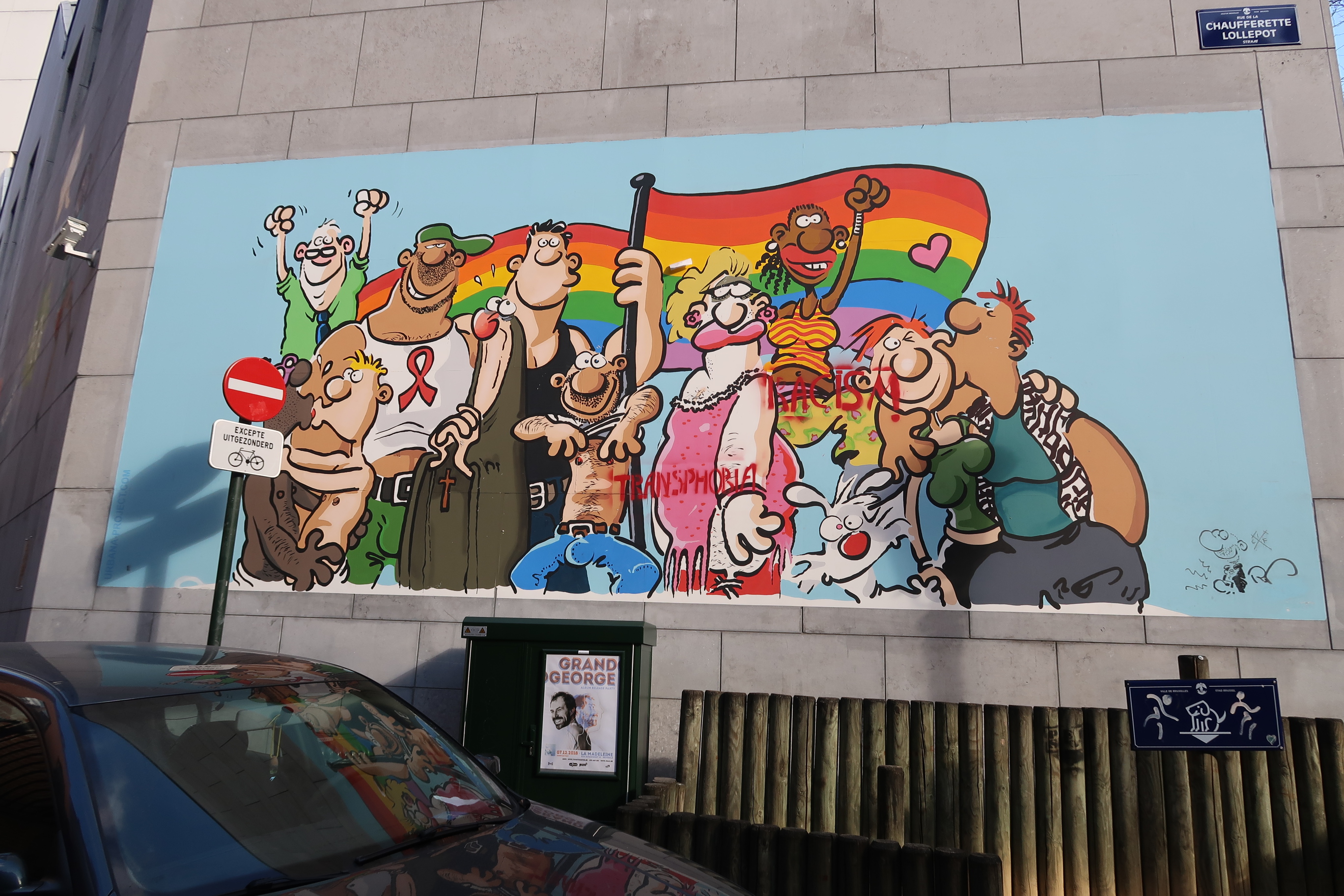 past some very colorful murals…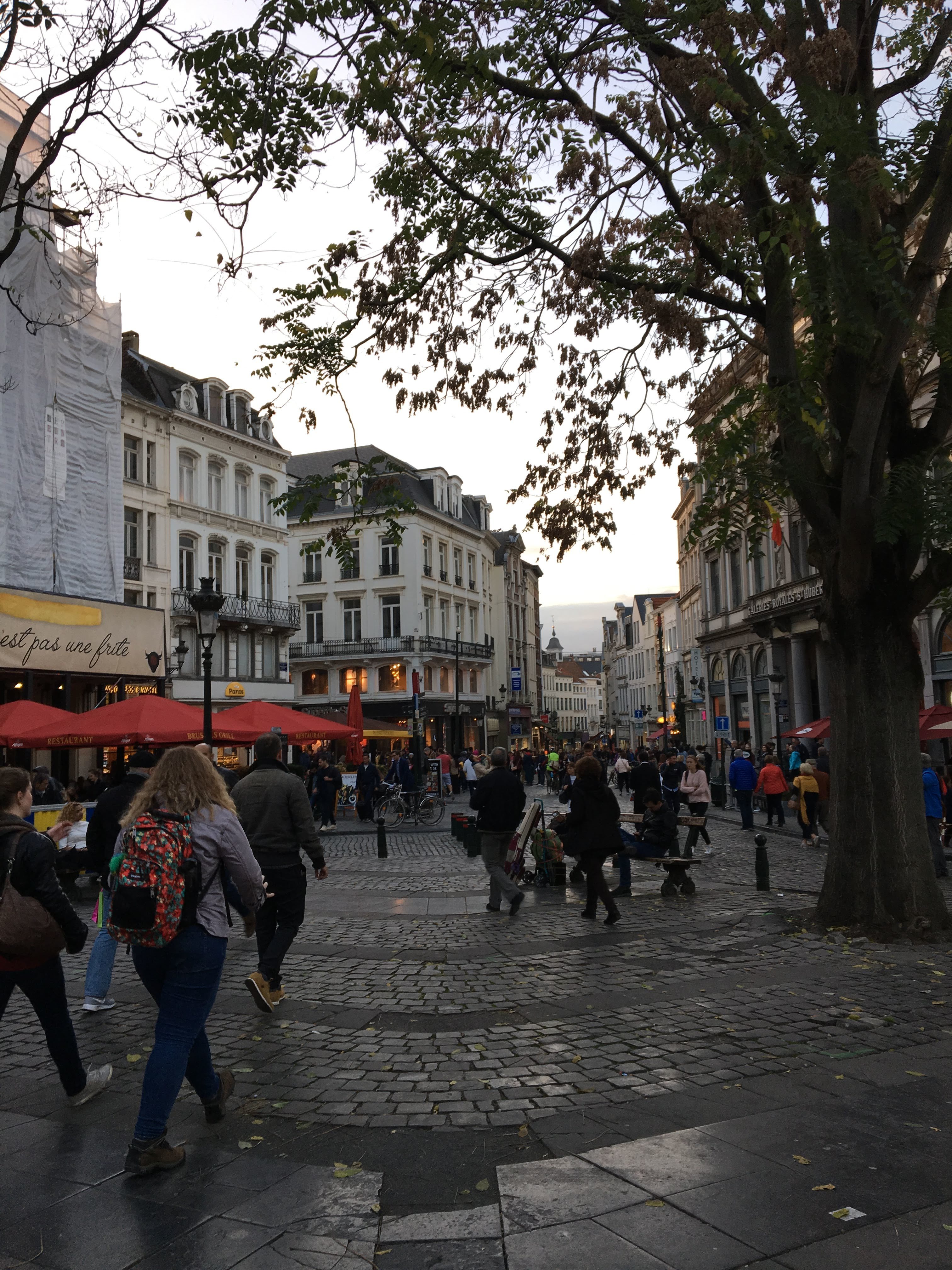 …through so many gorgeous spots…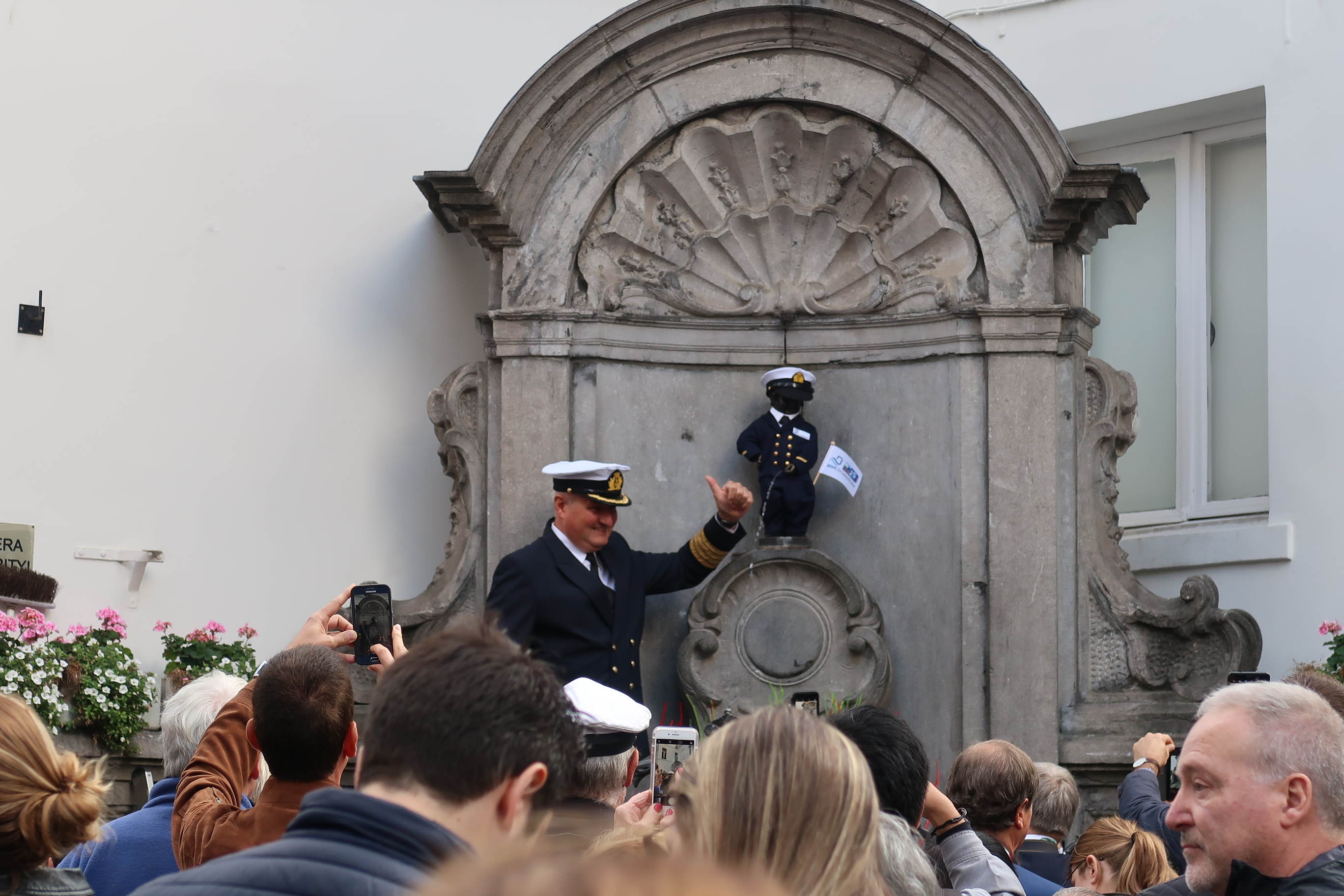 Before we wound up at the Manneken-Pis fountain.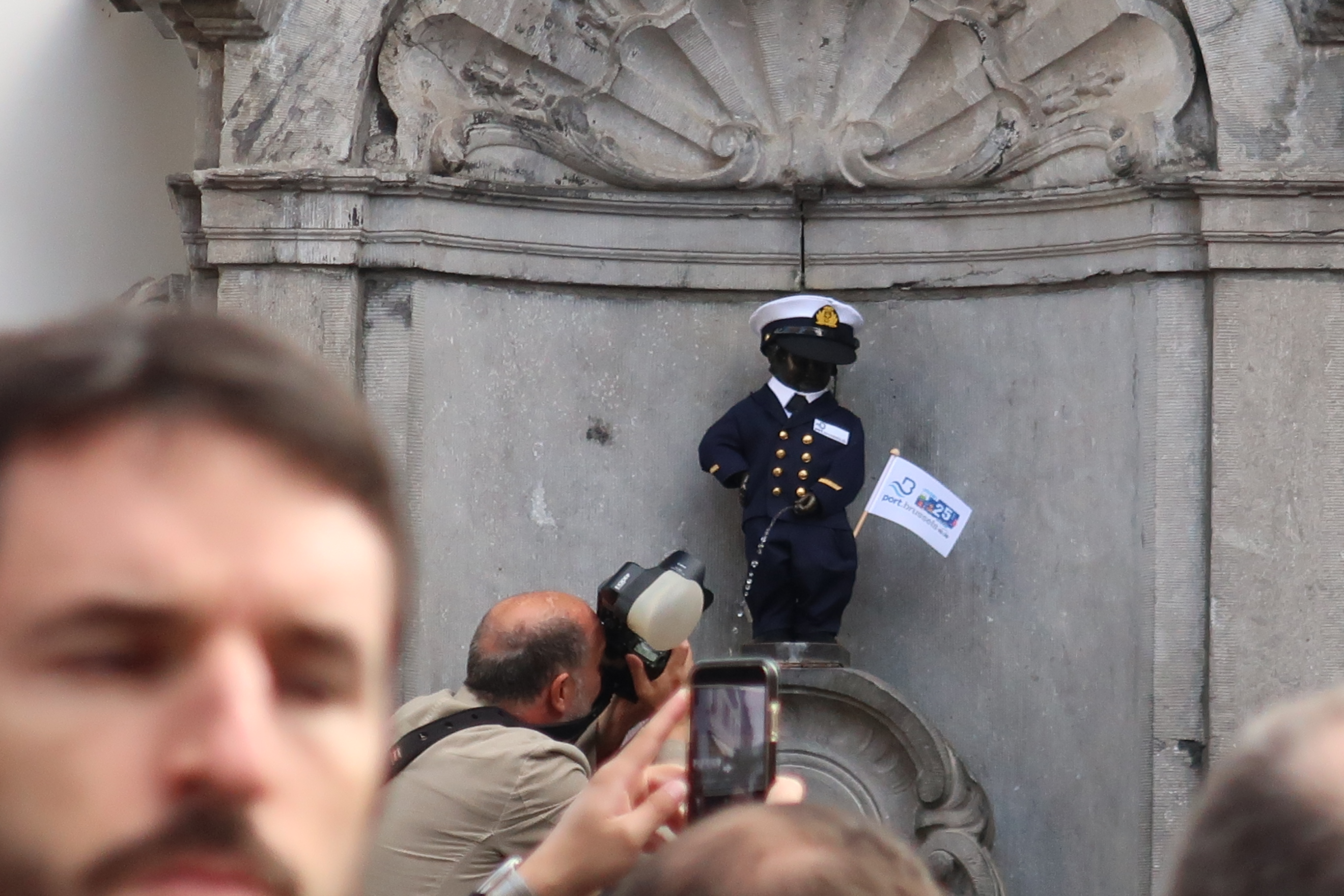 Which was having some sort of celebration, with a brass band, people dressed in the same outfit as the fountain, eager photographers, and…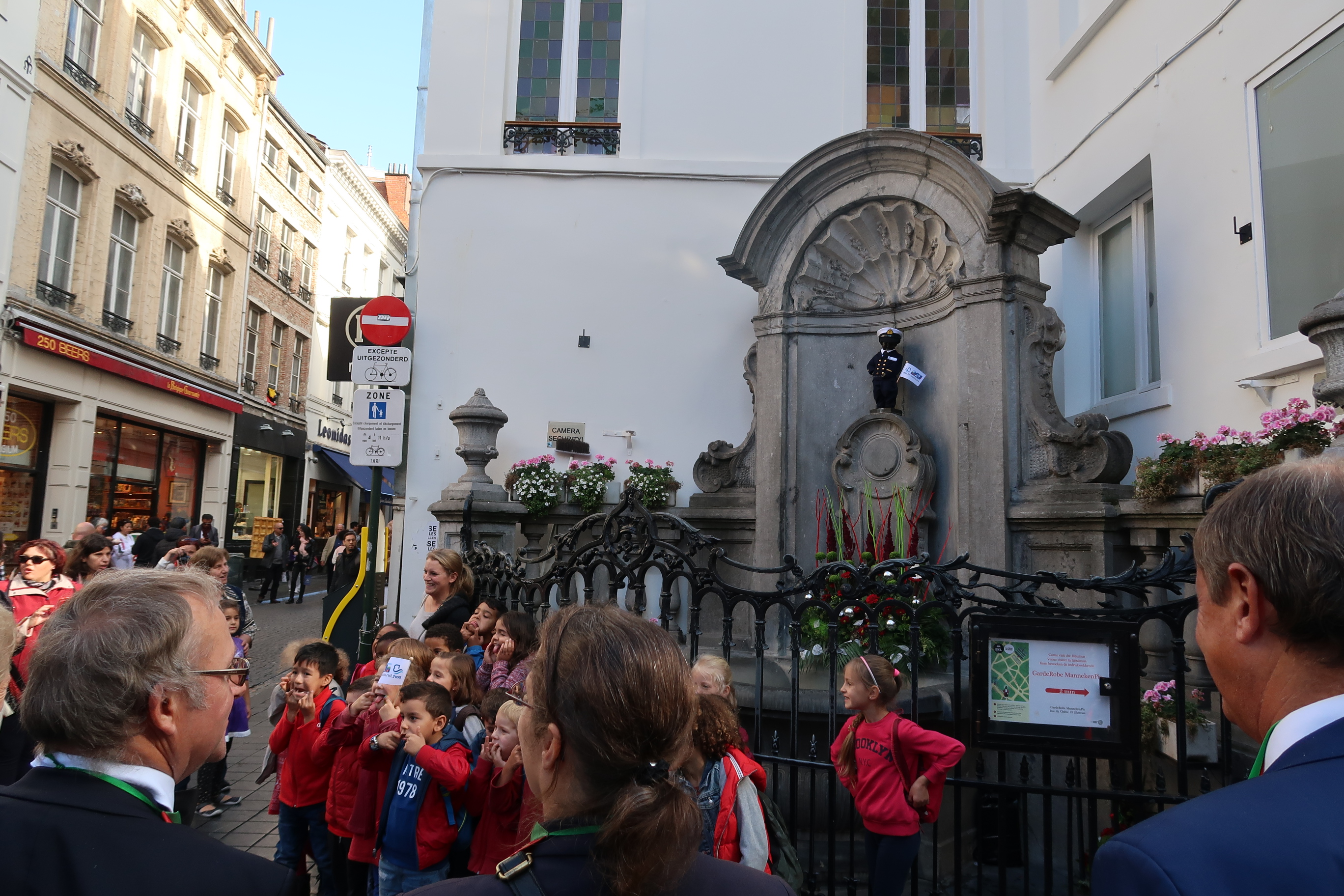 cheering, smiling, face-pulling schoolkids.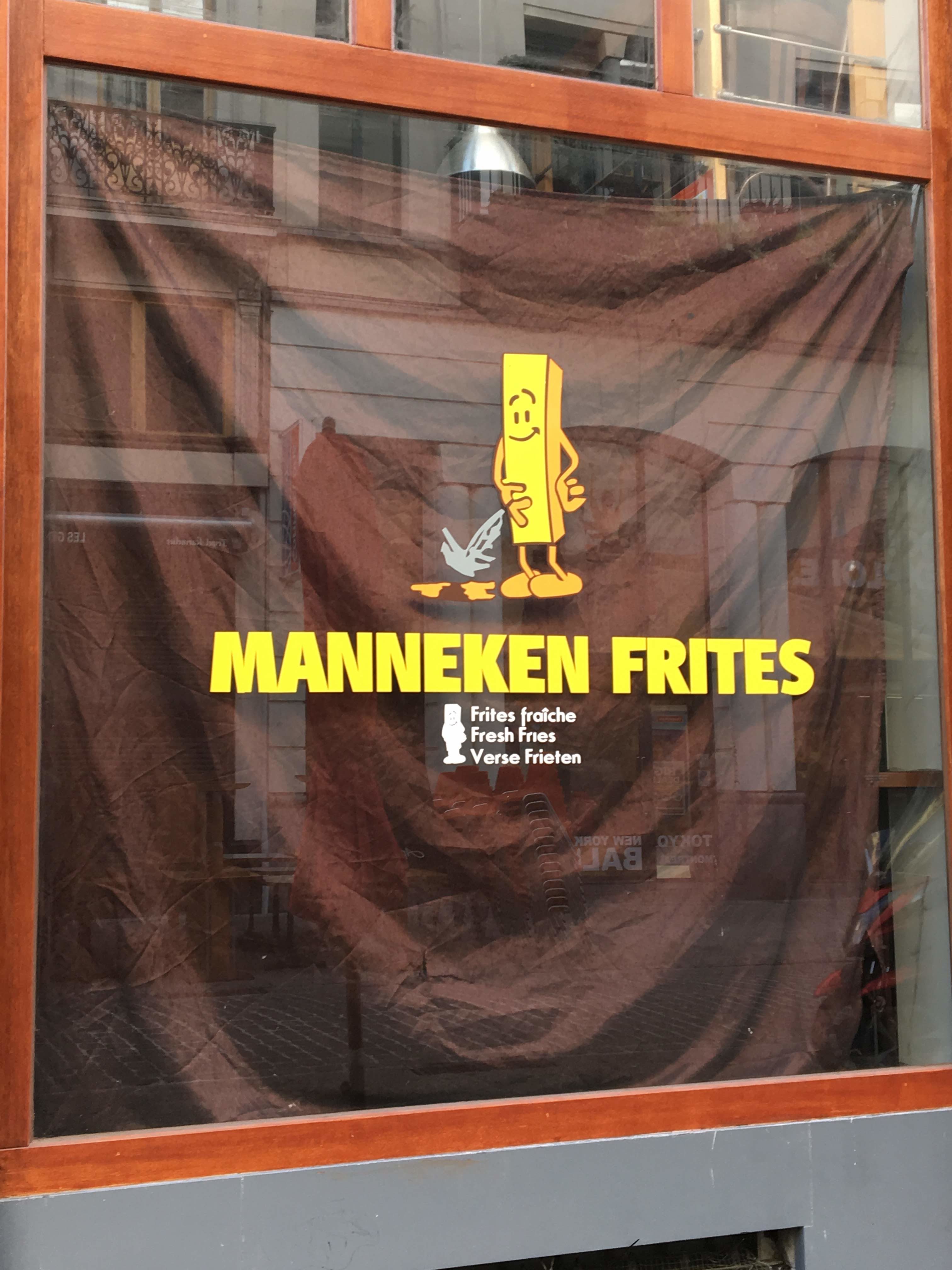 It seemed like the Manneken-Pis fountain was so much more than a tourist trap to the Belgians…it was a source of national pride. Of course, there were shops with little peeing boy trinkets, and yes, we may have bought John's family all peeing boy chocolates, and sure, we might have even gotten a waffle from a shop that had a larger-than-life version of the Manneken-Pis on their counter, but after a while it became more endearing and amusing than strange.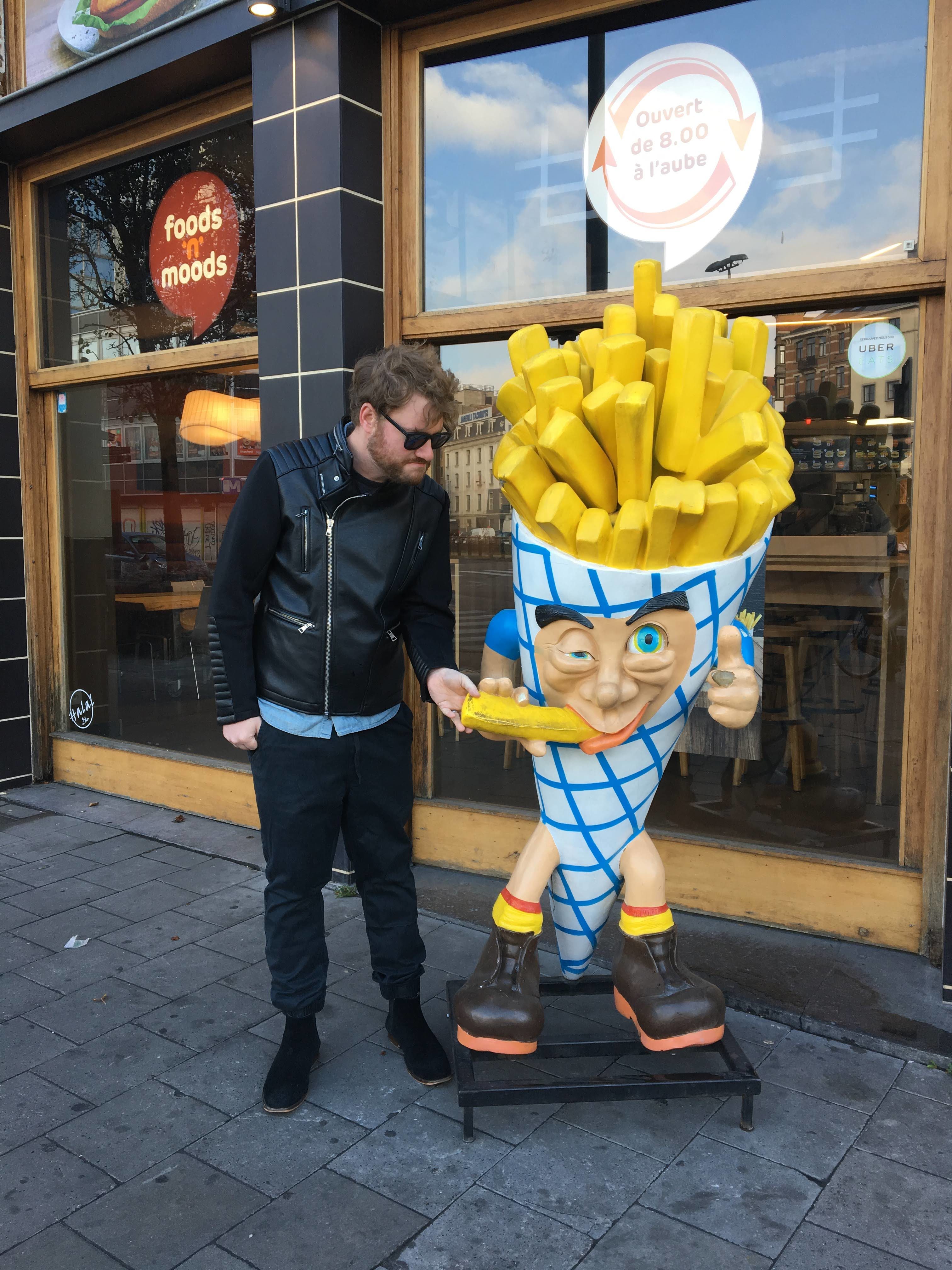 Once we finished our tour, John was determined to get Belgium fries, and once I wrestled him away from this surly frites, we found a spot to nosh.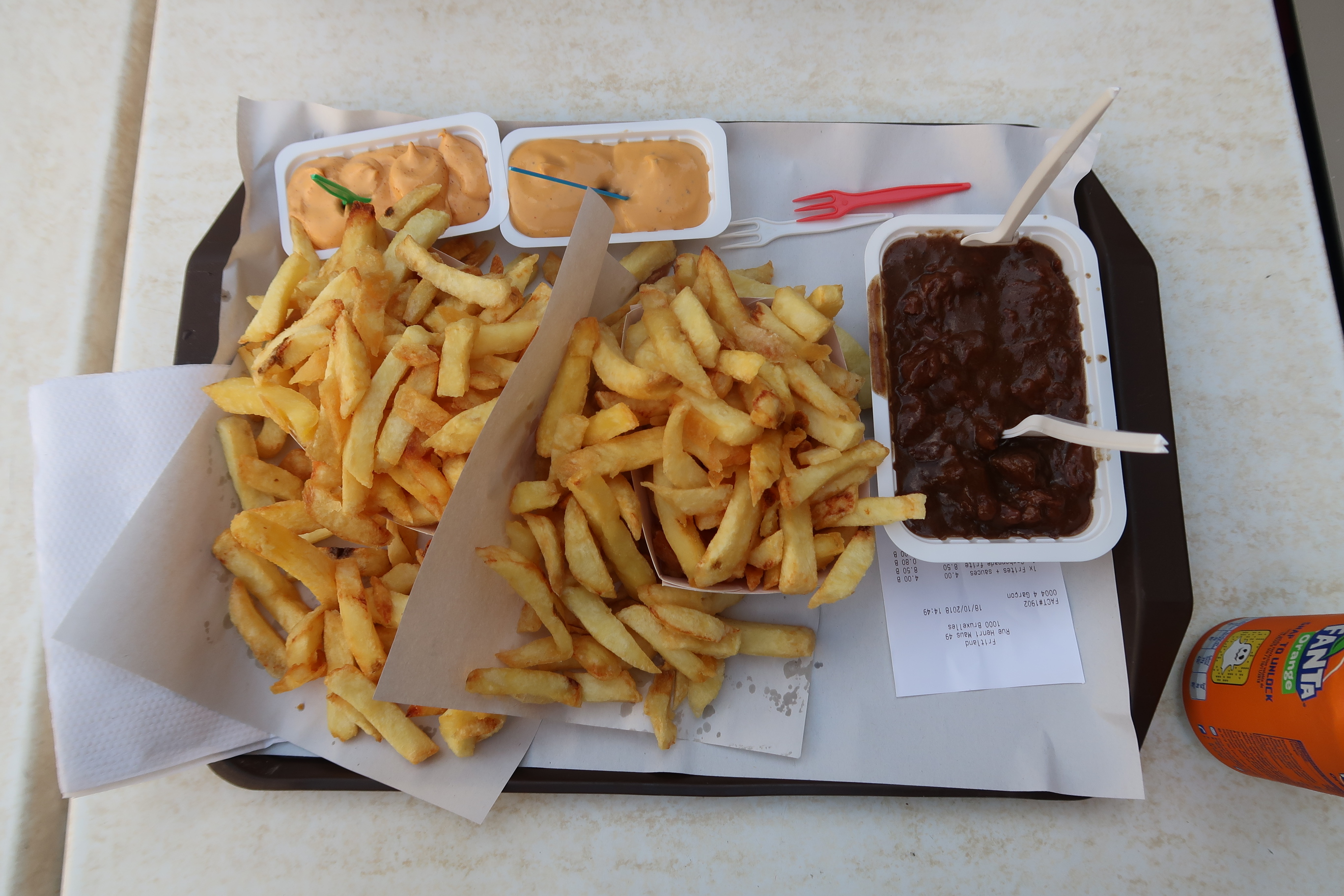 Many people incorrectly believe that Belgium is all about the mayo, but they feel no need to settle for just one condiment. Most menus offered more than ten, with this spot also providing Flemish stew as an option.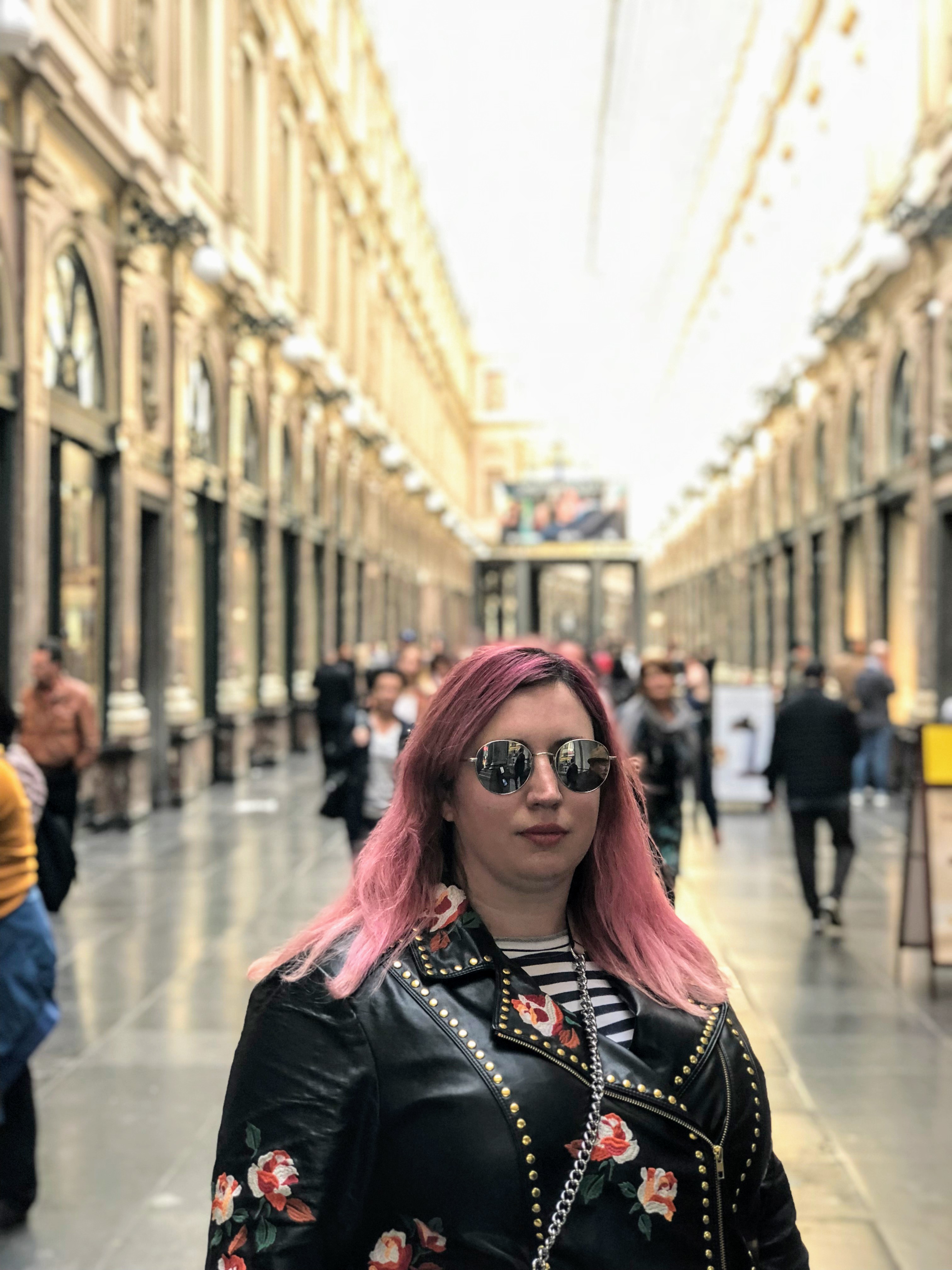 Spreading from the Grand-Place, there were little windy streets filled with all sorts of interesting places, like this sweets shop that had eye-catching mounds of candies all piled prettily on top of antique barrels. It felt quaint and whimsical, unlike anything I'd ever seen in the states.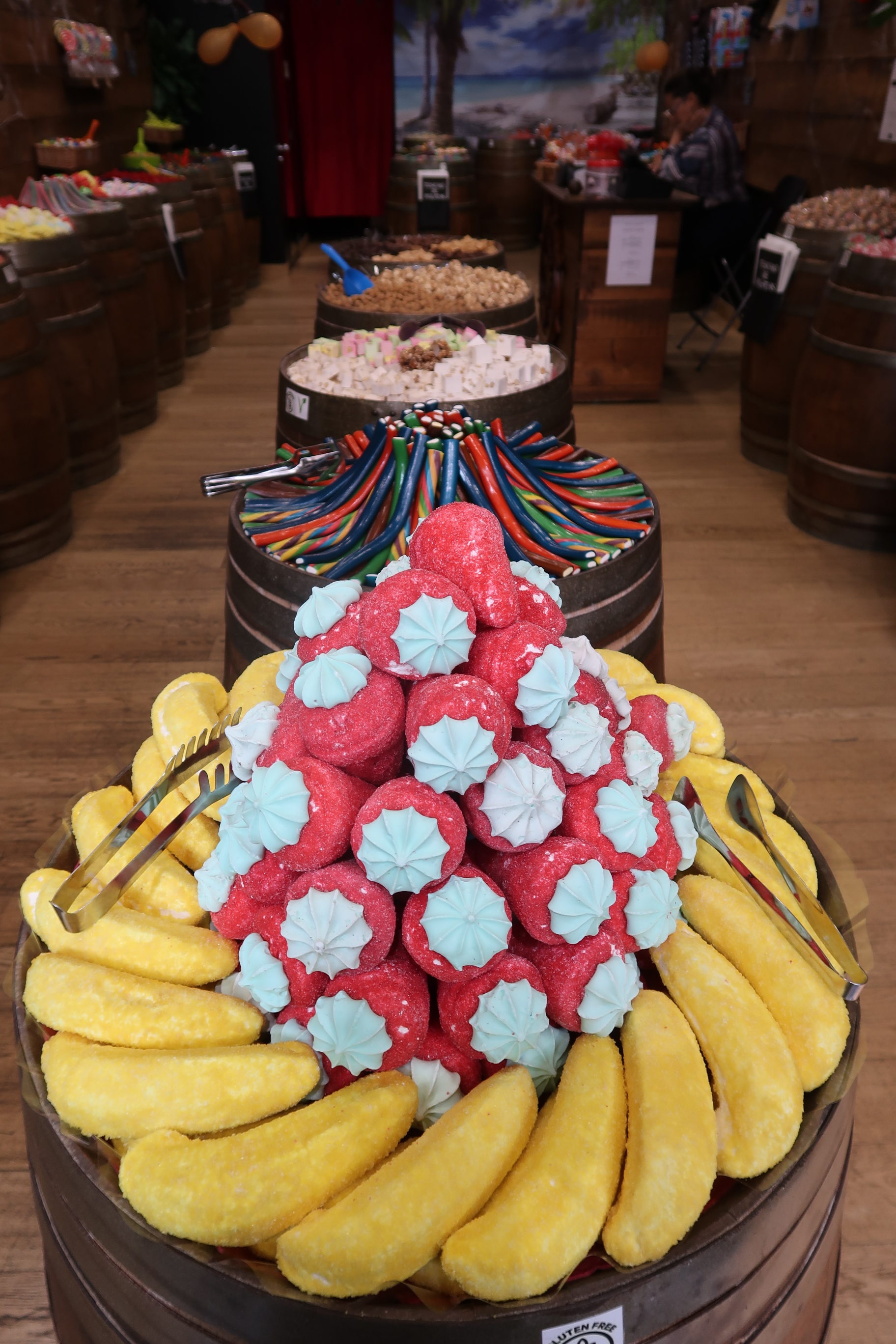 As we wandered further we came across a little cafe and stopped inside to try our first true Belgium waffles.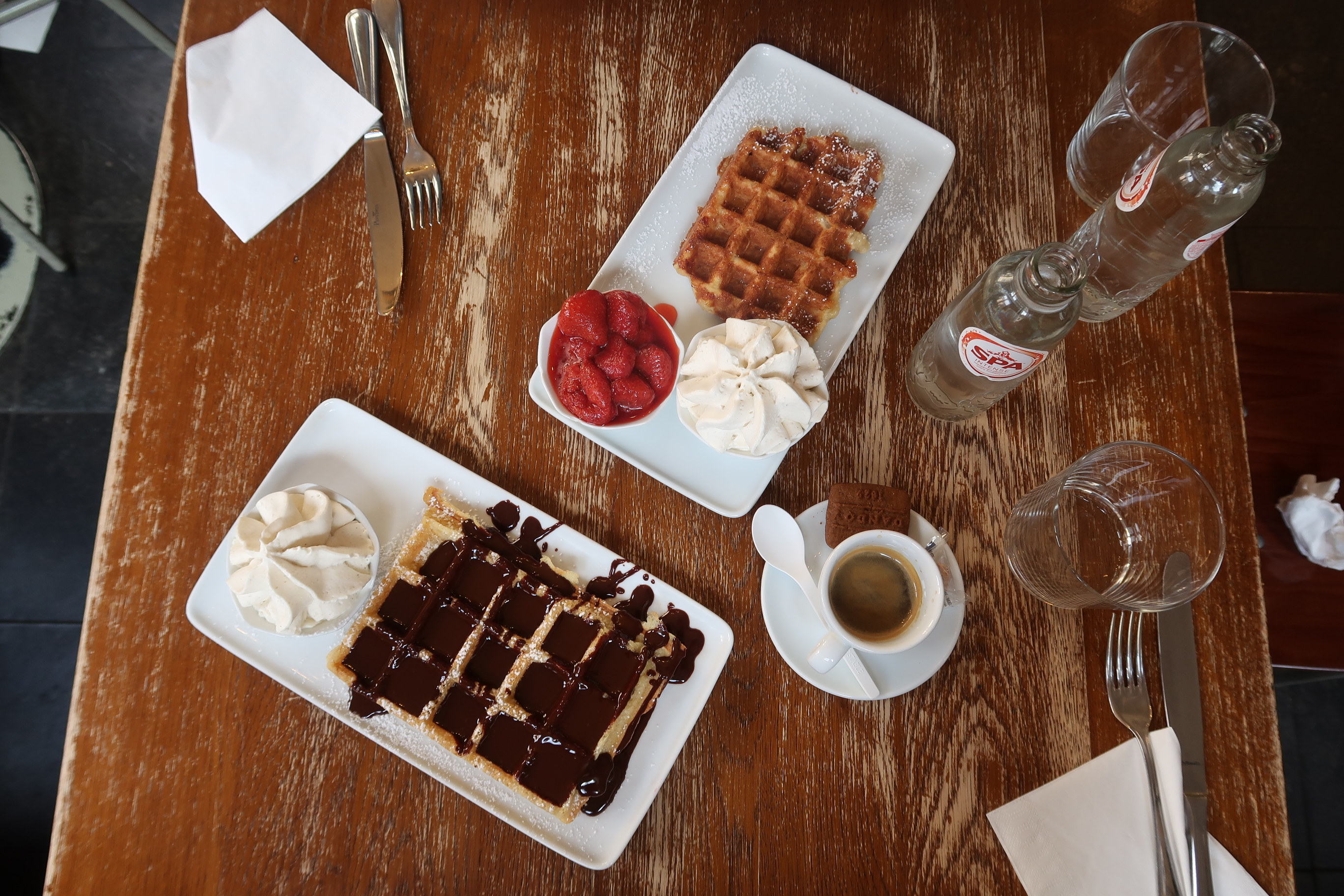 We tried a Belgium waffle with hot chocolate sauce and whipped cream and a Liege waffle with cooked strawberries and whipped cream. The Liege waffle was the clear winner, as it retained its light sugary crispiness instead of being sogged down with chocolate sauce.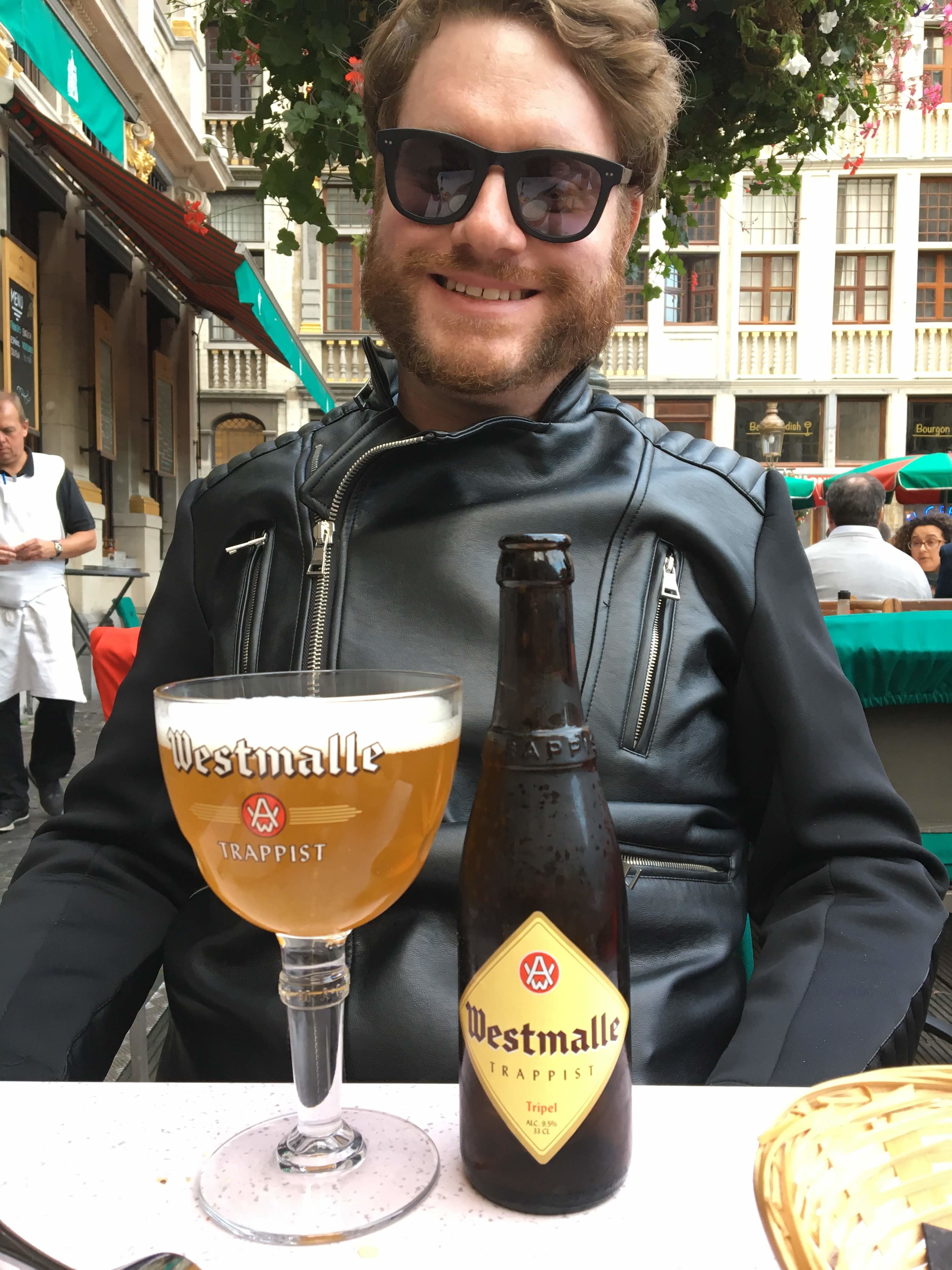 After such a sweet treat, John was hankering for some Belgium beer, and although I'm not a beer fan, I do love people watching in outdoor cafes in Europe, so…he got his wish. And, to everyone's surprise, including my own, I found a few Belgium beers I loved!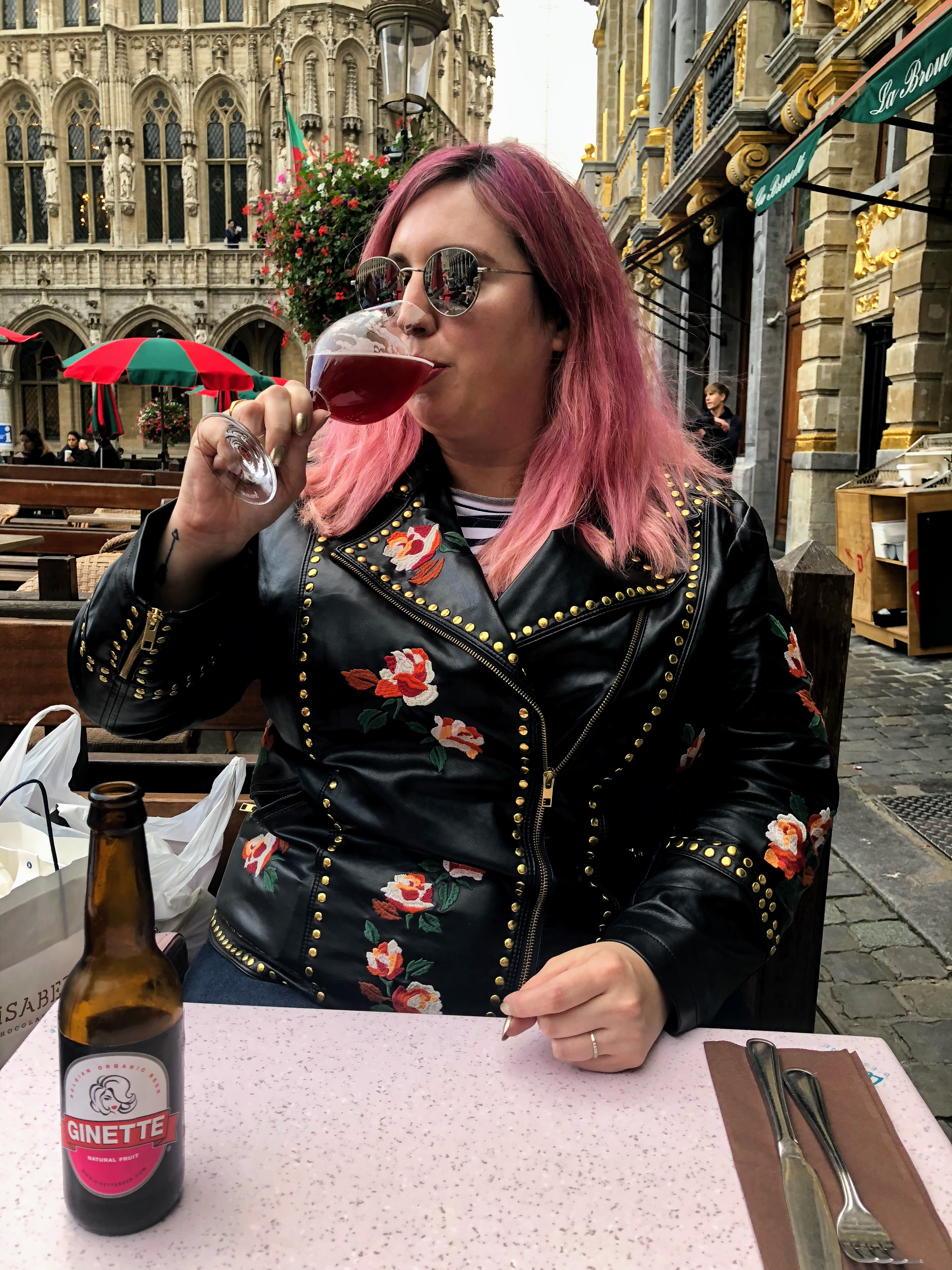 I typically avoid all beers because they taste terrible to me, but Belgium beers typically avoid using hops (which cause bitterness) and they often include fruit as well, like this Ginette natural fruit beer I loved.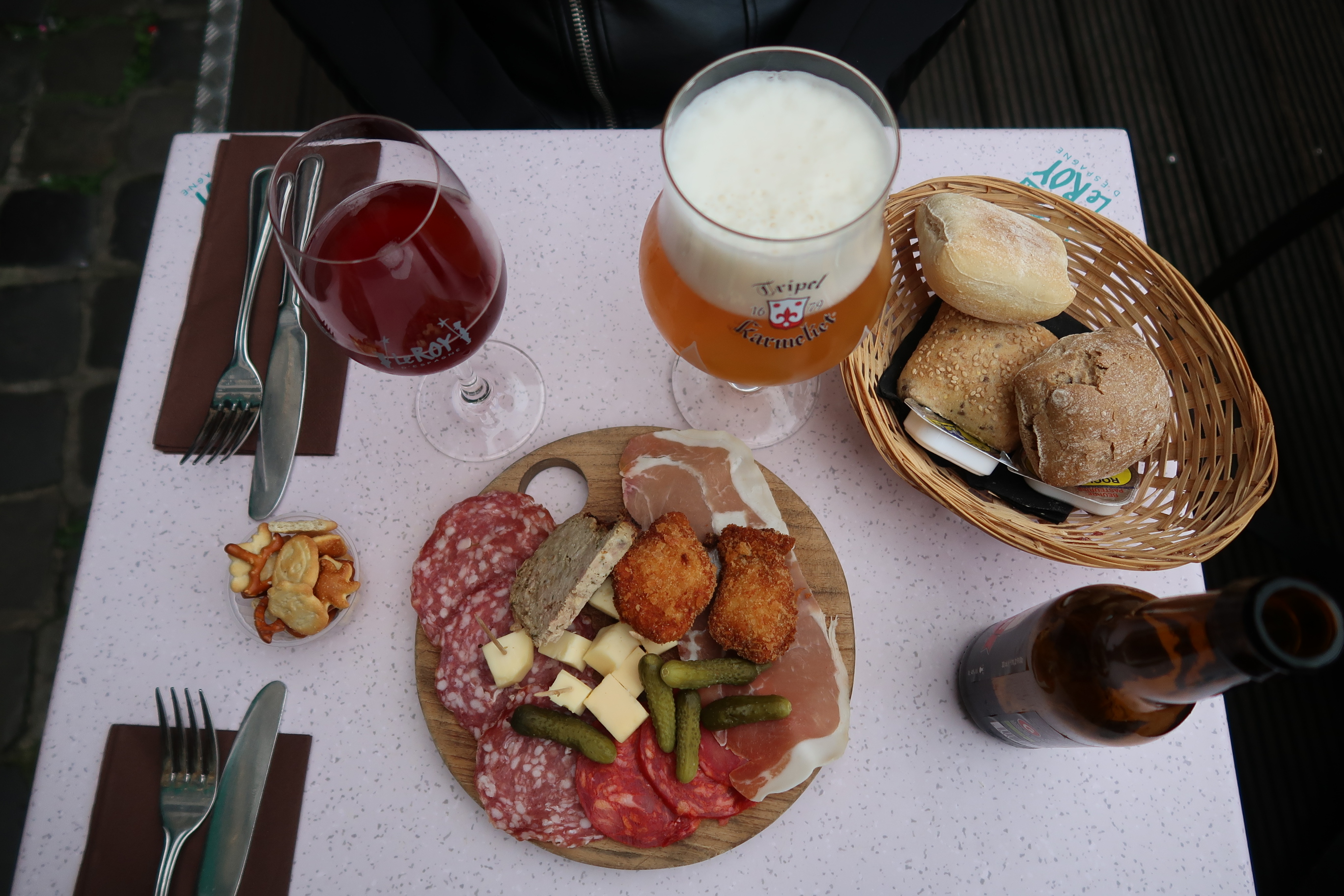 We snacked on a super-affordable meat & cheese plate as we sipped our beers and took in the scenery…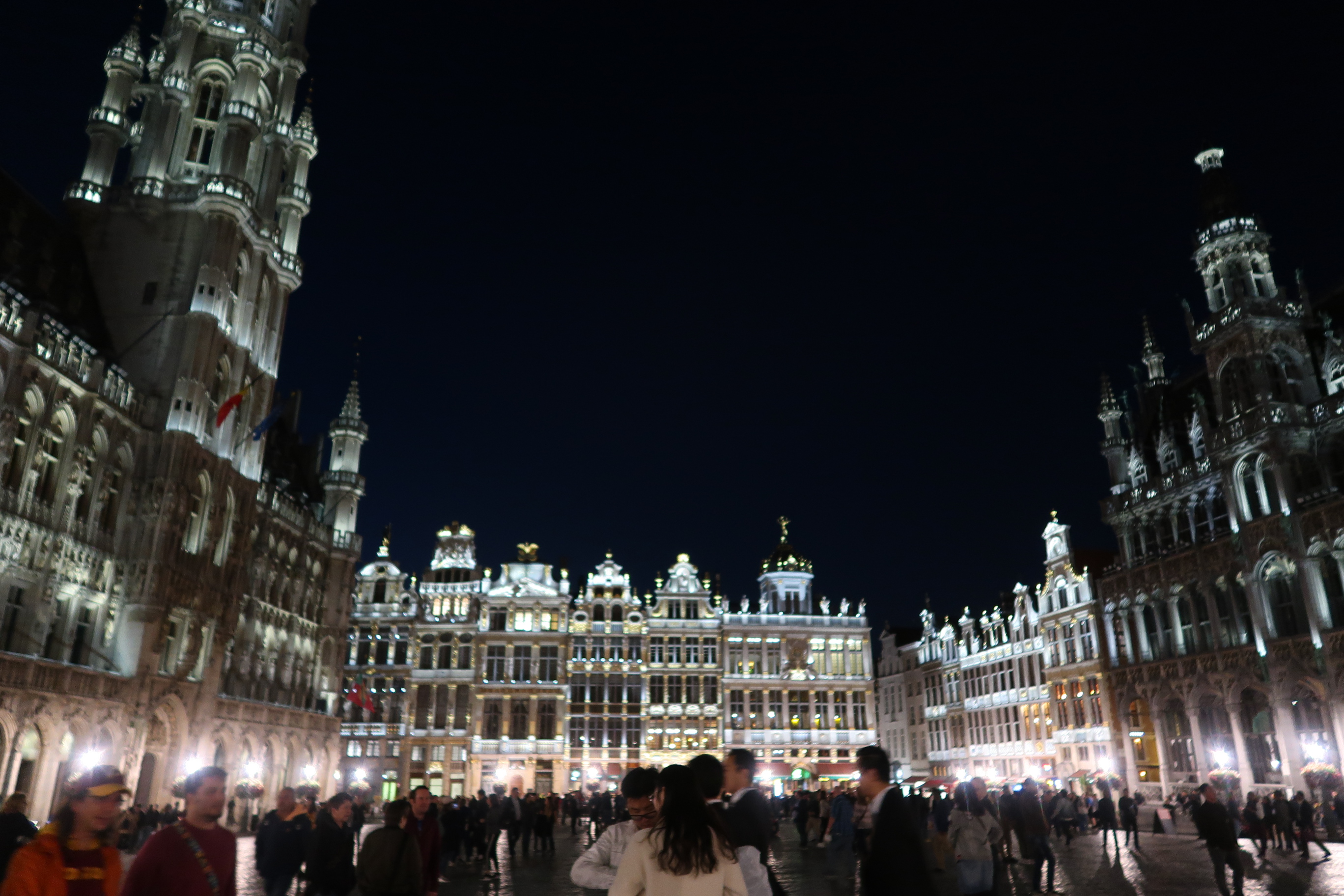 And as the sun set on our first day, the lights rose on the Grand-Place, turning it into an ethereal scene, complete with ghostly glowing guilds.