So New Year's Eve is almost here and you, like me, and everyone else out there, are trying to figure out what to wear to whatever festivities you might be planning for that night. Whether you're chilling at home in your pjs with your bae (or a pint of Ben & Jerry's) or you're balling and sprung for a fancy-schmancy NYC shindig with champagne fountains and naked cocktail servers… or maybe (and quite likely) you're chilling with friends, cheap champers and maybe a goofy 2015 hat and noisemaker.
Whatever vehicle for your end-of-the-year festivities, you need to find the right outfit to make sure you're the hit of any occasion. Keep reading for three ways to add sequins into any outfit no matter your event!
Event #1: Being Fancy-Schmancy At A High-End Fashion Fete In The City
If you ever needed an excuse to pile on the bling, New Year's Eve is the perfect time to unleash your inner magpie. If you've got a special night planned, now's the time to bring out your favorite dressy options — for me that's a a double dose of sparkle! I paired my gold sequined Eloquii top and silver sequined skirt with a rose gold oxford pump. By mixing three different shades of metallics it keeps the eye interested but not overwhelmed from all my shine. I kept my makeup simple as my outfit commands enough attention without layering on a bold eye or lip.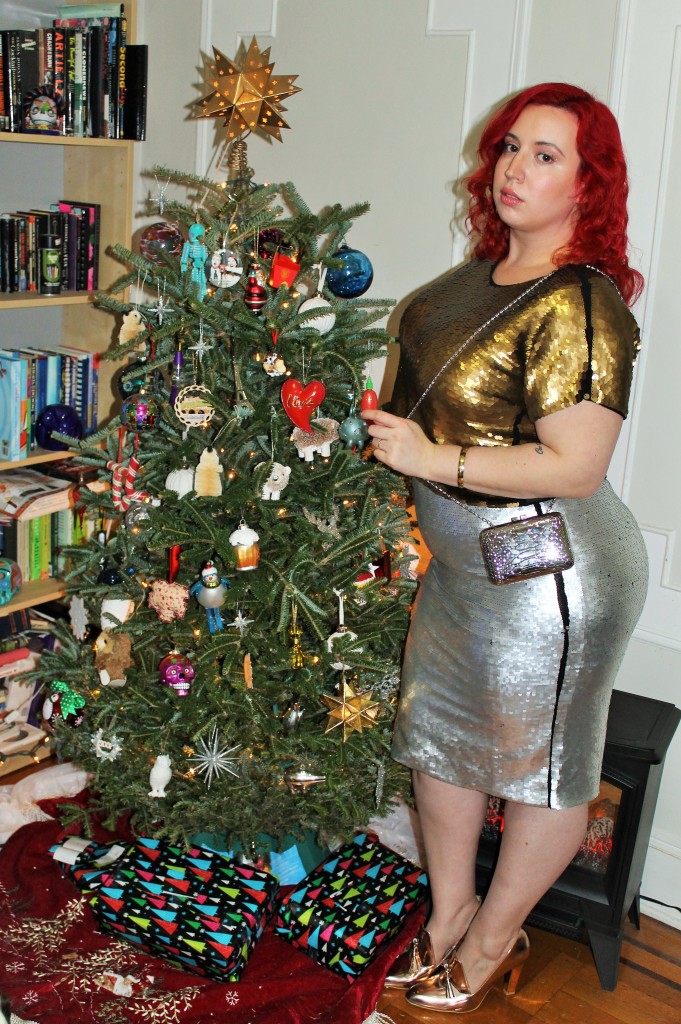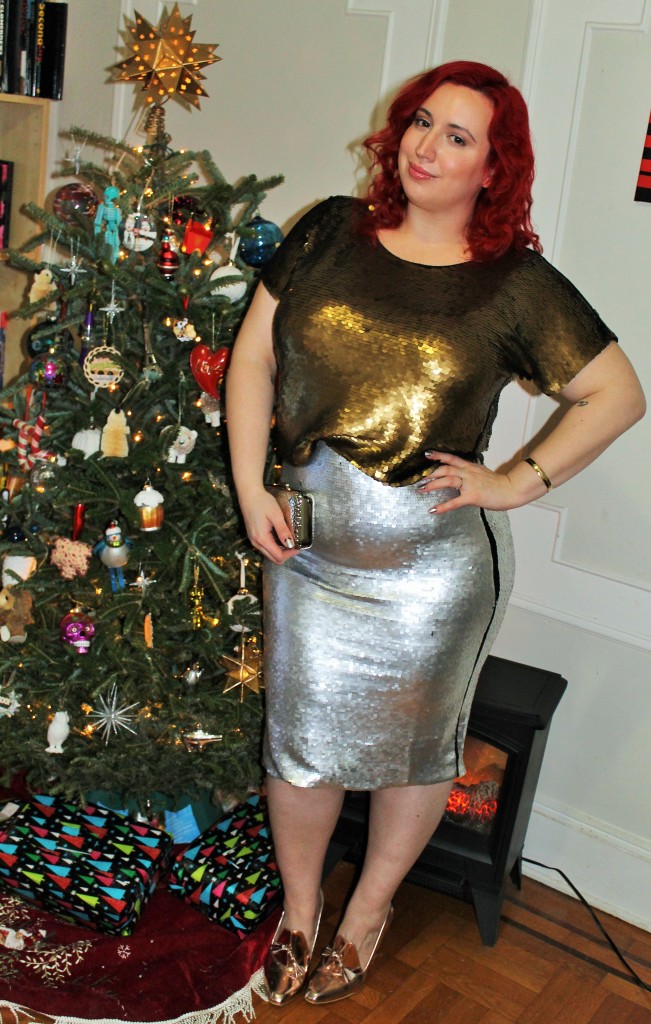 Top: c/o Eloquii
Skirt: c/o Eloquii
Shoes: c/o Boohoo
Bracelet: Kate Spade
Clutch: Jessica McClintock
Event #2: Keeping Casual-ish With My Nerdy Friends
I've never been shy about being a wee bit overdressed for an event. While I'm not gonna rock a ball gown to a job interview, I will throw a bit of shimmer into my ensembles, even if the occasion doesn't call for it. So to hang out with my college friends at a low key beer pong in the basement type of event, I toned down my blingtastic sequined skirt with a geeky Star Wars t-shirt and flat leather slip on sneakers. I paired my outfit with a fuzzy cardi (it can get chilly in a basement!) and a book-inspired clutch (to add to my nerd vibe).
Top: Forever21
Skirt: c/o Eloquii
Sweater: Kohl's
Shoes: Report
Bracelet: Kate Spade
Clutch: Purchased in Australia
Event #3: Keeping Cool With Hipster Hotties
So maybe you're going to an underground warehouse party in Williamsburg, or grabbing drinks and hookah in the East Village with some super-chill pals; either way you need to look cool and on-trend, without looking like you're trying.
By just putting in a little bit of bling with a sequined shirt shirt and tempering it with a faux-fur vest and distressed embroidered jeans, I'm able to turn down the level of fanciness without going full casual. A spiked hat and a silver shark tooth necklace add an edgy bite, and the adjustable bag allows me to hand-carry or just throw it into a cross-body and be hands free. Booties are always a smart pick- they can easily dress up an outfit but are also easier to get around in if you're on your feet all night.
Top: c/o Eloquii
Vest: Target
Jeans: Forever21
Booties: Steffen Schraut
Bag: Philip Lim x Target
Hat: H&M
Necklace: Purchased in Austin
Bracelet: Kate Spade