So I was recently featured on the Fashion to Figure blog & I wanted to share it with all you lovely people! You can read the original here, or just scroll down for the entire interview!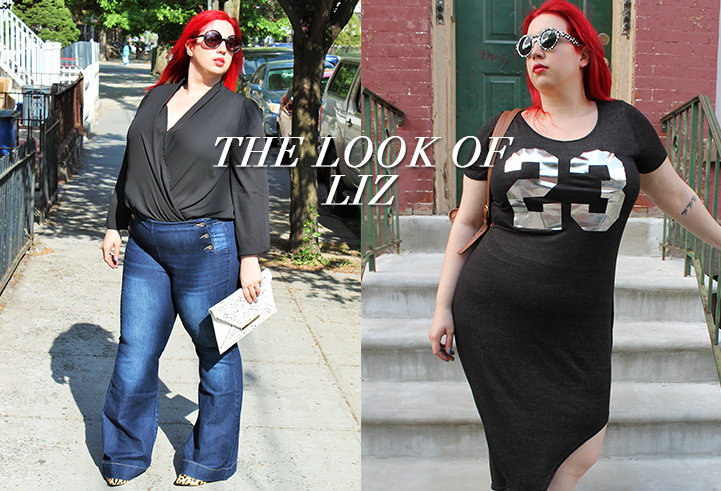 Liz Black showcases her classic rebel with an edge vibe on her blog P.S. It's Fashion. Mixing street style and glam looks, she always stands out from the crowd.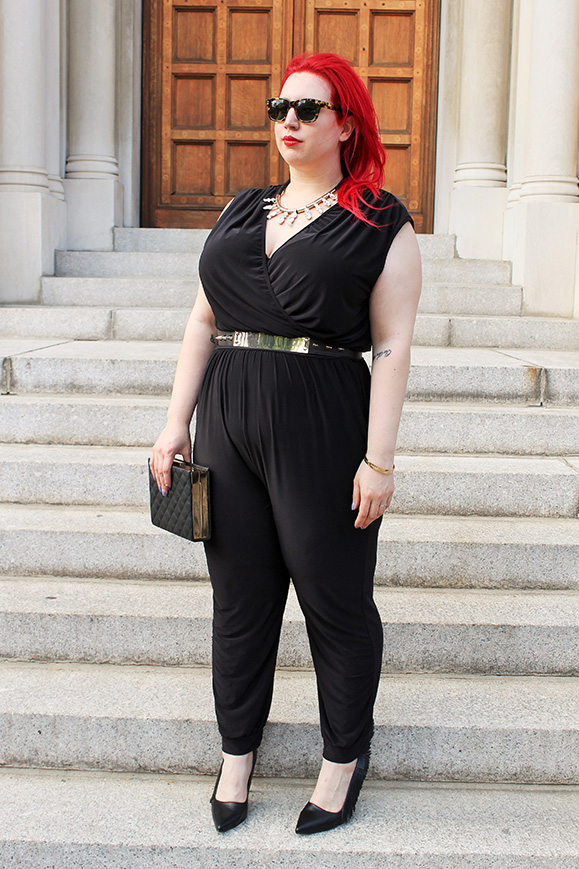 How did you first get interested in fashion and why is it important to you? Since middle school I've dreamt of a fashion career. I originally wanted to be a designer, and I would sketch outfits in my math class. I loved Betsey Johnson's designs and I even wrote her a letter in 6th grade. I've since interviewed her and attended her show several times- I actually told her about the letter and she teared up and invited me backstage before her show a few seasons ago. It was nice to see things come full circle.
What inspired you to make your own blog?
I had been working in the high-end fashion industry for a few years, going to New York Fashion Week and other events, and I was typically the largest woman in every room. My fashion friends encouraged me to start a blog because they weren't use to seeing a plus size woman with good style. I not only wanted to share my style, I also wanted to inspire and encourage other people of all sizes to accept their bodies and love themselves, whatever shape or size they may be.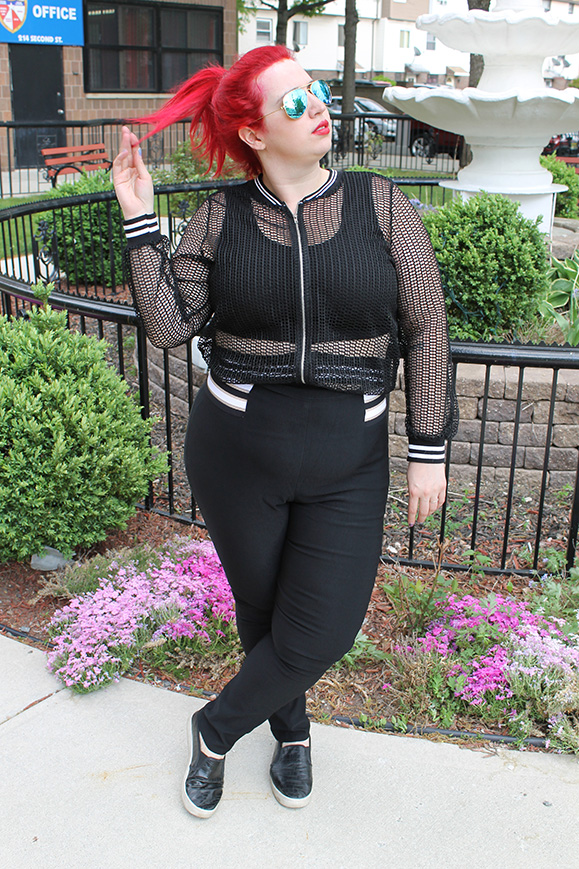 Top: Ara Zip Crop Top, Jacket: Field Day Bomber Jacket
Describe your personal style and its influences? My style is very eclectic; if you looked in my closet you'd think it belonged to 4 different women! On an average day I tend to dress in slouchy-edgy or athlesiure pieces; maybe jogger jeans and a crop top or a button down, or sleek leggings and a funky tank top. When I'm going to fashion events I'll take more risks and play with edgier styles that I know will go over well with fashion folk. It's fun!
Name one fashion rule you never break.
I hate, hate, hate the concept of fashion "rules." They're antiquated notions put together by who exactly? The closest I've gotten to following a "rule" is that I make sure whatever I wear fits well. I don't care about the number on the tag, whether it says 2 or 22, I just want it to actually fit my body and not be too tight or too loose.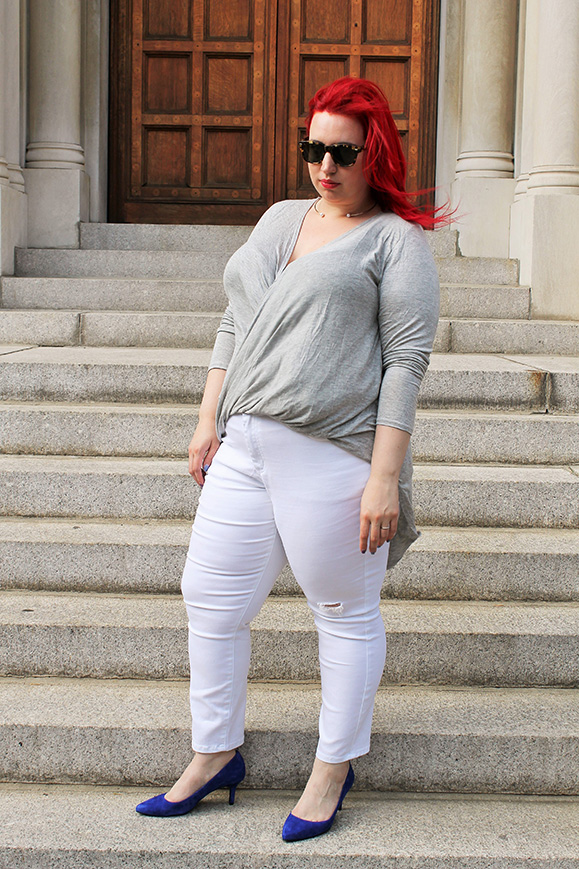 Are there any fashion icons or famous people whose style you admire?
I love anyone who is fearless with their style; people who go against the grain and wear what they want, not just what they think is "flattering."
Who are some of your favorite bloggers?: Margie (from Margie Plus) is one of my close friends and I love her funky style and ever-changing hair color. Also she's an AMAZING singer and I really respect her for that.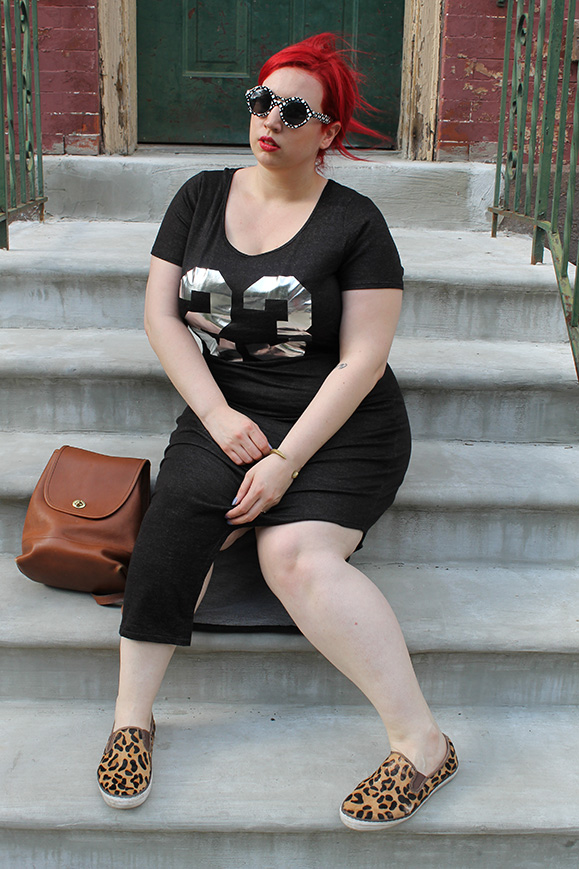 If you could travel back to any fashion decade, which would it be?: While the silhouettes in the 50s were beautiful, I wouldn't want to be in any other period of time. In terms of plus size fashion, things are better now than ever before. I would hate to live in a time when I'd be stuck wearing a shapeless sack.
What would you say to an aspiring fashion blogger?
If there's a niche that you can fill, do it! You have to find a way to stand apart from the pack.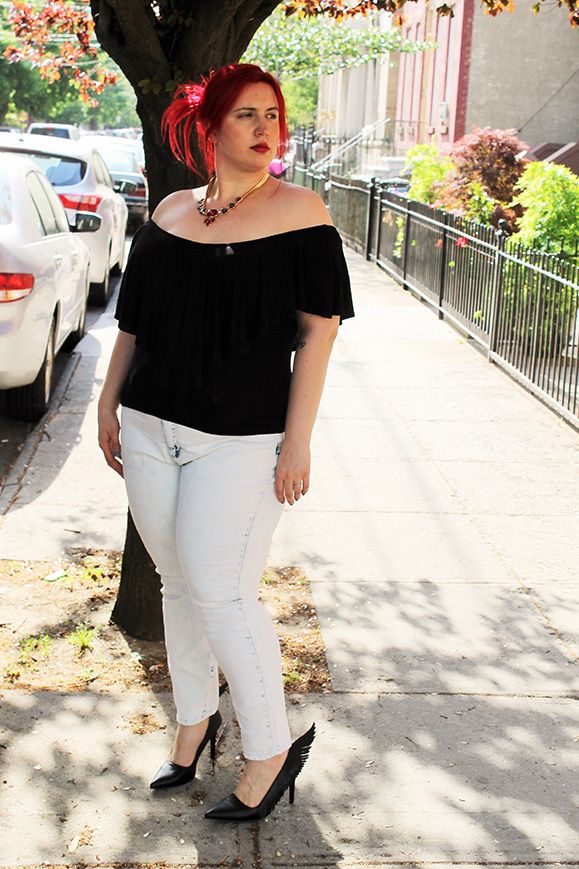 Top: Ronson Ruffle Top, Jean: Dune Bleached Skinny
What do you think of the term 'plus size'?
It doesn't bother me, but neither does the word 'fat'- it's a descriptor to me, like skinny, tall, short, etc.. Many have called to drop the label, which I get, but how will women who wear above a size 14 know that there is clothing for them at said brand/store/etc. then? Unfortunately, since the majority of clothing stops at a size 14 and sizing isn't inclusive across all brands, there needs to be a way to alert those who wear above a size 14 that there are items available for them, hence the use of the term 'plus size'. When my mom was younger she had to shop in the 'chubbies' section… and I think people would not respond positively to that term these days.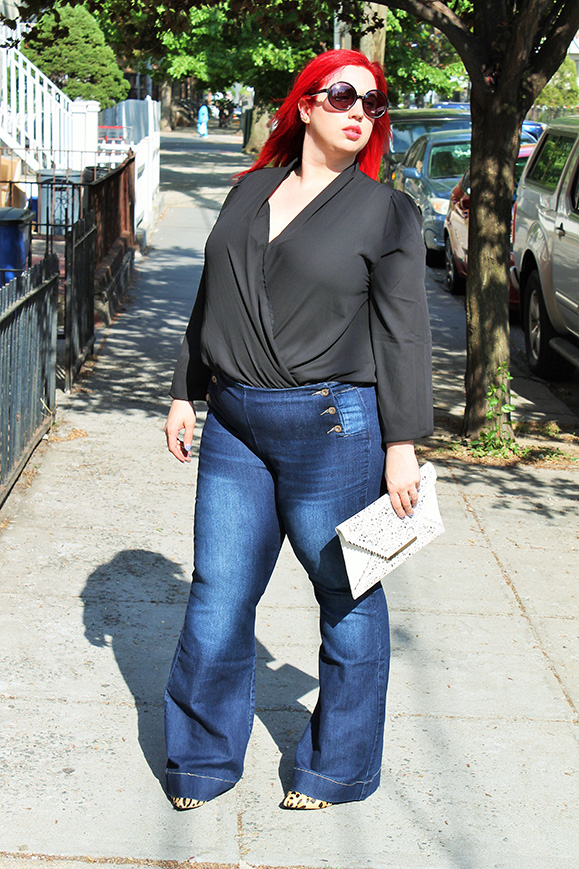 Top: Biltmore Bodysuit, Jean: Sailor Button Flare
What's next for Liz?: Ha! Who knows! Life is so amazing like that; there are things I've done and things I'm doing now that I never would have thought I'd do. Designing my dress line, being flown to Australia for a press tour, being flown to London to sit front row during London Fashion Week at the first plus size runway show, attending every season of New York Fashion Week for the last 7 years, having my work printed in magazines and penning a column for Refinery29 for almost two years- I never could have predicted these things. 5 years ago I was unemployed (I got laid off at a receptionist job the day I returned from my honeymoon- what a wedding gift, right!) and now I'm able to support myself doing what I love. I can't wait to see what the next 5 years have in store for me!
(All items c/o Fashion to Figure, all opinions my own)