Regardless of how glamorous NYFW can seem, by the time the second week of shows rolls around, you can see the fatigue on every face. For day 6 I wanted to take it easy, so I skipped my morning shows and only stopped by a few shows and events in the afternoon/evening. Read on to see what I did on day 6!
Carmen Marc Valvo
I stopped by at Carmen Marc Valvo, which was fabulous, of course. With gorgeous gowns, stylish separates, and some sleek menswear sprinkled in, it was an overall stunning show. I learned that Carmen has worked exclusively with Dressbarn to create an affordable line – and if you buy any of the LUXE by Carmen Marc Valvo dresses before March 31st, Dressbarn will donate 25% of the pre-tax purchase price to the Colon Cancer Alliance.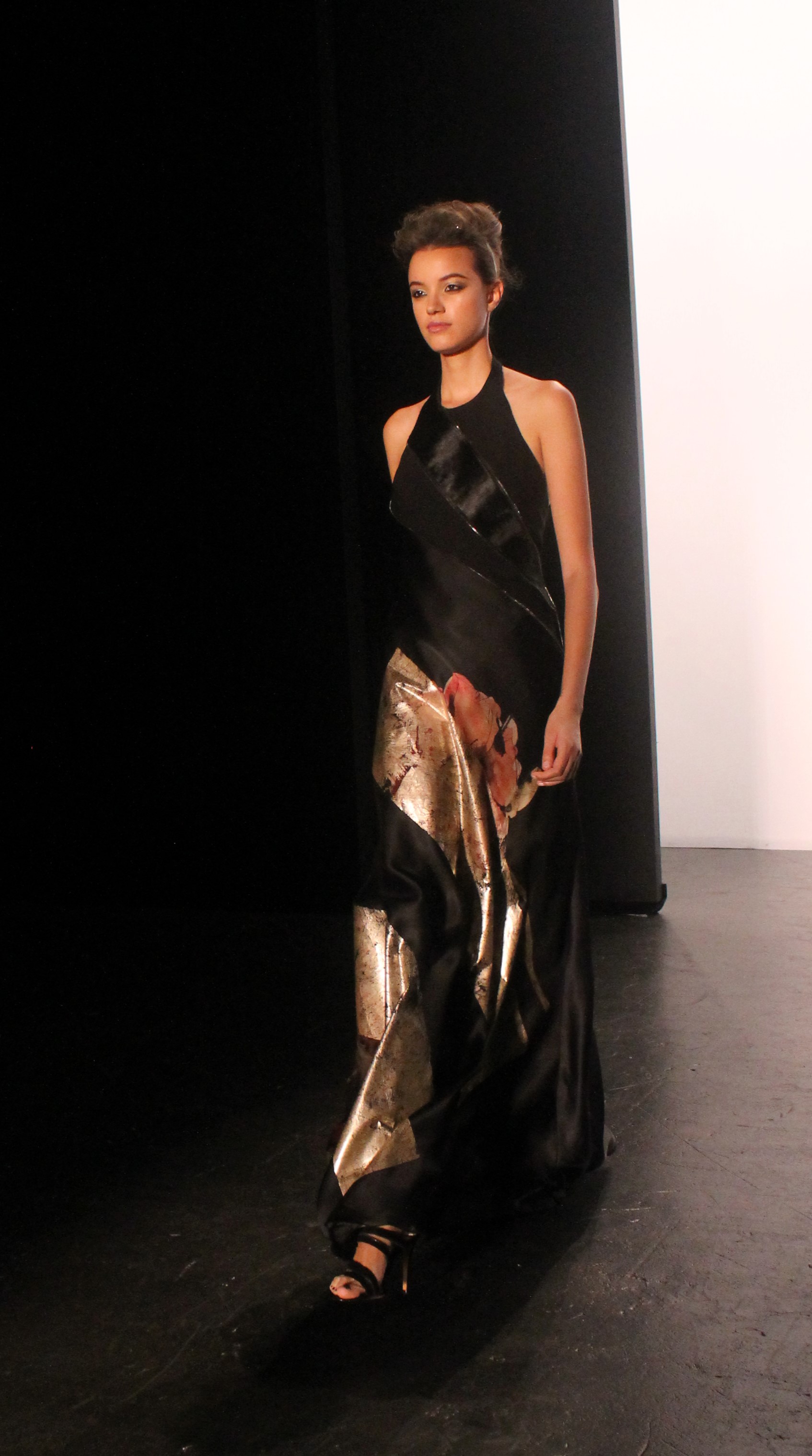 Georgine
Georgine was easily one of my favorite shows of the season (up there with Marcel Ostertag and Naeem Khan). I'm a sucker for eclectic fashion, so the quirky 3-D elements (like wrapped sucking candy and gilded bugs), shimmering sequins (I can't help that I'm a magpie), and smattering of nerd-chic nods kept me smiling throughout the entire runway.
Although it's more challenging to choose a favorite, the coats were standouts to me. I'm a bit of an outerwear snob, but the floral appliques, metal 3-D bugs, and ombre sequin hems, took them above and beyond anything that hangs in my humble coat closet. Don't be surprised if you see me with a DIY version in the near future.
Sports Illustrated Swimsuit Issue VIP Party
It was little surprise that the Sports Illustrated Swimsuit Issue VIP party was packed with men. From wall to wall, finance bros slugged down champagne and side-eye ogled the bevy of models posing and preening on the red carpet. But unlike the typical model-mobbed red carpet, this swath of crimson was crowded with curves of all sizes and ages.
I first spoke with Philomena Kwao and Nicola Griffin, two of the three models in a groundbreaking Swimsuitsforall ad. I had actually interviewed Nicola for a Yahoo Style exclusive, and I'd previously interviewed Philomena for a Refinery29 article. They were both super sweet in person, and more than happy to pose for a photo.
Then a cacophony surged as the women of the hour- Ashley Graham and Hailey Clauson- stepped onto the carpet; photographers snapping and snarling, angling to get the best shot. Graham and Clauson posed and puckered, grinning at the madness, excited over the fervor surrounding their covers.
All photos shot and owned by Liz Black.