I started the "official" day 1 fairly early – in the city around 9ish for my first three presentations and a runway show, then home for a bit, and then back into the city for another presentation and two runway shows. NYFW gets built up as a super-glam experience (and sometimes it can be) but it's not all roses and champagne, now is it sweetie darling?
A Moi
A Moi designer Alejandra Alonso was inspired this season by the iconography and typography of Bauhaus. Geometry was reflected in every garment, with crocheted circles, angular stripes, and scalloped hems.
Mathieu Mirano
Mirano's F/W collection was filled with drop-dead gorgeous gowns crafted from shimmering fabric that appeared to be spun in such a way that every angle appeared to be the best angle. Perfect for red carpets and award shows, these formal fantasies will look best on those who are willing to be bold with their style. Stand out pieces included the ombre tux jacket dress and the optically-appealing red gown.
KYE
This season's KYE runway appeared to be ripped from my 90s fever dreams — where I wished I was a cool skater chick who looked boss on the board in my plaid and chubby fur. Cast in acid tones, the too-cool-to-care collection utilized plush faux fur, velvet, and corduroy with a sprinkling of unique touches like a parody image of Iron Madien's Eddie.
Jay Godfrey
Godfrey was all about solids this season, with nary a print in sight. Rich jewel tones dominated the collection, with sleek silhouettes embellished with soft ruffles, sparkling sequins, and unexpected cutouts.
Marcel Ostertag
Without a doubt, Marcel Ostertag was one of my favorite shows of the season. Unfamiliar with his designs, I had no expectations as I took my seat, but I was quickly surprised to see a new favorite emerge. A cohesive collection centered around rain, Ostertag understands that style is not about being stoic, but about fun and self expression. Rain drop prints splattered throughout the collection, while other designs played with texture as they blended thick sheets of clear plastic with soft, supple fabric. Ostertag re-imagined the classic trench coat in a plush fur design, offered in maxi lengths and a silver-embellished shorter version. The brilliance of his rain inspiration culminated in his bead-encrusted skirts, dresses, and pants (especially the pants) — the multicolored strings of beads splashed from the model's body with every step she took, causing every moment to appear as if she was being hit by a stylish water balloon. Brilliant.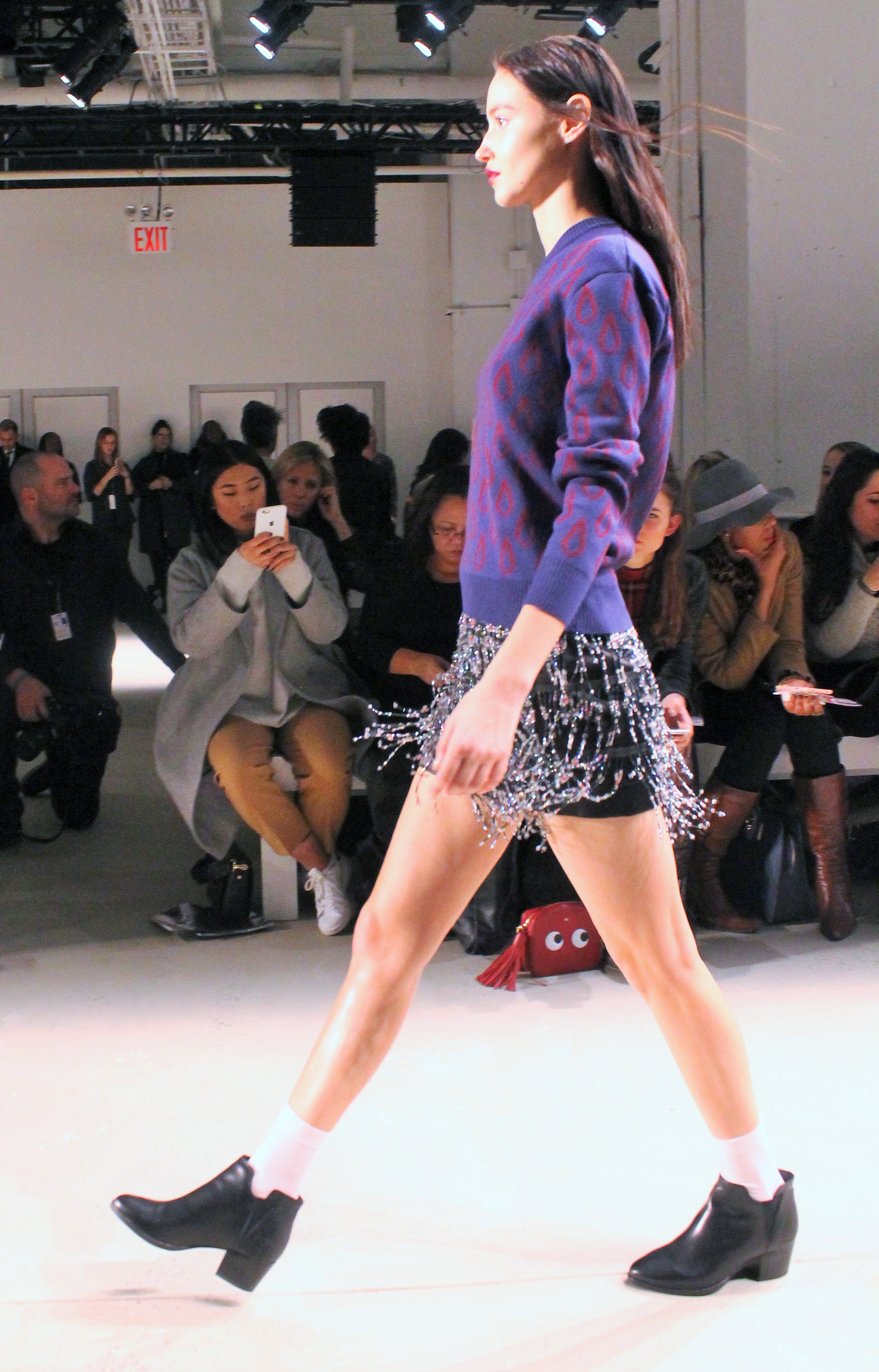 Hanley
Hanley was clearly all about the art, as evidenced with their picture-framed models. Inspired by the pictorial narrative in sixteenth & seventeenth century Spanish paintings displayed at the Prado and the restorative process that's necessary to maintain the beauty of such old and storied works – Hanley designer Nicole Hanley clearly had an extremely specific idea in mind when she crafted this collection. Veiled polka dots, silky velvet, tweed, embroidered lace, leather and georgette prints were utilized throughout the collection, in hopes of evoking an emotional and artistic response from the viewer. "A meticulous understanding of a painting, its artist, and historical context is necessary for the restorer to return a picture to an authentic and original quality," notes Hanley. "To that we studied the textures, colors and prints seen in women's costumes as depicted in the paintings of the 16th and 17th century, returning to those historical influences to create a collection that is equally rich in color, texture, and tone."
All photos shot and owned by Liz Black.