I've never been one for thinking inside the box…or, when it comes to Halloween costumes, inside the bag. I've literally never worn a pre-packaged costume in my life, choosing to eschew the banal for something cobbled together by my own wits and dollar store findings. I blame my mom for this creativity; she made my costumes for me when I was a child, from my colorful felt dinosaur look (main image) to my "Cinderella Before & After" that she made for my childhood best friend and myself (man I wish I could find a photo!). Every year became more ornate, more detailed, and finally, I took over the creations myself.
(One of my proudest creations.)
This year was no different, except that I gave myself much less time than I normally allot.
With no plans on the horizon, I had initially shrugged off Halloween this year, but when an invite to the Bacardi "We Are The Night" Halloween party fell in my lap, I knew I had to whip up something. If I ever was going to purchase a bagged costume, this might have been the year, but instead I took to the interwebs to see what I could conceptualize.
The wonder of the internet brought me this photo, which I then created my own version of with things from my closet and props from the dollar store (I was serious about my dollar store shopping!).
Thus, I bring you….acid rain.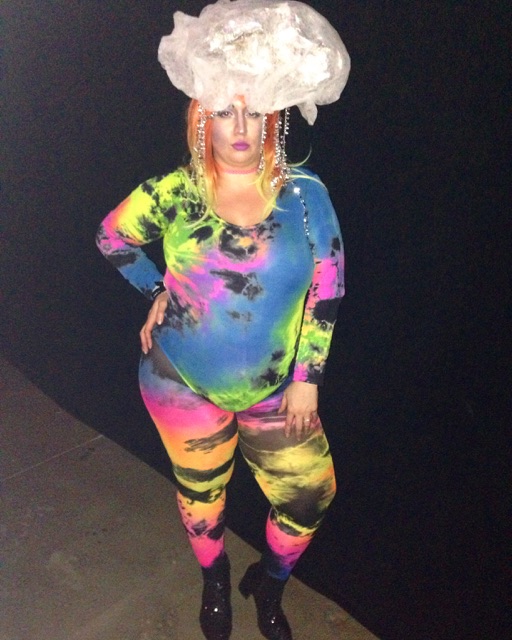 For the base of it, I used tights and a leotard I had from We Love Colors, and glittery black boots from Eloquii.
For the "acid rain" I used a thin cotton tree skirt, which I slowly pulled apart until it was like a pillowcase. I then made a small hole, and slowly pushed holographic wrapping paper into it, which I then filled with packing paper and tissue paper. I put more holographic wrapping paper at the bottom, and then taped the entire paper mess together, all inside of the cotton tree skirt.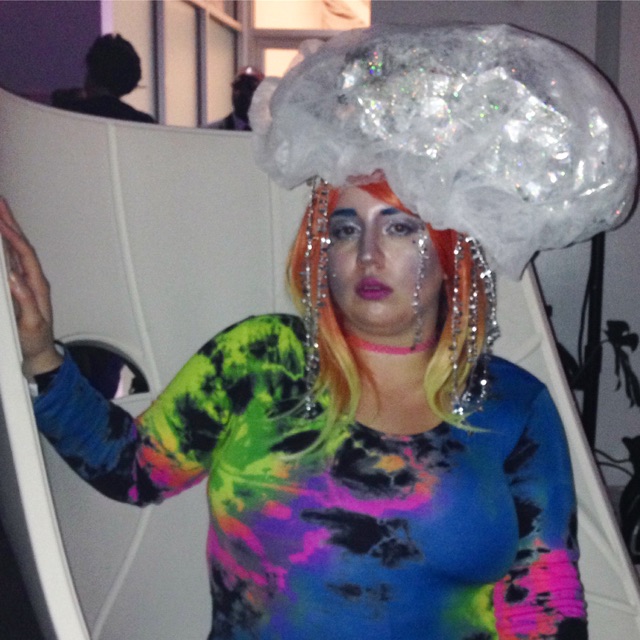 I then taped the bottom of the tree skirt to a cut piece of hard cardboard that I had attached to a wide silver headband. I used two long strings of Christmas tree beads, cut them into different lengths and taped them into the "ceiling" of the headpiece.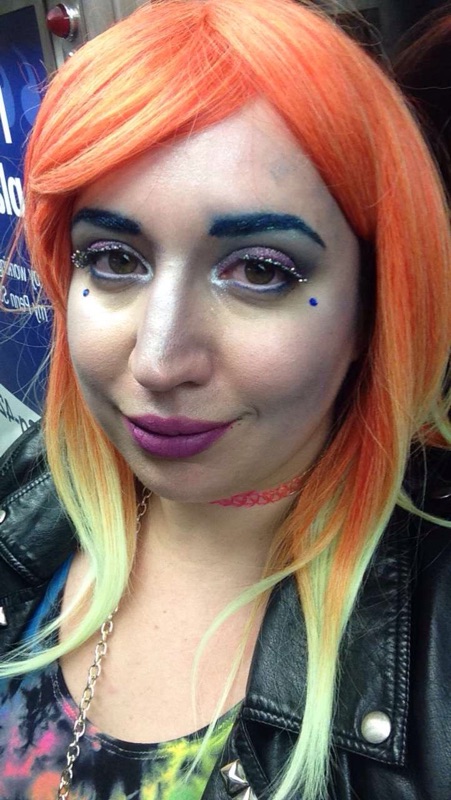 To complete the look I added a cheap rainbow choker, an orange and yellow wig from my local beauty supply store (skip the costume stores if you want good quality), sparkly face lashes, and some unusual makeup. (I'm loving my blue eyebrows though!)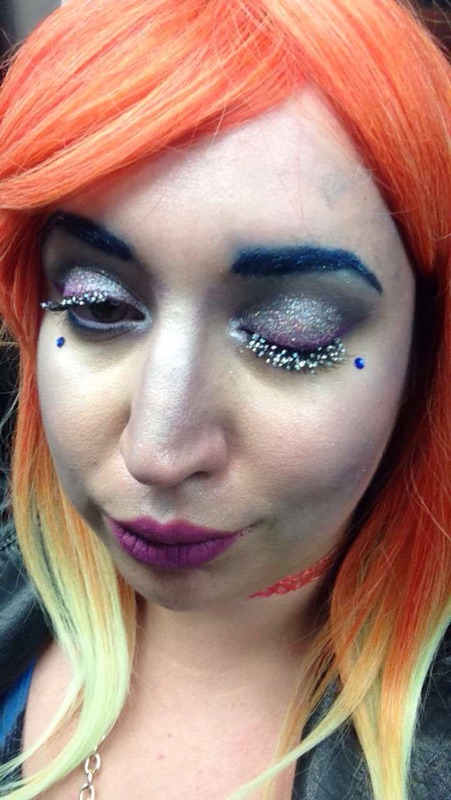 Not only was this relatively easy to throw together, I was also super comfortable – and I actually felt sexy too! (That's not usually a costume requirement for me.)
What did you go as this year? Tag me in your social accounts and I may share them!