Last night I attended the Savage x Fenty launch, and I have some thoughts about the entire thing. (Obviously, duh.)
The line had been touted for weeks as being completely size inclusive, with sizes up to a 3X and bra sizes 32A-44DD (they are apparently expanding up to a DDD, but it's not live on the site). Which, to be honest, is impressive for a launch, but still not totally inclusive or really providing large cup sizes. With one of her advertisements being a video where a woman discusses having very large breasts and being a DD by 8th grade (girl, I feel your pain), it's weird that the cups stop at only one size larger than she was in 8th grade. And it's evident in the video she's much bustier than a DDD anyway. (Also many of the plus models I've seen in ads and at the event were wearing the wrong size bra as well.)
So, armed with this knowledge, I set out to try on anything without underwire, because in theory, all those pieces should fit. As it was very busy, I only tried each piece mentioned in the one size, I wasn't able to compare sizes to see if a smaller size would fit. For the record, I wear a 40H and a 16 top and 18 bottom.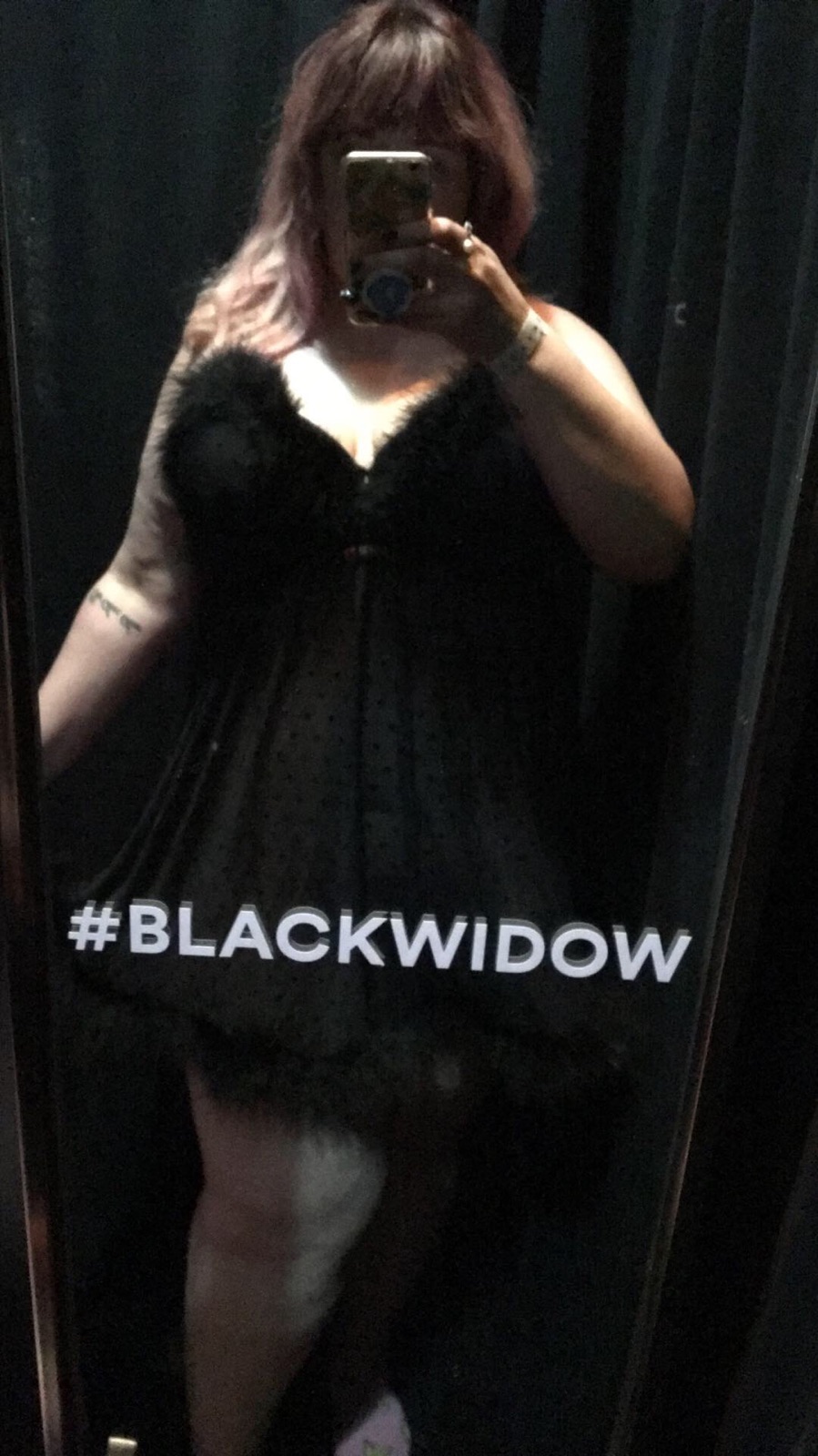 I tried on this sexy black feather-trimmed teddy. It has an elastic bustline, but lacked any real support; I'm wearing it over my own black bra here, which is why the cups look more opaque. This was a size 2x/3x and I felt the fit was great.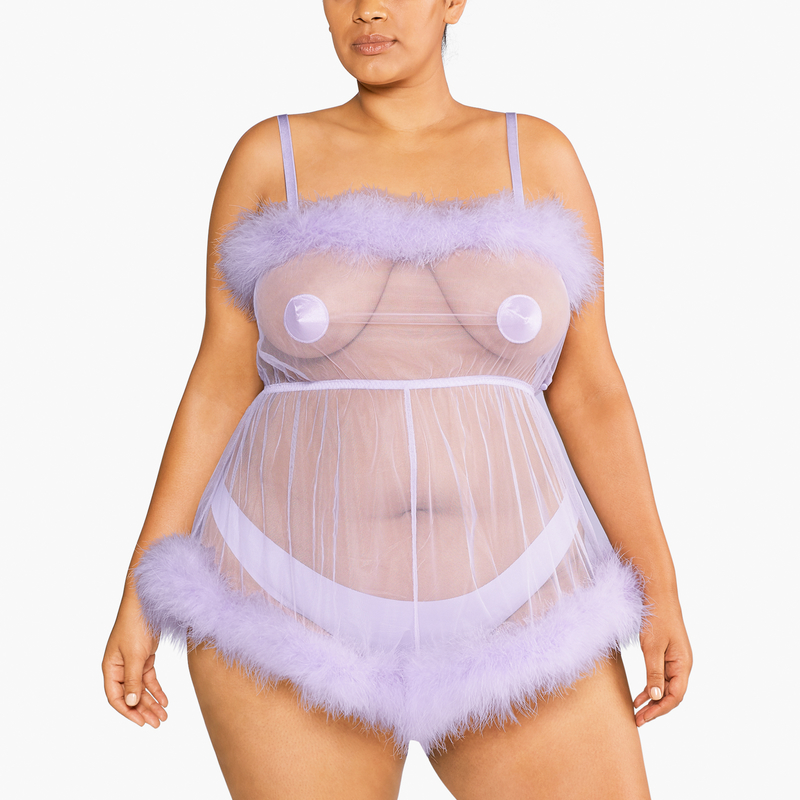 I tried on this marabou romper in a 2x/3x and was pleasantly surprised by how roomy the leg holes were. Due to my thick thighs, I often find shorts too tight in my thigh. I forgot to take a photo, but can we just appreciate the fact that the default model is plus and that she doesn't have super perky boobs. As a member of the big titty comitty (misspelled on purpose) it's nice to see a model with similar nipple/areola things going on.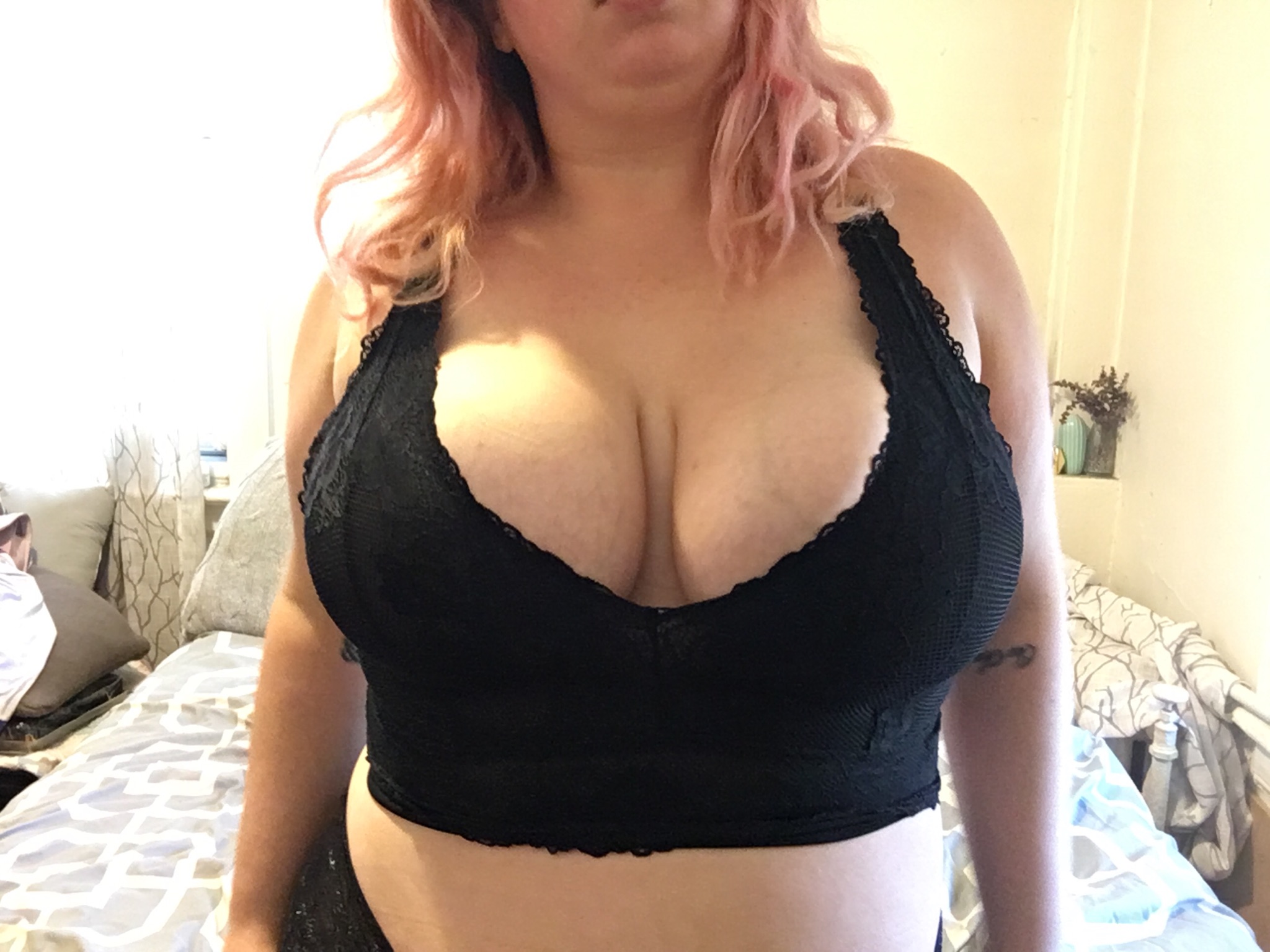 And speaking of boobs, here are mine testing the tensile strength of this 3x wireless lace bralette. I felt like the support was pretty decent for a wirefree bralette (and you know I'm a fan of my Torrid wirefree bralettes).  If you're busty and want to try to wear a bralette, look for a style with a longline band like this style. (And not something like this.)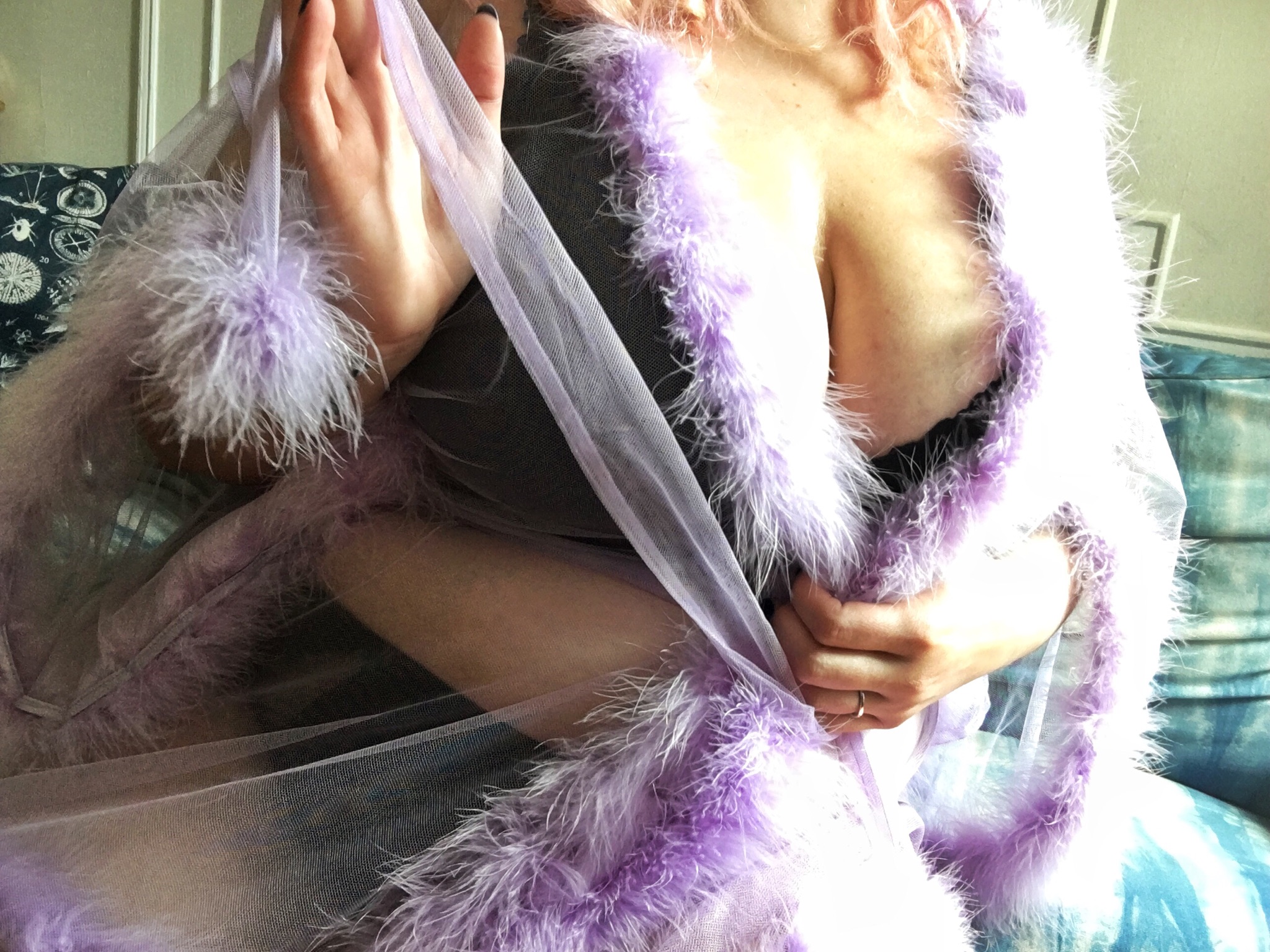 The last piece I tried on (and clearly took home with me) is this glam marabou feather robe. I seriously feel like I'm living my retired actress Hollywood dreams in it. I bought the 2x/3x, but again, I didn't try on a smaller size.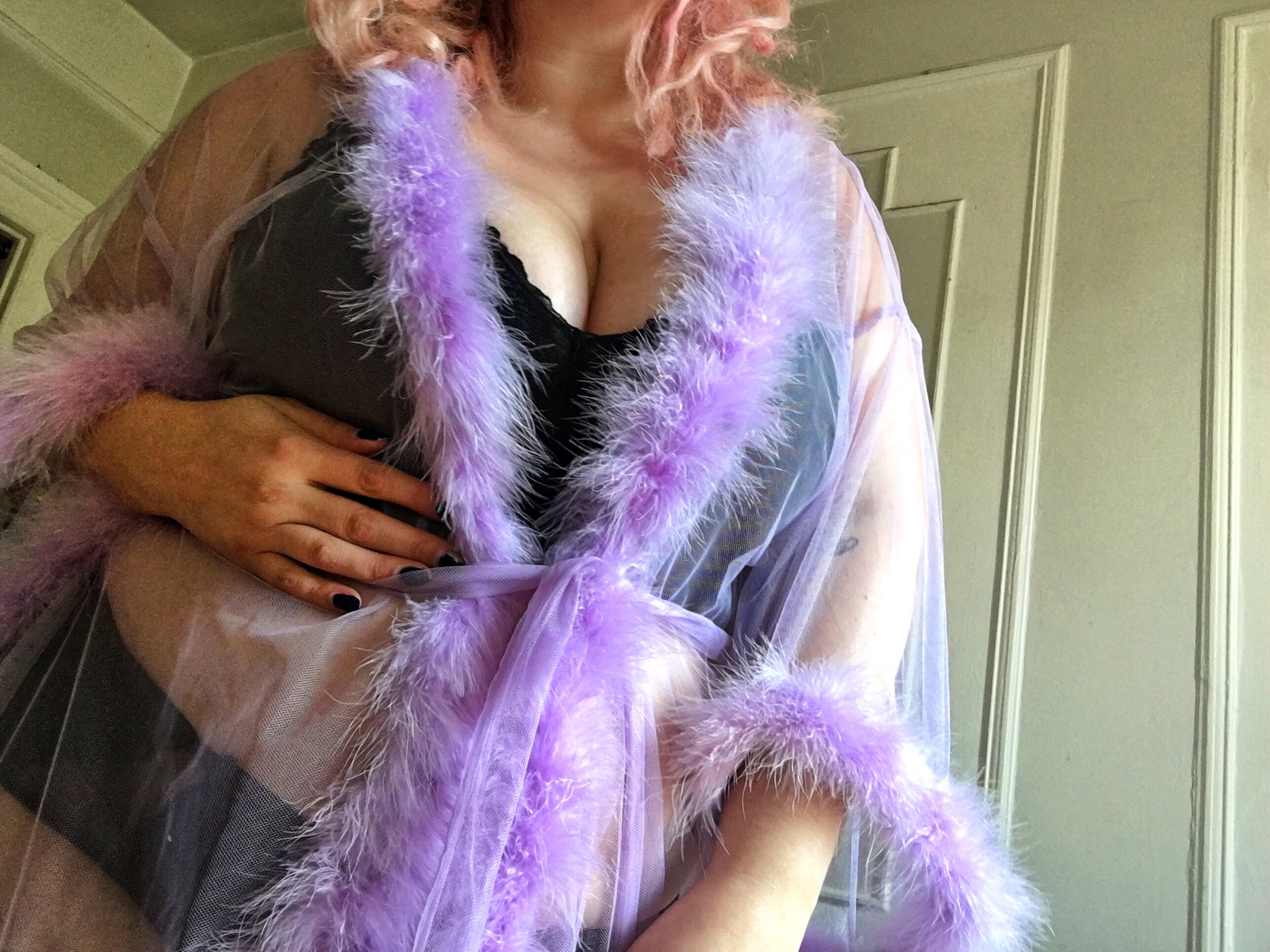 So I certainly liked everything I tried on, but there's still a lot of room for improvement. Personally, I'm tired of brands being touted as "size inclusive" that don't offer EVERY style in an inclusive size range.
When I checked the plus options in every category, here's all that was available in size 1x-3x (click the link to shop the styles):
Bras: 2 styles of bralettes
Underwear: 9 out of 29 styles
Lingerie: 6 out of 19 styles
I also want to applaud her for having a diverse range of "nude" tones and for showing both plus and straight size models directly on the website. Please keep that up!
My hopes are that they continue expanding the cup and band sizes and go beyond a 3X in the other sized items. For those who are angry about the sizing, please give them time – it's better they launch how they did and take the time to expand sizing correctly – especially for larger cup sizes. I know how much more construction goes into hoisting my 10 pound breasts, and I don't want things to fall apart or snap because they're shoddily made.
tl;dr – Impressed with what I tried on, I'm happy to have options, but I am hopeful they will expand their size range further.