April 9th was like many other Sundays I've experienced before. A new Target collaboration dropped, and I trotted out to the nearest location to see what few pieces I'd be able to potentially squeeze my fuller figure into. But one huge thing made this Sunday launch stand apart.
It was the first time Target ever actually offered plus sizes from the designer collaboration in store.
Target has offered designer collaborations for 14 years, beginning with Isaac Mizrahi in 2003.
The first collaboration to offer plus sizes was apparently Calypso St. Barth. I say "apparently" because no non-Target employee I've spoken to can recall this.  This Racked article from 2011 makes no mention of them, when you'd assume it would at least be acknowledged once.
The next time Target offered plus was Lilly Pulitzer, in 2015. But, like so much of plus-size options, it was online only.
Now, in 2017, Target finally offered plus sizes in stores. Well, some stores.
I was fortunate that the one I went to in Springfield PA actually had plus in store. My bff and I checked online ahead of time, and it appeared to be the only option in the area.
Shopping in the same damn section at the same damn time as my size 6/8 bff was amazing. This has never happened in our entire adult lives…or quite possibly since we've known each other. (More than 20 years.) Being able to shop together and not have to go to different sections or completely different stores even…it was thrilling. All shopping should be inclusive. Unfortunately, not everyone had the same experience as me.
Too many other plus bloggers I know reported that none of the Targets in their area had plus in stores. None in the entire Chicago area. Or in North Texas. Or Orlando. Or many many many more places. While I was having one of the best shopping experiences of my life, most of my fashion friends were facing the complete opposite.
Adding plus sizes to SOME stores is a step in the right direction, but Target needs to do better. Having it offered in a fraction of stores is a tease. It needs to be offered in every store the collection is available. To not do so just reminds since 14+ women that they're still considered the "other" when we actually make up 67% of the female population. Keep improving Target.
….now, with that being said, I bring you…the clothes!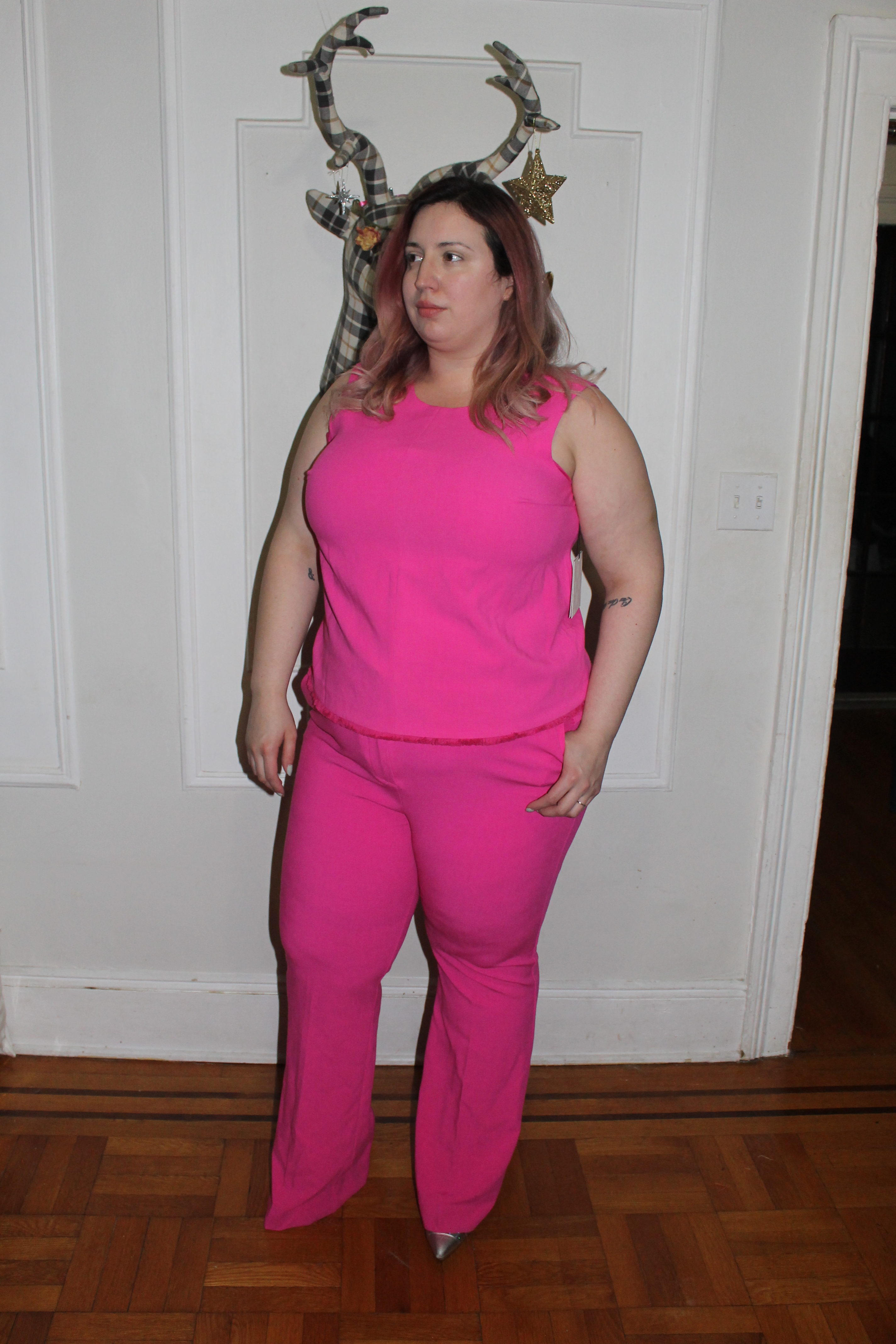 These were the first two pieces I knew I had to get. I was immediately drawn to the bold hot pink, and for years I've searched for stand-out styles in this hue to no avail. I felt the sleeveless top fit fairly true-to-size in a 1X, but the pants were very snug on my thighs. I sized up to a 20W so it would fit my thighs, but I will need to get it taken in at the waist and hemmed. I'm wearing 4 inch heels in this photo, and I typically stick to a 2-2&1/2 inch heel. (By the way, I'm 5'6″.)
This is the exact outfit Victoria Beckham was wearing at the editor's preview. I think it's just as flattering on me as it was on her. The clean lines, the statement digital print…it's just a stunning set. I got a 2X in the button-down shirt because of my bust, and I'm toying with the idea of having it tailored to have it nip in the waist more.
Due to the same issues as the pink pants, I had to size up in the flower pants to fit my thighs. They didn't have a 20W available, so I bought a 22W. I plan to take the waist in and get them hemmed. I hate that I need to hem them so much, as I'll lose a lot of the stem, but you can see they're puddling so much that you can't even see my 4 inch heels.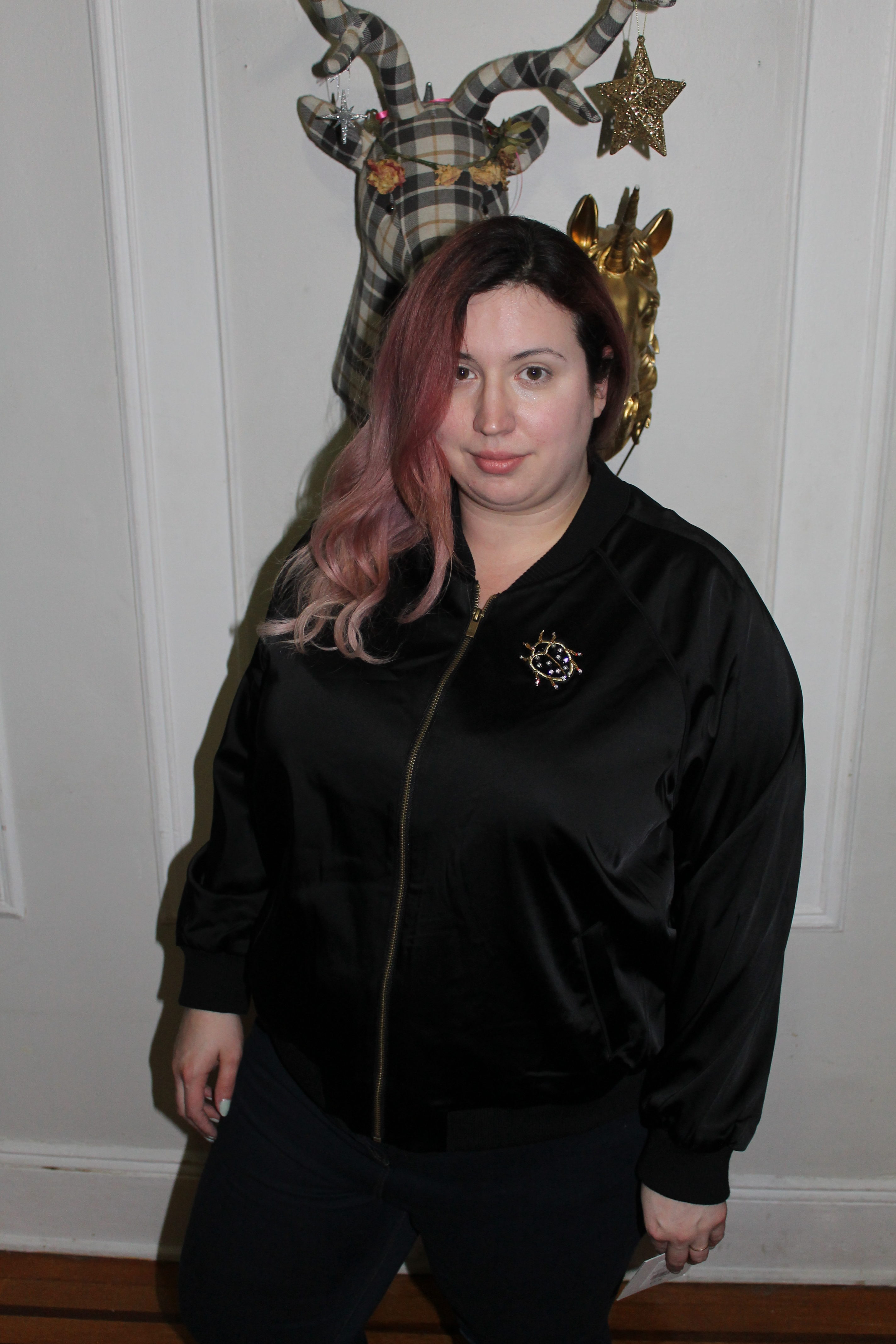 This bomber was the priciest piece, ringing in at $70. It seriously feels high-quality; supple fabric, lined, and the bug accents seem so well done. I got it in a 2X so that I could easily layer under it without it becoming too snug.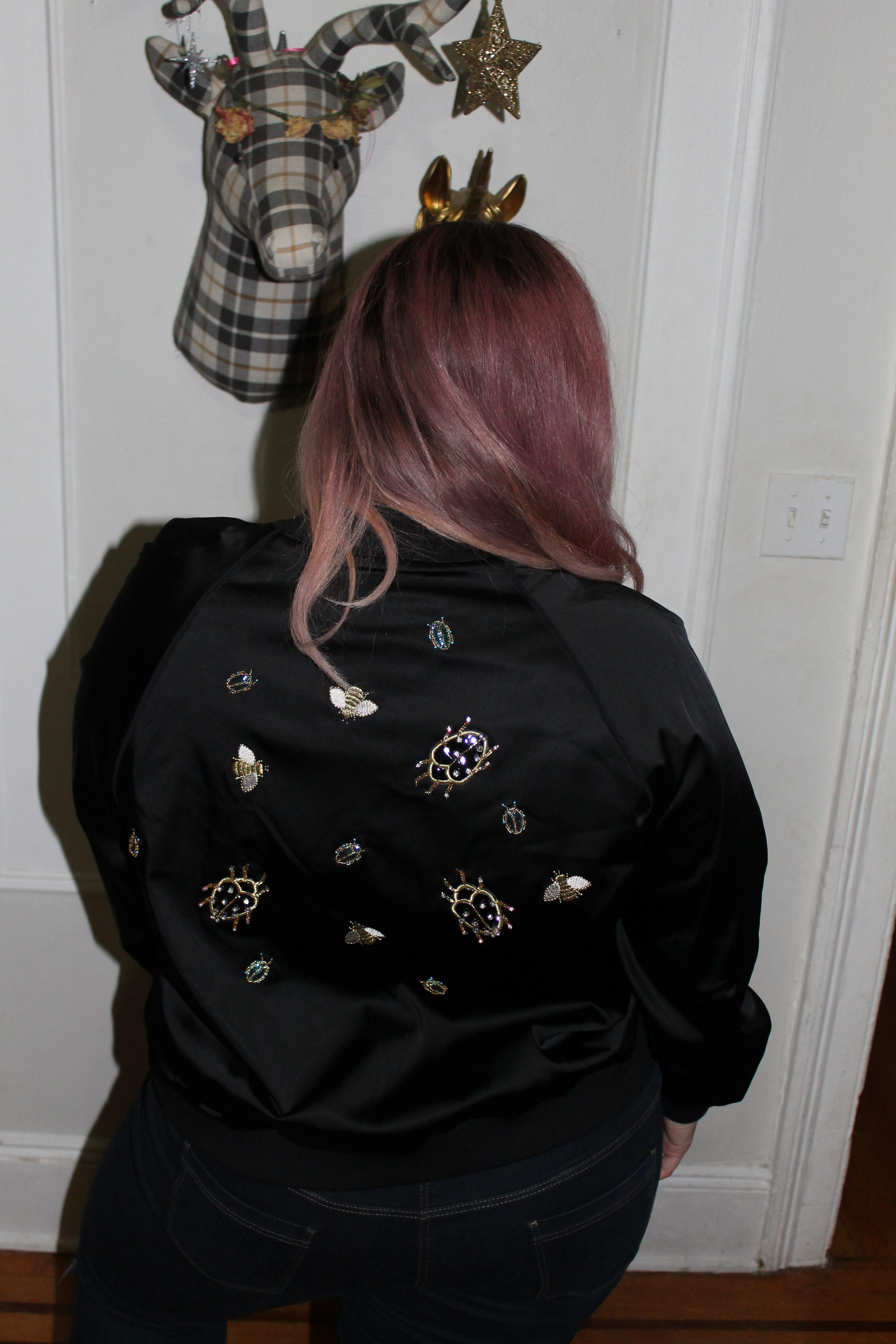 I adore the back detailing; so whimsical and irreverent, but still totally on trend (3d accents! Bugs!). Expect to see this worn a bit too often in the near future.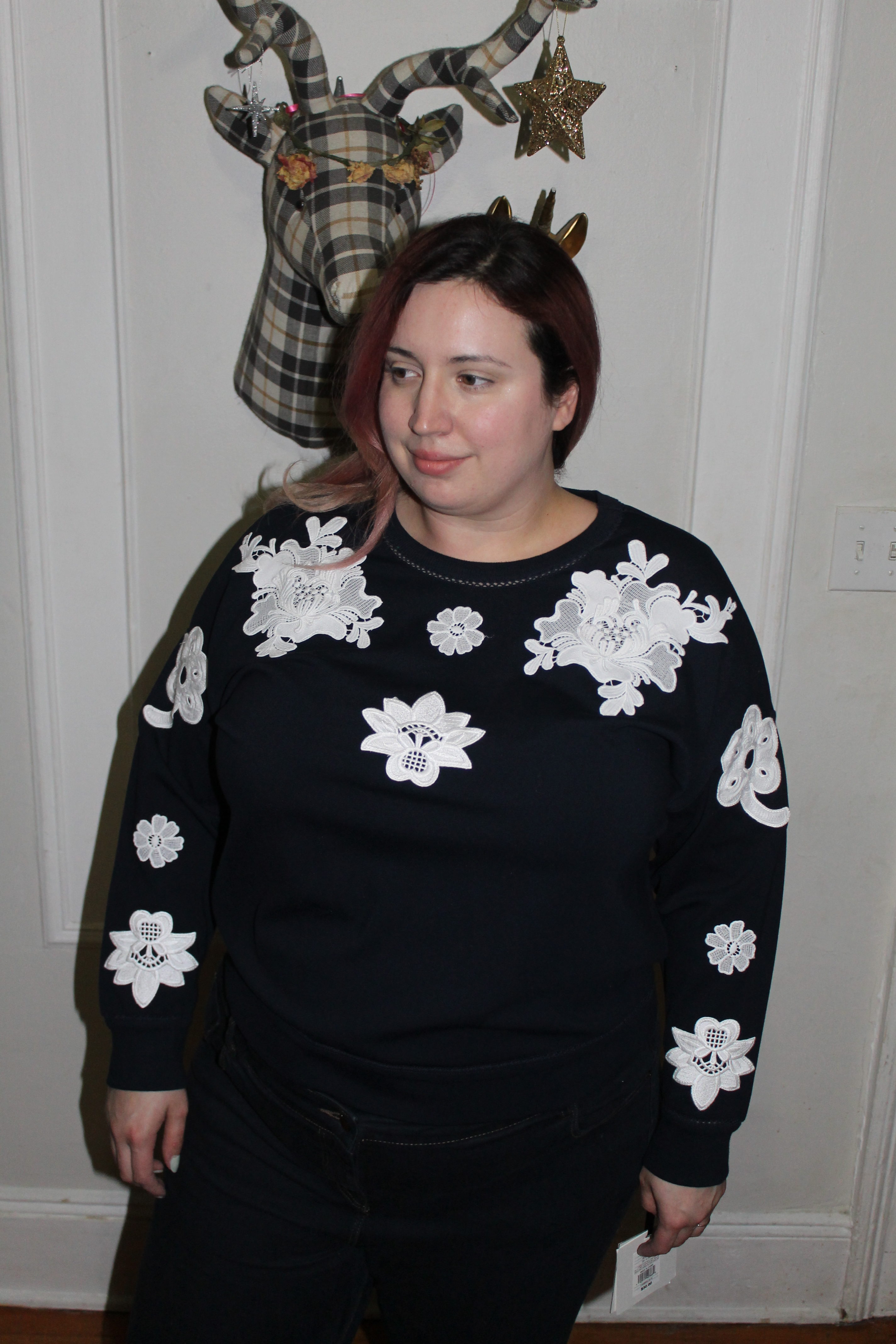 I was on the fence about this floral scuba sweatshirt before I tried it on, but once I did I fell in love. The material feels lovely and I know that I could easily dress this piece up or down, so it seemed like a total win.
This cute floral top was a total impulse buy. I didn't have high expectations, but once I had it on I really loved it. I love the flared sleeve detail and the eye-catching digital print. I prefer digital prints over abstract or pop-art styles., especially when it comes to florals. This is how you make florals groundbreaking for spring.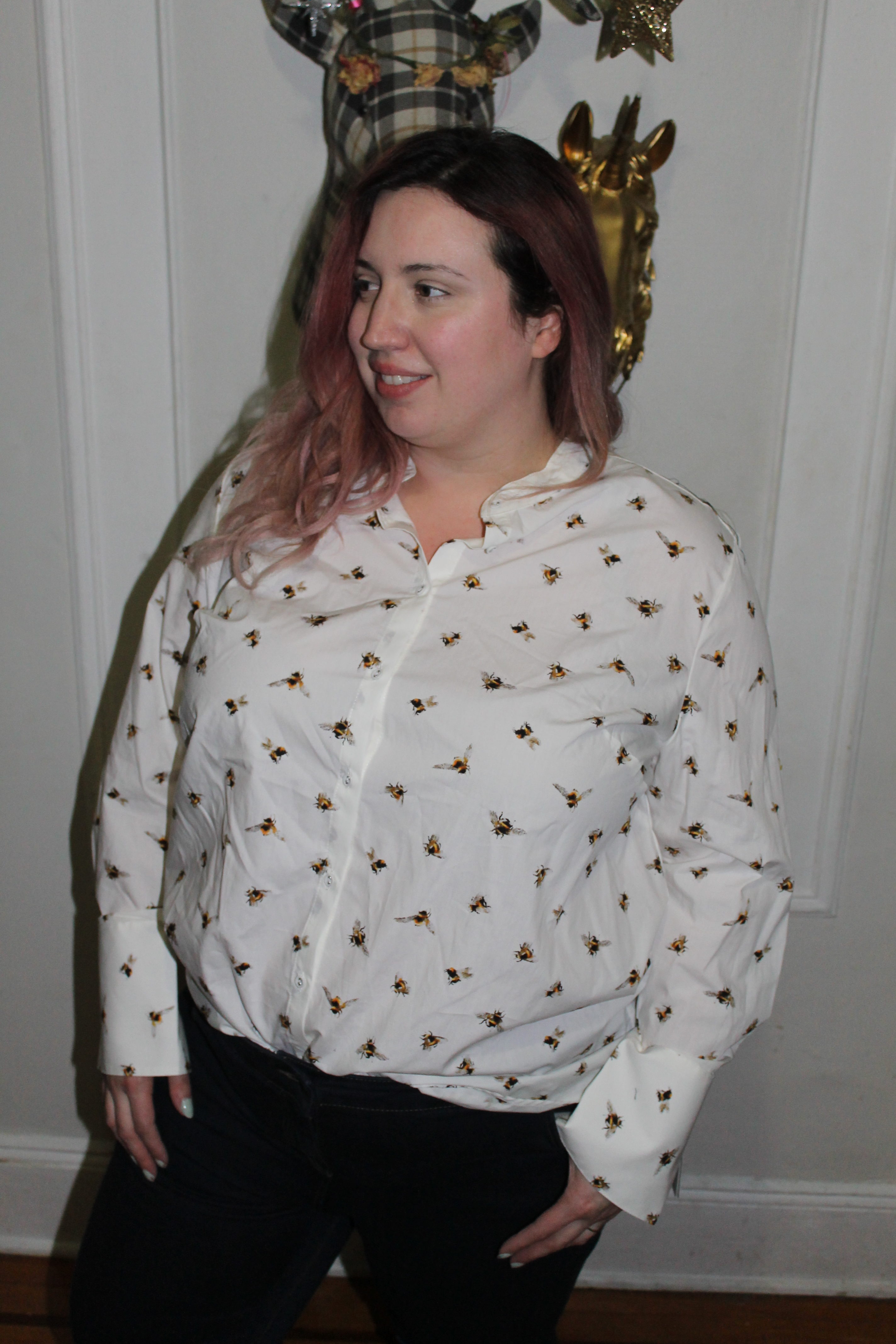 This bee button-down was another surprise win. As I'm allergic to bees and wasps, I don't typically seek out pieces that might remind me of them. But the lifelike print and the oversized stiff cuffs had me buzzin'.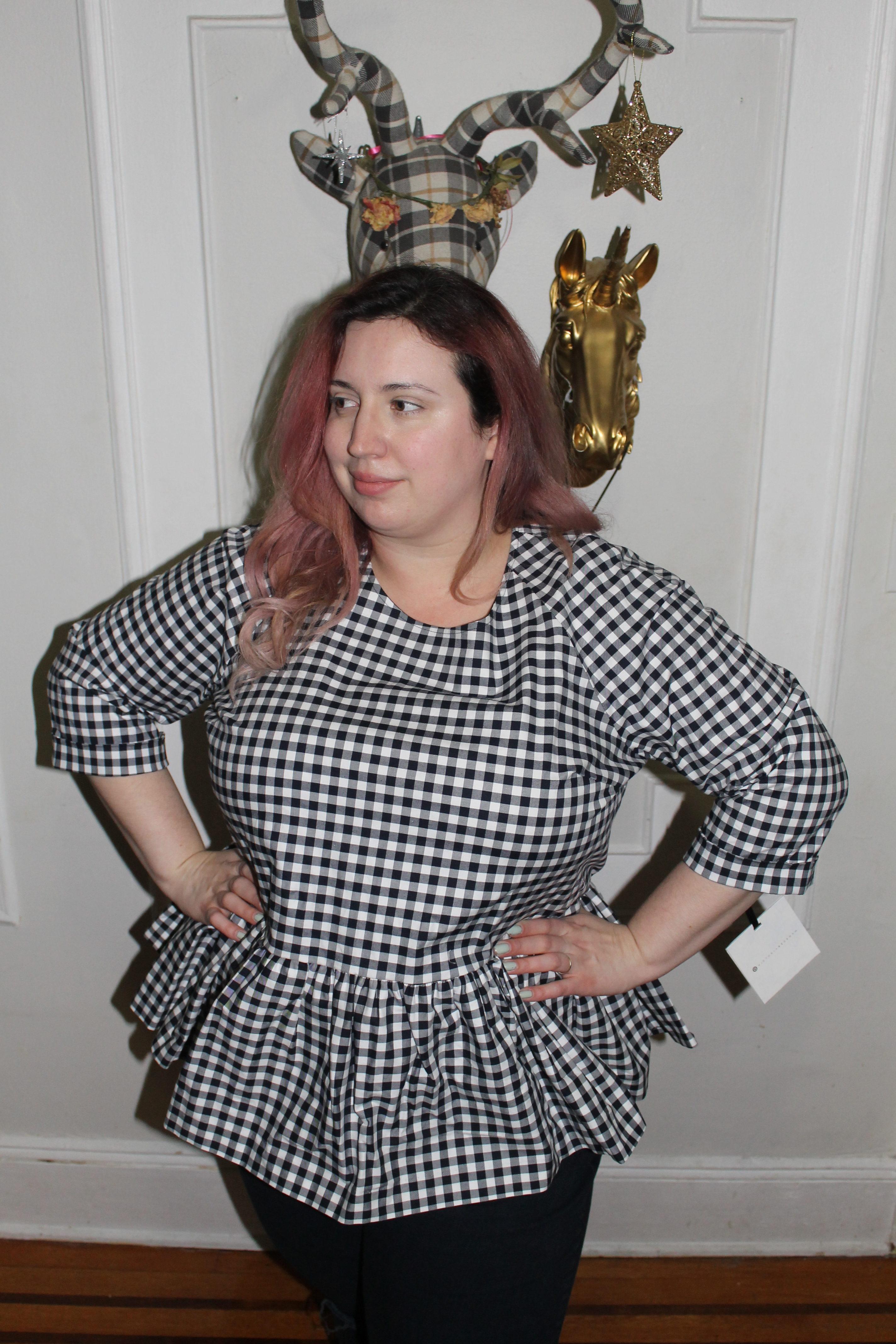 This gingham top is somehow simultaneously retro and modern at the same damn time. The 1X fit just fine, but I went with the 2X so that I would have more material to work with at the tailor's. Both sizes were very boxy (as was the intention of the design), but I prefer a bit more structure for a top like this. To the tailor it goes!
Which pieces were your favorite? Did you buy anything from the collection? Did your Target even HAVE plus sizes in stock? Tell me in the comments about your experience!