Because I was so tired and had such a full schedule ahead of me on day two (including covering Chromat for Refinery29), I skipped my morning shows for a little extra time to rest and recharge. I still managed to hit seven shows, so not a shabby second day at all.
Cushnie et Ochs
I've been lucky enough to see the Cushnie et Ochs show several times, and designers Carly Cushnie and Michelle Ochs never disappoint. Their sexy styles echoed their typical aesthetic, with a heavy use of sultry cut-outs, sky-high slits, playful ruffles, and slinky fabrics. The juxtaposition of the more demure and ladylike ruffles with more risque accents really cemented this collection as a seasonable fave.
Inspired by the Victorian era and vintage design, O'2nd's F/W 2016 collection, "City and Crafts" sees elaborate design detail imbued into a wearable city-chic lifestyle. Stand out styles include an impactful over-sized bold red coat, a shimmering sequined plaid dress, and a (hopefully faux) antelope-skin top.
Chromat was phenomenal. The designer, Becca McCharen, is absolutely brilliant thanks to her design skills, innovative insight, and body-positive mindset. Plus models Denise Bidot and Sabina Karlsson opened and closed the show, respectively; other stand-out strutters included America's Next Top Model alumni Isis King and Stacy-Ann Fequiere, as well as Lauren Wasser, the model who lost her leg due to Toxic Shock Syndrome.
McCharen partnered with Intel to infuse a smattering of her garments with biomimicry technology, allowing the models to send signals by triggering the light patterns of the dress, simply by opening and closing their hand. To learn more, check out my Refinery29 article about the Chromat show.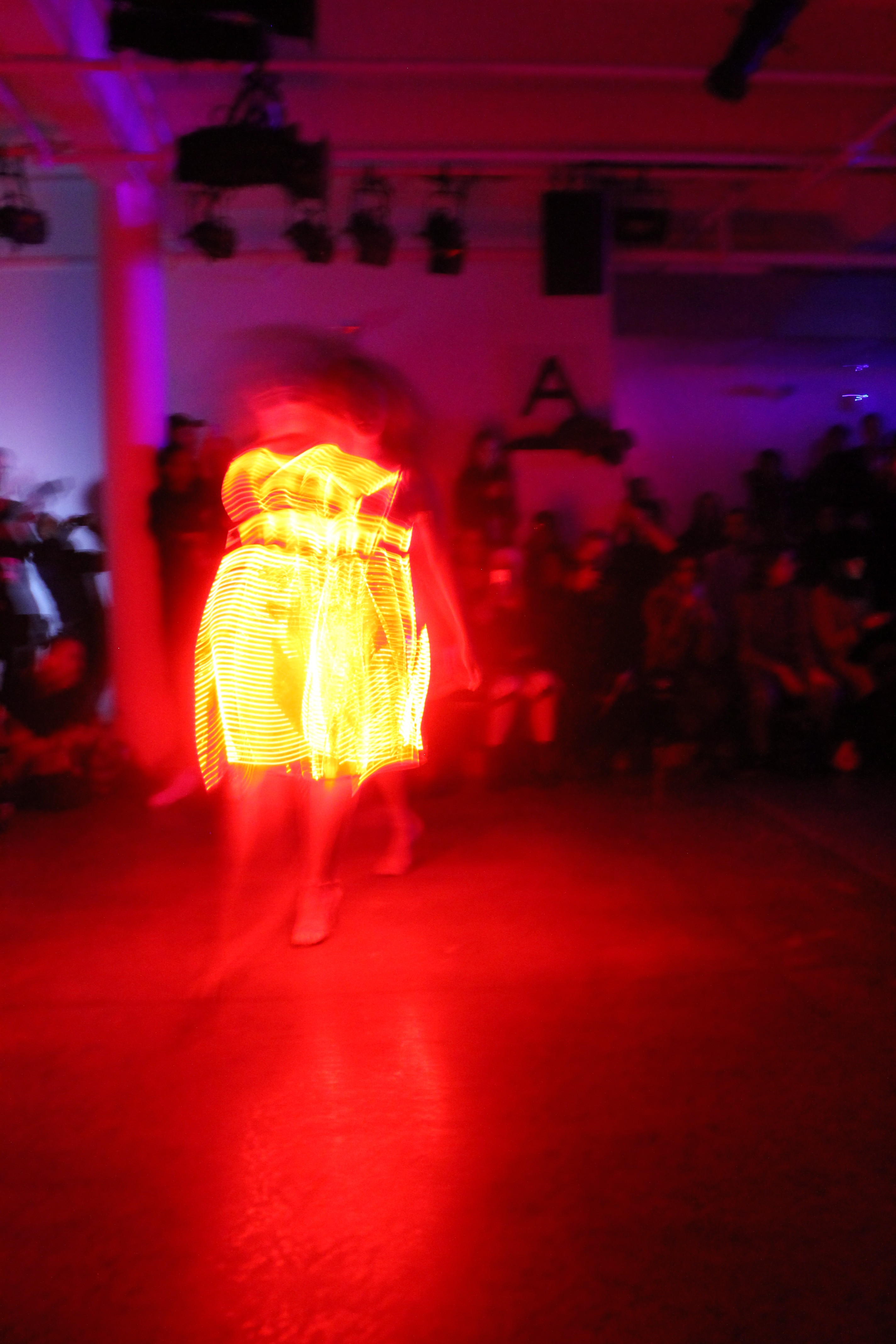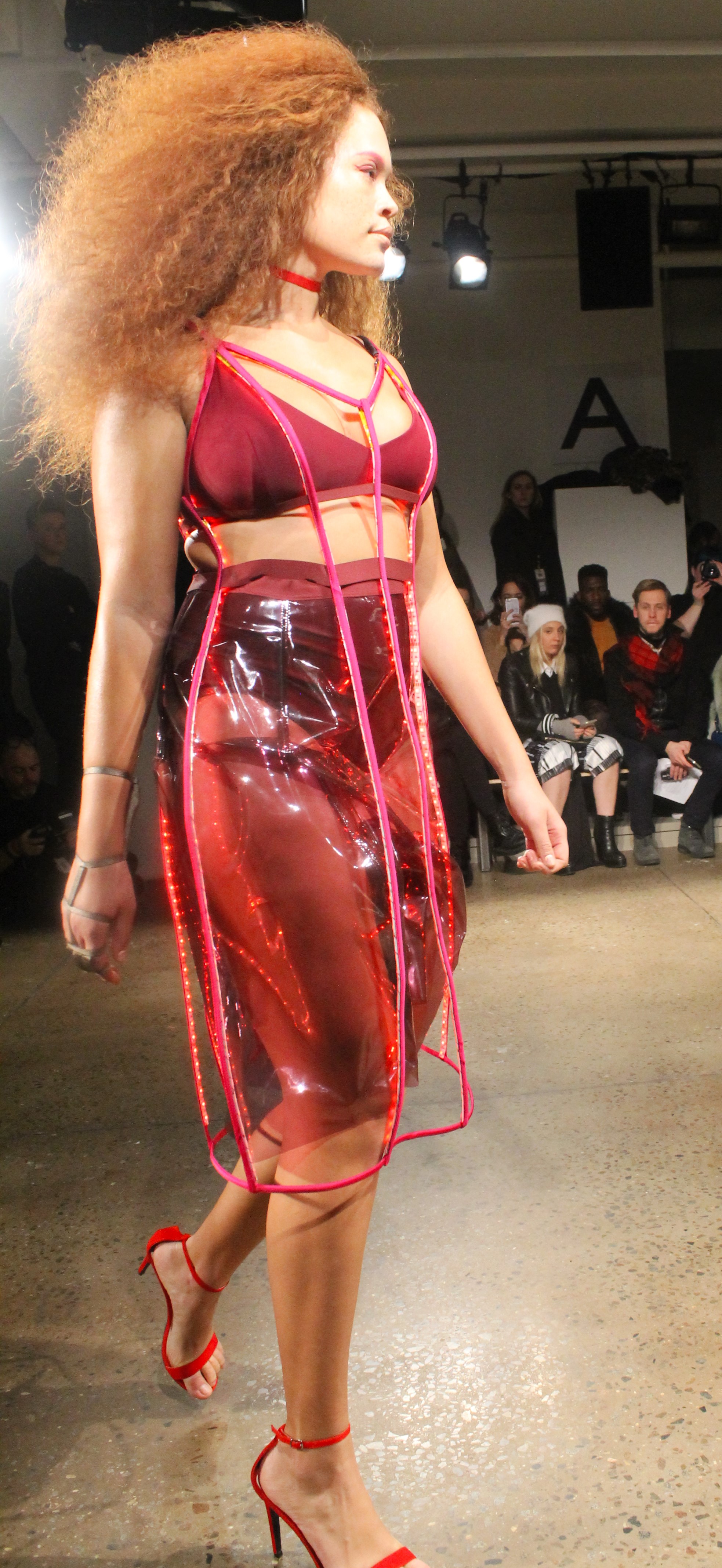 PLY
Traditionally, NYFW runway shows run at least 15 minutes late, if not a good 30+ minutes late. But PLY began on time, and my backstage interview at Chromat prevented me from seeing the show. I snagged a few snaps of PLY-bedecked models and a smattering of pieces hung on the wall. I wish I could have caught the show, but it was on to Francesca Liberatore (which I sadly have no photos of because everything I caught from the second row sadly was too blurred to use.)
Garmioplasty
Although DAMNsel might be best known for their controversial line of "Pussy Pouch" bags and accessories (which, if you follow me on Instagram, you've seen me rock non-stop lately), designers Rachel Feinberg and Breanne Harrison-Pollock debuted their first clothing collection during NYFW, Garmioplasty.
Staying true to DAMNsel's ethos, the collection leaned more art exhibit than ready-to-wear; guests were greeted by staff wearing hospital scrubs and handed a medical chart folder which contained the show program. Garmioplasty explored the parallels between garment construction and cosmetic surgical procedures; the designs reflected the alterative nature of plastic surgery by allowing the wearer to expand and contract specific areas to their aesthetic discretion.
DEMOO Parkchoonmoo
A mix of modern and classic Korean style, DEMOO Parkchoonmoo designer Demi Park made sure to give a nod to her roots while embracing westernized trends as well. Sticking to her typical black, white and grey palette, Park sprinkled a smattering of other subdued hues like ocher, aubergine and chocolate. All of the models wore traditional Korean "flower shoes," which were probably a welcome respite from all of the spike-heeled Louboutins I've seen this season.
All images shot and owned by Liz Black.