In honor of Susan Moses' new book, "The Art Of Dressing Curves", I will be giving away two copies of her book! Enter below and keep reading to learn more about what's sure to be your new style bible!
When I went off to college in 2002, an "adult" in my own mind, my parents gifted me with a style book that clearly affected my consciousness for longer than I'd like to admit. Titled "What Not To Wear," I listened to this body-bashing book as avoided trend after trend, terrified that I would expose any of my less desirable bits. This negative tome, with tidbits like "Women unashamedly baring huge arms that need to be covered continually confront us," could not be further from my latest style bible, "The Art Of Dressing Curves" by fashion stylist Susan Moses.
After a year of writing and editing, Moses has debuted a handy-dandy sartorial guide that every woman can benefit from – not just plus-size women. Although you'll have to wait until April 19th to get your hands on your own copy, keep scrolling to get exclusive insight into Moses' style tips, her thoughts on the controversy surrounding the "plus-size" label, and why she named me as one of her favorite style bloggers.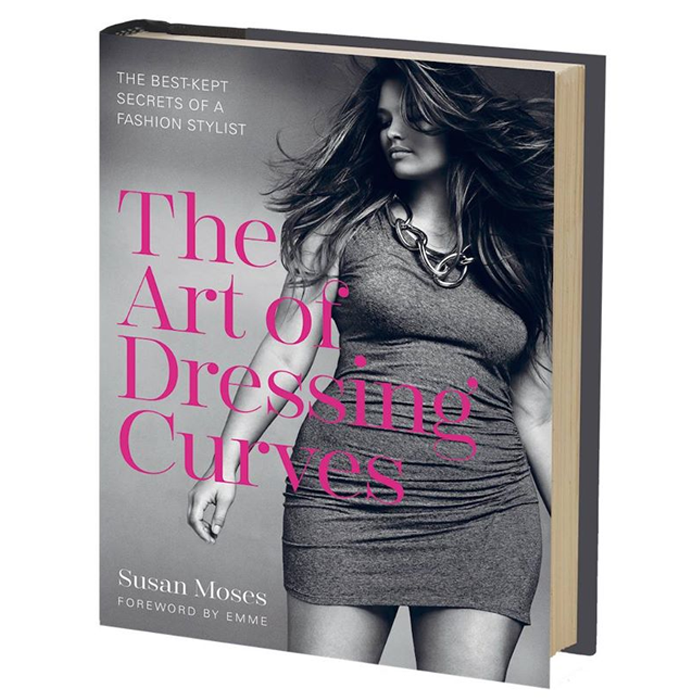 Why did you decide to write this book?
Simply because after styling curvy women for so long, I just kept hearing over and over, and seeing, that we were not included in the fashion and beauty conversation. And there was no documentation or books in libraries – I did a lot of research – or even in the fashion institutes and colleges around the nation, that talked about dressing curves. How to make patterns for us, how to design for us – there are no books on record, so I just decided to do it. It's something I've always wanted to do.
I'm like the 67% of women in this country alone who are wearing a size 14 and up, and they have no style bible. It was time for it to be done. And I hope more pop up.
What do you hope to achieve with this book?
Because I talk about identifying body types, and debunking different styles and different fashions that was always said that we could not wear – "don't wear this" and "don't do this" – I want women to really begin to experiment with fashion, have fun getting dressed. Stop dressing just to look thinner or camouflage your body; accept who you are and have a good time with fashion. Fashion is supposed to make us feel better, it's not supposed to make us feel bad about ourselves. Shopping should be an enjoyable experience, and for a lot of women it hasn't been, and I'm hoping that will change.
What do you think the biggest mistake curvy women make when dressing themselves?
I went on tour for Penningtons around Canada for 18 months and I really learned a lot. The biggest mistake I find is that we do two things – a lot of women don't accept their natural body type, so you're either dressing to the perception of what you look like, what you think you look like, or totally dressing to look thinner. And it leads to two major problems, either they're drowning themselves in oversized clothing because they're trying to hide, or the clothing is just too small and becomes like sausage casing and you're squeezing yourself into clothes that don't fit. Fit is a big problem for a lot of curvy women.
I personally feel like style rules are meant to be broken. I feel very comfortable with myself and like to express myself through my personal style. What antiquated traditional style "rule" would you like to see curvy women break?
 It was so odd; some of what I've found with dressing clients, not the celebrity clients, but everyday women, some women don't even want to wear dresses. They think "I don't have the right legs," "I don't have this, I don't have that." I think the most important thing is self acceptance, first of all, before we can even get dressed we have to really begin to accept who we are and what we look like. And then we can jump into trying things we've always wanted to try; wearing all white, doing the whole monochromatic thing, whether it's totally wearing one color or different variations of that color at one time, experimenting with prints and florals…A lot of women are still afraid to try certain things.
Where do you think that fear stems from?
Because they're not seeing themselves in mainstream fashion. It also stems from not being included in the conversation about fashion and beauty, or glamour. For the longest time you never saw the word "curvy" or "plus-size" in the same sentence as "sexy," "beautiful," and "glamorous." It's fear and it's also saying "they're not really talking to me or about me, so I'll stay away from that." But at the end of the day all women want the same thing. I've never dressed a woman that's said "Put me in a potato sack, I want to look horrible." All women want the same thing.
One thing I thought was interesting was the title, "The Art of Dressing Curves." It seems like you use a lot of terminology that involves "curves" and "curvy" but not as much with "plus-size". Why did you decide to use "curves" instead of "plus-size"?
First, I just want to state that I have no issues with the term "plus-size". I've been doing this now for almost 20 years, and I just think that the word "curves" speaks a little bit more universally. And I've seen the industry, it slowly but surely is evolving into a more size-inclusive future. I really believe that. Like I said, I have no issues with the term "plus-size". I think a plus, when you look it up in the dictionary it says "positive" or "a little bit more" and I believe in all those things.
This whole argument about whether to use the word "plus" or not, I definitely don't have an issue with it. I just think that the word "curves" speaks a bit more universally. And the book is curve-specific, but I think at the end of the day I'm speaking to all women, and all women have curves.
Recently, when I was shooting my video, the director, she was a size 6-8, and she said to me, "I read the book already, and I feel like this is the first time that I read a book about fashion and someone was talking to me." At the end of the day, like I said, we're all women, we're all the same, we're all inspired by each other, we're inspired by different size women. I don't think we look at women and say "oh, I'm not inspired by her because she's a size two," we're all inspired by each other. And I think curves is a universal term. And that's why I leaned more towards "curves" than "plus size".
If a curvy woman is on a budget, what one item should she invest in?
A good black dress. Because a black dress can take you from day to evening. You know, with your schedule, if you have a business meeting you can throw a blazer on it, or a cardigan. If you have a dinner that same night you can just change your accessories and keep it moving. A black dress can take you a long way.
What plus designers do you think are doing curvy clothes justice?
There are several that I really, really like. I like a mixture of price points, even for myself. I've been a long time fan; I love Marina Rinaldi for certain things. I like what Michael Kors is doing. I like Eloquii. I love ASOS; they're knocking those trends out of the box. I like Lane Bryant. Calvin Klein. And I really like Universal Standard a lot as well, for those minimalist pieces, I think they're doing a great job as well. I could go on and on, because I love clothes.
What has really helped the plus-size industry become a movement?
One thing I'd like to mention is that the bloggers have been exceptional, including yourself, in really waking up the industry and being the standard bearers for what we're going to accept and what we're not gonna accept. And I applaud you all, all the time. And that's why I wanted to list 21 of my favorites in the book. Somebody has to continue to carry the torch, and it takes a village to really make it happen. And I don't think this is going to be a fleeting moment for curves, I think this is a forever time for us. I really believe that.
One of the other important things I thought to put in the book is the resource guide in the back; to me, that's the crowning jewel because a lot of women don't know where to shop. They don't know where to shop, they don't know what works for them, and now the e-tailer industry has grown so much it's easier for people to get their hands on products. She can just open the book and know where to go and know who has it. And know who the women are on the front lines of this revolution and evolution, now she knows who they are. At least she knows 21 of the best.
This article was originally written by me for Refinery29. You can see the original in its entirety here.